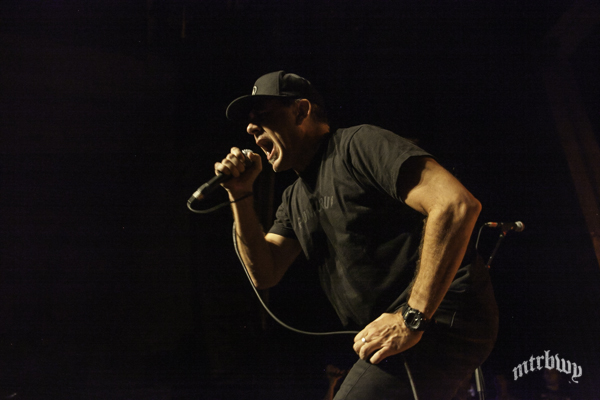 Approaching the famous Enmore Theatre on a very hot Sunday night I was immediately surrounded by hundreds of guys looking like they were straight out of a NOFX or New Found Glory video clip, this was 100% a very anticipated punk rock show.
Beerwolf – Sydney based punk rock band were first up and delivered a solid show embossed with a few classic (if you were a 14 year old Misfits fan) jokes. With such songs as "Eat Shit or Die" the band definitely appealed to their target audience.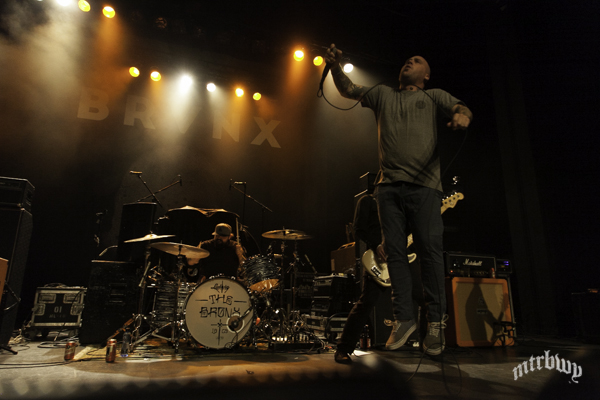 Everyone seemed to be particularly stoked to see LA hardcore punks The Bronx in all of their glory! The ever excited frontman Matt Caughthran belted out "Sore Throat" off recently released album The Brvnx, as soon as Caughthran was finished with the opening track he swiftly jumped into the crowd,  creating a circle pit and making fans absolutely ecstatic! Caughthran later delivered a pretty interesting speech addressing the crowd. "On the first day God created the Earth and the Heavens. On the second day God created man and woman in his image, third day <he paused> God created Australia, fifth – Enmore Theatre, sixth – Beerwolf, The Bronx and Pennywise and on the seventh – this event that we are all here for tonight." The crowd went absolute bonkers and I have never in my life had this much alcohol spilled on me! So much, I could've gotten blind drunk off it.
While Caughthran was having a ball delivering a stellar performance in the crowd, the rest of the band sounded and looked solid, while they seemed to be used to this kind of a show! Toby J. Ford and Ken Horne on guitar paced around and struck a pose or two, while Brad Magers on bass and David Hidalgo Jr, were perfectly in tune making every song sound twice as punchy as they normally are. The Bronx really looked and felt like a co-headliner with their over an hour set. It was a treat hearing such songs as "Heart Attack American", "Broken Arrow", "Knifeman", "Stranger Danger" and "They Will Kill Us(With Mercy)".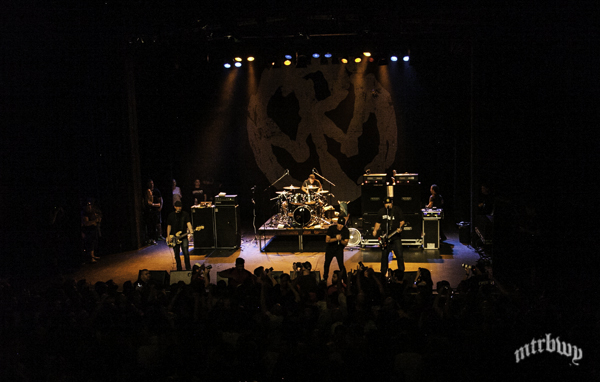 By the time everyone was ready to see the return of Pennywise the merch table got savaged and a few people were escorted out of the venue. It might've been a skate-punk show, but the crowd got as rowdy as at any hardcore/trash gig. Jim Lindberg takes the stage with his hands in the air and in that moment you could kind of guess that majority of people present are huge fans of the record that is "Full Circle"(1997) – 20 years on and for the first time Australians are about to hear it back to back! Apart from general ramble between the songs talking about meat pies, drugs and taking a dump, the band sounded very energetic and fun. I enjoyed a non-restricted view from the back balcony seats and during "Society".  I have to admit, I've never seen that many people jump on stage and crowd surf, like ever. The drummer Byron McMackin had the most 90's drum kit ever and was constantly hiding behind the cymbals bopping to the beat of every song.  After successfully going "Full Circle" with playing the album, Lindberg asked if the crowd were into Circle Jerks, The Misfits, Black Flag or Dead Kennedys while favouring a Circle Jerks cover of "Wild In The Streets". To everyone's surprise Fletcher Dragge started playing AC/DC's "TNT" topping it off with a classic sing-along that is "Stand by Me" and closing the night with "Brohymn" – by that time there was over 20 people from the crowd on stage and the security seemed to have given up.
Overall it was a great show and a fun drunken night out for over 35's. Pennywise are more relevant than ever, even 20 years after releasing their most famous record.
Review by: Annette Geneva
Remaining Tour Dates:
Tuesday 31 October: Nex, Newcastle – 18+ (With Pennywise)
Thursday 2 November: HQ, Adelaide – 18+ (With Pennywise)
Friday 3 November: Metropolis, Fremantle – 18+ (With Pennywise)
Tickets are available from www.tickets.destroyalllines.com
Essential Information
Venue: The Enmore Theatre – Sydney
Date: October 29, 2017
Support: Beerwolf
Presented by: Destroy All Lines
Photos by:  Annette Geneva – Every Day Is Saturday – Check out the full gallery HERE