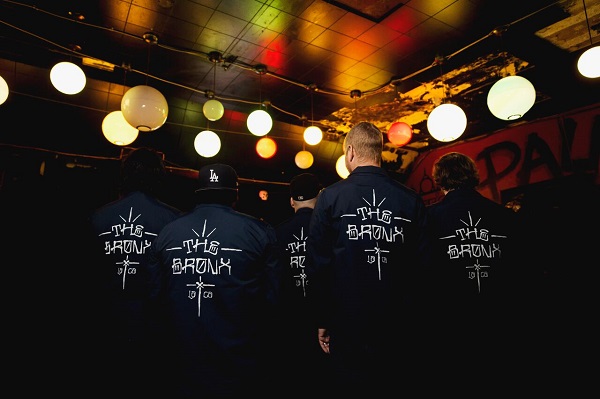 "We've been reborn, we're playing really, really well right now and everyone's hyped on the new record, the new songs sound just so mean live, everything is focused and really fuckin' good right now if I can say that without sounding like an idiot."
From Release: Famous for leaving a trail of exhausted, boozy, sweaty and supremely satisfied bodies in their wake THE BRONX will be unleashing a reckless level of energy; no barriers, no pause for breath, just a barrage of scuzzy LA punk as they hit Australian stages this October and November. Their brand new album V is out now.
In Las Vegas ahead of a couple of shows, Matt from The Bronx gave us a call to talk about the band's return to Australia, the upcoming shows with Pennywise, memories of Australia, their new album, and much more.
You're headed back to Australia supporting Pennywise as well as a couple of sneaky side shows, what can we expect from a Bronx show in 2017?
Chaos, man! We've been reborn, we're playing really, really well right now and everyone's hyped on the new record, the new songs sound just so mean live, everything is focused and really fuckin' good right now if I can say that without sounding like an idiot. It's like I'm just stoked, man, this whole tour we've been in the zone and we got one day off before we come to Australia so there's no chance that that zone doesn't carry over so we're gonna be coming over and ready to play to rock man that's for sure.
You've just released your newest album 'V', a month in to its release what has the reaction been to this kick ass record?
Great, man, you know great. People are loving it, but you try to stay a little detached from all that stuff and I think it's the smartest move for someone who has been through five records with Bronx and three records with El Bronx, you know it's best to just write the record and let it go you know what I mean? You still hear whether or not you want to you'll still hear if people like the record or they don't so I'm stoked people are digging the record, it's got a lot of great responses so far and that means a lot to us. Like I said I try not to get wrapped up in it because it's a slippery slope and it can hurt just as much as it can feel good, but so far everything's cool and I'm thankful, man, I'm just thankful that the record's out.
With 'V' did you set out to do anything differently this time around compared to your previous releases?
Well you know there was just a different kind of way about the band, we went through a lot on the industry side of things and on the personnel side of things for the last couple of years and getting to the point where we started writing this record it just felt like it was a unifying experience, it was definitely the most shared record we've all done, you know Brad and Ken, you know Ken wrote the song 'Sore Throat' and that's his first official Bronx song that he's like written on guitar, and Brad played his ass off on this record and everyone was just really in it, so after a couple of years of the side of music that isn't fun, that's exhausting like going through management changes or labels or all the shit that comes along with it that isn't great, after having to dance with that shit for a couple of years and getting into the studio and just locking everything down and coming together and having everyone show up the way they did and just be ready to rule, it put the band up another level, it knocked us up another level and that's where we've been since. So we're in a heightened place right now.
This album also marks your first with a new drummer, what was it like working in the studio with new blood?
Oh it was beautiful, man, we've known Dave forever and Jorma is an amazing drummer so it was big shoes to fill for sure but Dave was ready and he worked his ass off on this record. The relationship has always been there between all of us, we've been friends for years and Dave's obviously a monster musician, so there was never any hesitation about it, it was something that just came together like we knew it would. It was just all about making sure that the songs were good and if the songs were good we knew each instrument was gonna be great, so it was pretty easy to be honest with you.
Back to Australia, the last time I saw you guys you were supporting Soundgarden back in 2012, but do you have a great memory you can share with us from a previous tour of Australia?
Oh yeah man, I've got about a zillion of 'em. I mean every time we come there is amazing, one of the fun shows and I always trip out that you guys don't do Halloween *laughs* we did a Halloween show on the solo tour last year and we went to a random party store and got all these terrible costumes and had one of the funnest shows that we've ever had as a band and it was just shit like that, that tour was a blast, man. Now we're coming back with Pennywise and it's Halloween again so I think we're gonna have to dress up again. There's been so many, one of the great things about Australia for me is we feel so comfortable there and you have every day moments that are moments you'll never forget you know? Like we've just had dinners there and something as so simple as going to dinner with your friends, we have just awesome friends there that we get to see at least once a year so it's like family at this point, so there's just all these little day to day things that just mean so much, man, the shows are always crazy, three nights at The Annandale is something I'll never forget to put that place to sleep, there's been so many. We've done Soundwave, we've done Big Day Out as Mariachi, like there's so many memories and we're so fortunate to be able to play all that stuff, man.
So obviously things change over time, but what would you say is the one thing that's stayed the same over your time together in The Bronx?
Just the drive, since day one the drive has been the band overall, the band is the most important thing and the survival of the bad means everything to us and that hasn't changed since day one, it's been about we're gonna make this work, this is what we wanna do and no matter what gets thrown at us or no matter what happens on any level at any given time the band is gonna continue to go and that's one thing that stays true. We've been through a lot of bullshit, we've crashed vans, fuckin' family members died, our first bass player James left, there's so much in life in general on an individual basis that makes it hard to maintain being in a band. Just outside of splitting your income, just everything, but the drive in this band to continue and to keep going will never die and that's been the one constant the whole time.
On the other side of that was there one piece of advice you were given from someone when starting this band that has stuck with you through the fifteen years that you still refer back to today?
Yeah. One of the first tours we did was The Bronx, The Spits and Rocket From The Crypt and I remember in Vancouver and it was like one of our first shows in Canada, shows in general outside of California and we got done playing and there was a big old line at the merch booth and I ran back to the merch booth and I was like freaking out trying to help everybody, I was like losing my mind and I was so overwhelmed and didn't know what to do and Pete the bass player from Rocket From The Crypt comes up behind me and goes over my shoulder and says "Matt, just relax" *laughs* he goes "just relax, it's all gonna be good everyone just wants a T-shirt it's cool, don't worry about it they'll wait" and ever since then it's kind of like that's the key I think, if you can find a way to relax in this climate it becomes just a thousand more times enjoyable than it already is, if you can slow things down and just be yourself in any moment throughout the day then it just makes things feel a lot better, so that's definitely the one thing that I've learned that I still follow to this day and it's helped out a lot, man. So thanks, Pete.
I have to ask, when do you think we may see the next Mariachi El Bronx album?
It'll be somewhere down the line for sure, there'll be another one, it was just time to take a little bit of a break for El Bronx, it was just something that you don't want to do it, obviously because you love it you know but the reality of it is if you really want to focus on one of the bands you have to put the other one up for a little bit. So it was time to make a Bronx record, we were super excited to do it and so now it's Bronx time for right now, but El Bronx is still playing shows, we've got two shows in December coming up in LA and a couple of things outside of that. So everything's all good in El Bronx world it was time to just chill for a little bit and let people appreciate it a little bit now that it's gone.
Lastly let's look ahead to the future, finish this sentence for me, in 2018 The Bronx will…
*laughs* in 2018 I'm gonna say The Bronx will have toured South America, we've never been there, I've never been to South America and it blows my mind that we haven't been there as a band yet, especially with El Bronx too, so that's one of the major goals I have for next year for this band is just getting to South America and experiencing that part of the world and playing music over there so I'm hoping that is something that happens.
TOUR DATES:
Thursday 26 October  –  Corner Hotel, Melbourne – 18+ (Headline Show) Sold Out
Friday 27 October: Forum Theatre, Melbourne – 18+ (With Pennywise) Sold Out
Saturday 28 October: Eatons Hill Hotel, Brisbane – Licensed All Ages (With Pennywise)
Sunday 29 October: Enmore Theatre, Sydney – Licensed All Ages (With Pennywise)
Monday 30 October – Oxford Art Factory, Sydney – 18+ (Headline Show)
Tuesday 31 October: Nex, Newcastle – 18+ (With Pennywise)
Thursday 2 November: HQ, Adelaide – 18+ (With Pennywise)
Friday 3 November: Metropolis, Fremantle – 18+ (With Pennywise)
Tickets are available from www.tickets.destroyalllines.com
Essential Information
From: Los Angeles, CA, USA
Band members: Matt Caughthran – Vocals, Joby J. Ford – Guitar, Ken Horne – Guitar, Brad Magers – Bass, David Hidalgo Jr. – Drums
Website: http://www.thebronxxx.com

Latest Release: V (Out Now – White Drugs / Cooking Vinyl Australia)