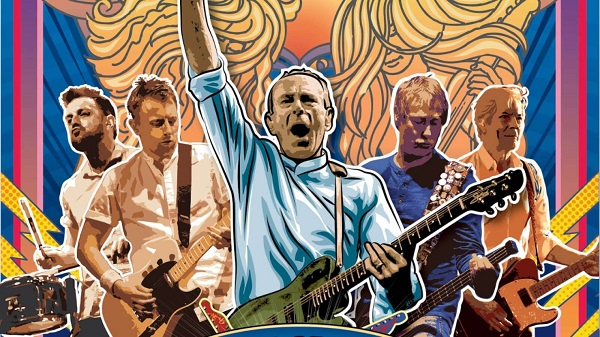 "I don't really know what it is about any audience and why they connect with Status Quo because I'm aware of all the criticisms of it all being the same, but we've always said that you have to commit physically to playing stuff that we play otherwise it really is boring…"
From Release: Revered as one of the best classic rocks bands of all time, Status Quo have announced their final full-on electric shows for Australia and New Zealand in 2017. It's been four years since they've toured down under, but in a massive coup for New Zealand audiences, this will be the band's first run in more than 40 years. The highly anticipated The Last Night of the Electrics Tour was announced in the UK last year and has already seen the band play a swag of sold-out performances.
The legendary Francis Rossi of Status Quo gave us a call while at home in his music room to talk about the band's return to Australia for 'The Last of The Electrics' tour, memories, the future, and more.
We're here because you're heading out on the last night of the electrics tour, was it a hard process to do these shows and put them together?
No not really other than I thought we were going to move on to acoustics as we have some acoustic tours coming up now and thought it might get easier and so on, and we had so many requests from places like Scandinavia and so on that we hadn't done yet and we had Australia lined up as an acoustic and we got so many calls and letters and such so we decided to change it back to an electric tour which is somewhat of a relief to me. It's very much an unknown quantity the acoustic thing when you try and say to the Australian, "You take this" it's probably more relevant over here because we had a very successful album with it, but it's very weird because you never know what's going to come next and that's one of the things I've loved about this business and at the same time hated just never sure what's coming next like we said we're doing this and we do that, we were doing a movie the other year and we said we wouldn't do it, all sorts of strange things happen and I suppose that's what keeps us going, I don't know.
With a catalogue spanning fifty years do you have an idea on how you'll put the set together?
Yeah very good idea, most of the set that we did on the tour at the end of last year, we're always going to have 'Caroline' in it, we open with 'Caroline', always have 'Rockin' All Over The World', 'In The Army Now', 'Paper Plane', 'Whatever You Want', it's weird that years ago there was this thing particularly with the press that bands like us plundered their back catalogue as if we were supposed to go up there and do someone else's catalogue, the very thing that all bands want when they start to be loved and have a catalogue, and then some of us get really blaze about it as we get on in life and decide not to go out and do their catalogue and guess what, their fans don't turn up. If I ever go and see somebody I like I want to see who they are, it's who we are whether we like it or not and that's what people come to see, and fools. *laughs*
Australia has almost been a second home for Status Quo, do you have a favourite memory of one of your numerous tours here?
One came recently, there are many things that went on in the 70's *laughs* perhaps it was kind of wild, but I remember playing a few years ago at the Byron Bay Blues festival that was most enjoyable and one of the best thing for any band is to play in front of a nonpartisan audience so you're aware and you don't know how many people are there, most nights you go on stage in a venue people are coming to see Status Quo so we pretty much play to a partisan crowd, fine, but when you play to a nonpartisan crowd something else happens, something animal kicks in and you think whoops, I better get on with this and it's very good for any act to work in front of a crowd that isn't just going to love you because you're there. That was a most enjoyable gig and a lot of people have mentioned it to us since, so I remember that one.
You've always had such a great rapport with Australian audiences, what do you think it is about the music of Status Quo that we connect to down here?
I don't really know what it is about any audience and why they connect with Status Quo because I'm aware of all the criticisms of it all being the same, but we've always said that you have to commit physically to playing stuff that we play otherwise it really is boring and I learnt that from people like Little Richard and if you still look at footage of Little Richard and he's still steaming. The same with Jerry Lee Lewis, I didn't much like him but the physical commitment and that's the hard work in Status Quo, as you get older it gets harder to do. That I think energy transfers into the audience and the incessant rhythmic thing that's going on, you're always on a fine line between it's the same thing and it's boring to it becomes hypnotic if you like and usually for us it becomes hypnotic and people get into it, but when they don't, oh god! It's the worst place in the word to be.
So if Status Quo was to hang up the guitars for good, what would you like to do?
Interesting, I would stay at home I think for some considerable time just to get up, drink coffee in the morning, go shower, go get the papers, do the crosswords, light a fire, do a puzzle, fall asleep, get up, eat the meal, go upstairs, practise the guitar, play the thing, go to sleep and do that for a while. People said you'll get bored, if I get bored I write things in the studio which is in the grounds and make music. These days it's different and it may not see the light of day and it may not see anywhere with the amount of pieces that one used to sell, but you create it you put it down and the track is finished and there's just that moment of it was fabulous, whether or not it goes any further then that's ok, but initially we intended to tour the acoustic stuff which we are doing in Germany this year and Britain this year and perhaps we will come back to Australia. I can't get over the fact that I'm coming up to sixty eight and I was first called a boring old fart when I was twenty seven, so I'm way, way past the boring old fart, and if I see myself I'm like oh my god, but when you're doing it all that goes, the age, the look, whatever, it just goes and it's the worst place to be when you're not, but when you are I've always said it's better than sex because everybody relates to that feeling that you get and it's like that you just don't want it to stop and there are some nights like there was one last year, we did Rochester Castle, we do it every two years and I came off and it was so… I didn't want to go to bed, my PA came upstairs and said "you should be asleep" I said "I can't as soon as I go to sleep this wonderful night is gone" and it's like zero again and you start again the following day and it's like Groundhog day and you just start over again. Like I said, it's either the best thing ever or the worst thing ever and there's no mid-way in it at all.
Looking back at your entire career so far, has there been one moment that stands out for you as one that just can't be beaten?
I dare say there are places and times in little venues or in the back of Norway or wherever but the one that everyone can associate with is Live Aid, we didn't really think and didn't know what was going on and Bob Geldof was having trouble getting anybody to do it but when we actually walked on and saw how many cameras and how much media was there, in fact I saw Madonna go for a leek with about twelve guys by her side, I don't know what she needed them for, and the sense in that audience which I've never felt before and will probably never feel again, we were all pulling for the same thing, generally you walk in front of an audience and there's an expectancy there's that quid pro quo, we've played you better show us something and the bigger the cities, the more people that are a bit blaze, but on Live Aid it was just euphoria from the moment it started until the last act finished and it was this fabulous feeling which will not happen again I doubt, they tried to recreate it and it was probably a mistake for me. Well the other thing with Live 8 with the old Wembley Stadium when the camera panned back you still saw the back of the crowd crammed in there in that huge arena, when they did it in the next one it was outdoors so when the camera panned back it got the crowd thinning out and thinning out and you went to the back of this open space and it didn't present tele visually the same vibe, the same feeling that everyone was in there and something special was happening, it was just a  gig in field and perhaps that did it, but mainly it's because you were trying to recreate something that was a one off, and one offs are one offs.
And it's easy to say what's changed within a bands time together but what would you say is the one thing that's stayed the same over the years?
Music perhaps. Well that's what people would think, the same three chords, yeah maybe that but I know what it is really, you know when you were at school and they taught you about the carrot on the stick on a donkey to get that donkey going? Well I've still been trying to get that carrot, it's the same distance it was when I started and I'm still trying to reach it, the thing is what happens if you reach the carrot? It always feels like you're going somewhere, even a band of our age it feels like you're going somewhere and we could do or we could do more of this, or we could do better at this, and that's one of the good things about it and at the same time a bad thing about it because it's like a drug that won't stop, it's never satisfied, it's like capitalism, like world politics, it's never going to be satisfied and it's the same with this, there is that fear of like I said what happens if I get the carrot? Oh, I've got it… usually whenever we get things that we want it's like oh, I've got it now and I find that's our world today.
How would you want Status Quo to be remembered?
I don't really; I don't think of those things I think it's a bit pompous. If they remember us at all that's all I've really wanted, just to be remembered at all I think.
Lastly let's look ahead to the future, finish this sentence for me. By the end of 2017 Status Quo want to…
Do better. You can't help it, like I said it's about the carrot and the stick it happens all the time, I get fed up, I get cheesed off, I want to stop and then I get enthused by music, mine, anyone's, something happens and it's annoying sometimes because we have this expression that you get sent, and I get sent and into music and like wow sometimes it's such an enjoyable thing and at the same time so frustrating when you can't get it right.
TOUR DATES:
Wednesday 11th October 2017
Vector Arena, AUCKLAND NZ
www.ticketmaster.co.nz
Friday 13th October 2017
THE STAR GOLD COAST QLD
[currently Jupiters Gold Coast]
www.ticketek.com.au
Saturday 14th October 2017
Civic Theatre NEWCASTLE NSW
www.ticketek.com.au | (02) 4929 1977
Sunday 15th October 2017
Sydney Opera House, SYDNEY NSW
www.sydneyoperahouse.com
21st & 22nd October 2017
ROCK THE BOAT
www.chooseyourcruise.com.au
Tuesday 24th October 2017
Hamer Hall, MELBOURNE VIC
www.artscentremelbourne.com.au
Essential Information
From: London, England
Band members: Francis Rossi, Andy Bown, John "Rhino" Edwards, Leon Cave, Richie Malone
Website:  http://www.statusquo.co.uk
Latest release: The Last Night of The Electrics (Out Now – Sony Music Australia)