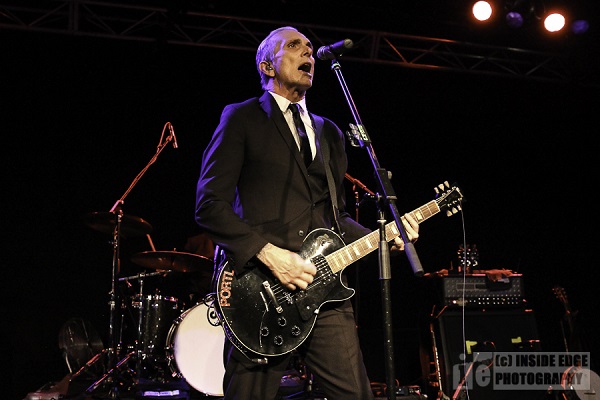 The last time Everclear were in Australia was in celebration of 'Sparkle and Fade' and here we are tonight celebrating 'So Much For The Afterglow'. Man it is packed in here so as we all get ready to go back twenty years to revisit an album that cemented Everclear's place in music let's sit back, relax and enjoy what is to come. 
Supporting Everclear tonight were Hangar 18 who as a band need to try and figure out who they want to be, it felt like a bit of a tough slog up there for them as the crowd started to come in, but with some work there is definitely something there, but with a set of almost completely different sounding styles, there just needs to be some tuning and I'll keep an eye out to see how that goes. Then, on the complete other side of the spectrum, The Mercy Kills take to the stage with attitude and energy and it's obvious they know how to put on a show. Great songs, great stage presence, great riffs, trading off vocals, and most importantly they got the crowd and for a support band that can be hard to do. Watching this band was great, it was like watching a band that have studied their influences, learned how to perform live and they pass the test. The Mercy Kills were just truly impressive and most definitely a band to watch.
Opening with well, the album opener Everclear take the stage sharply dressed in suits and it's on. So much so that Art breaks a string in the first song, but as they get warmed up along with the crowd it takes the opening siren of 'Everything to Everyone' ringing to get them screaming and jumping as the song plays on. The band sound great tonight, killer harmonies in this one are a stand out. "Who remembers when this record came out?" Art asks as the crowd screams acknowledging that they were, "well you're fuckin' old… Like me" and yeah looking around it is an older crowd and that's pretty cool as everyone gets to relive an album they grew up with. 
'Normal Like You' and its big guitars sounds great, as does 'I Will Buy You A New Life' which they waste no time jumping straight into. This one became a nice little sing along but knowing what's coming next on the album and in the set will be awesome to see. 'Father of Mine' was a big one for the band and probably the best reaction of the night so far and it's really cool to hear everyone singing this one, hang on "Then he walked away!" I just had to join in with everyone. Closing out side one of 'So Much For The Afterglow' with 'One Hit Wonder' and what an opening six tracks, this album really does kick ass.
 We head into a little bit of 'Sparkle and Fade' starting off with 'Heroin Girl' and now we're rockin' and why people think they need the light on their phone to record videos amazes me. Anyway, I never get sick of hearing this one live and tonight they smashed it out of the park. 'Heartspark $' is another that rocks and with some fist pumping for good measure this one is a stand out. Next up we go way back to their first album and 'Fire Maple Song' with a big sound and cool riff I dig this one even though I can't say I've ever heard it before. 
Back to side two of 'So Much For The Afterglow' and 'El Distorto De Melodica' an instrumental piece which is damn heavy and I dig it very much! Wow that was amazing and tight as fuck. Back to some words now as 'Amphetamine' rolls in and things get a little faster in here. The band are well and truly warmed up now and hearing these album tracks is really cool as I'd almost forgotten songs like this and 'White Men In Black Suits' and 'Sunflowers' which is a big fun rocker and for a song they don't play very often they nailed it. 
A couple more to go from the album as Art brings an acoustic out and Dave grabs a banjo for 'Why I Don't Believe in God' and we put away the acoustic and 'Life of a California King' get ready to blow the roof off here and although we are still covered I feel like there was enough effort to see the thing move. What a great closer to the album and this part of the set. The band leave the stage with a promise of coming back which actually lasted only about 30 seconds. 
Art returns with an acoustic for a solo rendition of 'Strawberry' which many here were stoked about as they all sang the words back to the stage. I never get sick of that sort of stuff. The rest of the band are back for a crowd favourite with 'Local God' and the only place in the world that gives a shit about the song supposedly, admittedly it does rock so I'm glad we like this one enough so they continue to play it here. A couple to go and one of those being 'Wonderful' which turned into a bit of a sing along as many of the songs have tonight. There's a lot of Everclear love in here tonight and with a whole lot of na na's this one was so good tonight. 
One more, and the only one it could be. 'Santa Monica' and need I say much about this one? Not really other than it was probably the one most wanted to hear and as we all join in to "watch the world die" we are once again taken back over twenty years and it feels great. 
All this has done tonight is make me want to go home and throw 'So Much For The Afterglow' on, it's been a while since I've played it through bit tonight hearing it played live in full I feel like this album will be on repeat for a little while. So much for the other bands…
Essential Information
Venue: The MetroTheatre – Sydney
Date: October 3, 2017
Website: http://www.everclearmusic.com
Photo By: Peter Coates – Inside Edge Photography
Set List:
So Much For The Afterglow
Everything To Everyone 
Normal Like You
I Will Buy You A New Life 
Father Of Mine
One Hit Wonder
Heroin Girl
Heartspark $
Fire Maple Song
El Distorto De Melodica
Amphetamine 
White Men In Black Suits
Sunflowers
Why I Don't Believe In God 
Like A California King
Strawberry 
Local God
Wonderful 
Santa Monica