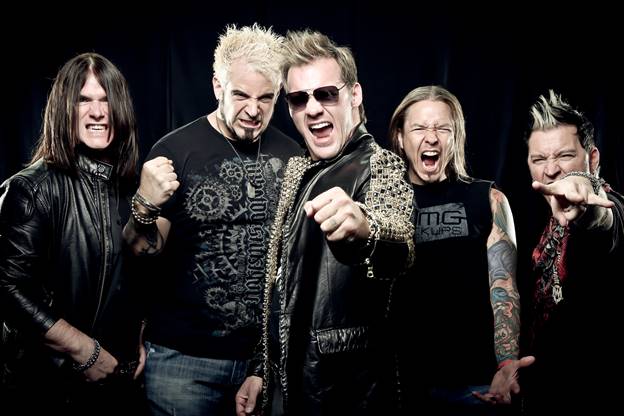 "…we wanted to do a record that's almost like 'Hysteria' or 'Appetite For Destruction' or 'Kick' from INXS your countrymen, or 'Back In Black' you know, albums that just had songs that every single one on the record could be a single."
From Release: Fozzy has always been about a heavy groove and a good time. And when you have two high-energy performers like Rich Ward and Chris Jericho (it's debatable on who jumps higher onstage) in the band, grooves and good times come easy; but these guys aren't just entertainers. Ward is one of the most versatile and underrated riffers in rock and metal today who has created his own style of heavy riffs, melodic choruses and the Duke groove…oh that crushing groove!  And Jericho's singing ability and overall passion for music makes one wonder just how he is able to find the time to excel in pretty much everything he does. It was these qualities that pushed the band to become one of the hottest up and coming rock acts of the past five years.
In North Carolina in the back of a tour bus getting ready for a big rock show we gave Chris Jericho a call to talk about the kick ass new Fozzy record 'Judas', its creation, advice, touring, and much more.
It's been just over three years since we last chatted when you were releasing 'Do You Wanna Start A War', so let's catch up how have the last three years been for you?
*laughs* That's a pretty wide question, it's been a good few years, in January of '14 I did this *laughs, it's been good man, everything's going really good.
Of course we're here because 'Judas' is released this Friday, what are your feelings like leading up to album release time?
Well when you spend a lot of time on it, as you mentioned our last record was 2014 and I mean we spent a lot of time on 'Judas' the album I think we originally started going over some early ideas almost two years ago and the record's been done for about four or five months but obviously you need to spend the time get ready, and organise and promote. So it's been a long time coming and we're really excited because obviously when you do a record you do it for yourself first and foremost, but when it comes time to put it out you want people to enjoy it, to appreciate it, so you're always a little bit nervous but in a good way that hopefully people will respond the way that we did. Now the reaction to 'Judas' straight off the bat shows that response is already there, at least for the first song, so the good news is that there's a lot more songs on the record that will be following 'Judas' right off because 'Judas' wasn't the unanimous choice for the first single, there's other songs that were in contention so we've got another couple of songs locked and loaded and ready in the chamber that will come out just as hot as 'Judas' did so it's a good feeling right now.
I am a sucker for a big rock ballad and hello 'Painless', mate, what a track, is there a story behind this monster you can share with us?
Well the actually story itself is that was one of the songs in contention to be the first single and now that 'Judas' has sort of opened up a lot of doors for Fozzy for people that radio programmers and for a lot of fans that would never even check us out before I think that 'Painless' is going to end up being a bigger song than 'Judas' if I had to guess just because 'Judas' has kind of done all the leg work already and it's opened up those doors and broke down all those walls so I think 'Painless' like I said if you think about this conversation that we're having in the next three or four months mark my words, 'Painless' will be just as big as 'Judas if not bigger.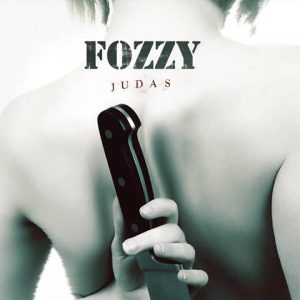 In the three years since 'Do You Wanna Start A War' was there anything that inspired what has become Judas?
I mean the thing that's funny is that we worked with a producer on the last record, Johnny Andrews on the song 'Lights Go Out' and Rich and I decided that we wanted to work with an outside producer this time around which we had never really done before. So there's a lot of Johnny's influence because we gave him total control and he had veto power over what we were doing and we would've never had that, and there's a lot of times when we wanted to put in a guitar solo or put in an extra scream in there and I would've done that but in this case Johnny was like "nope, this doesn't need a solo" and you look at 'Painless'  there's no solo in that, and you look at 'Judas' there's no solo in that. So it went from being Rich and Chris' decision to adding Johnny in there and song writing prowess as well, he was responsible for a lot of the song writing as well, even lyrically, whereas in the past I wrote all the lyrics for Fozzy and on this record I only wrote three songs and lyrics and the rest were Johnny and that's OK, I had to sing them, I had to sell them. So it's just a whole different circumstance for us and it wasn't easy at first but you can see in the final product just how above and beyond this record is from everything else we've done in my opinion. So we're really glad that we hooked up with him and made the agreement to let him take charge.
You talk about singing it and selling it, I think your singing is better than ever on this record how has your voice evolved over the years and are you really comfortable where it is now?
Absolutely and the best thing is that when you work with guys like Rich and with Johnny as well they know where my real voice is as a singer and I think that's another reason the vocals are so great on this record and thank you so much for saying that, is because they're written specifically for my melody range and for my vocal range. It's challenging but it's all stuff that I can handle and that I can do but in different ways from before, and that's what I really enjoyed the most. Singing these songs live they're right there, they're gritty, there's some higher parts in there a little bit of the Axl side of my voice and it's very emotional and very just you can feel it, it's very cool and I like that and that's one of the things that really affected me on this record I heard the vocals and just all the intonation's and all the melodies and all the feeling that comes from songs written exactly for my real house as a singer.
Obvious question, when do you think we'll see you back in Australia?
Well that's the obvious question I love that people keep asking, we were very fortunate we got to come to Australia twice in 2013 and we haven't been back since. We love Australia it's one of the best countries for us and it always has been right from the start and we wanted to come last tour it just didn't work out, but I think like I said with the new kind of light and spotlight that's on Fozzy we really want to come back to Australia in 2018 and its definitely on our bucket list of things to do. The fans have been waiting for us and we've been waiting for us to return so it definitely wasn't our decision not to come back because we really excited to do so. Like I said now with all of the scene that 'Judas' has we want to do it right, put together a great package like we do in The States and let people know about three or four months before and come over and do it right, so that's definitely on our list for 2018 for sure.
Around eighteen years into your career with Fozzy now, is there one piece of advice you were given when starting a band that has stuck with you throughout your time making music?
You just have to do things your own way, I mean I think in a lot of ways I think Fozzy has done everything backwards in as far as what you need to do to really make it in the quote unquote music business but here we are, so there's really no right or wrong way to do things you just have to be different and do something that no one else has really done before and do it your own way. This is rock and roll, it's art, it's freedom, don't try and sound and look and act like you're in a band just be yourself and what you bring to the table is different from what everyone else is doing. That's the most important thing and like I said there's no rules around how to make it in music, it's all about just following what you believe in and doing something original.
Obviously over time many things can change but what is the one thing that you'd say has stayed the same in your time making music with Fozzy?
I mean just the passion that we have, the love that we have for the band and playing live shows, we really enjoy playing live and we've got it down to a real good science now and once again doing things that nobody else does and it's a lot of fun to be in Fozzy I tell you that *laughs* and that's one of the things that's stuck the most. Just having fun when we're on stage and when we're playing, I like that.
So what are the plans so far with this record in terms of touring?
Yeah I mean we're getting ready to go to Europe at the end of October, next Saturday we're doing 'Fozzy across America' where we're doing three shows in three cities in three time zones in one day, something that's never been done before and is really cool obviously, and it's gonna be a long day but it's creating a lot of buzz for us and that's what we wanted, we wanted to do something and a lot of people put out records nowadays obviously and they come and go so fast, we wanted to have something a little bit bigger, something a little bit larger than just dropping the album in stores and that kind of thing and something that people will remember for a long time, and when they think about 'Judas' and think about all these kind of cool stunts that we've been working on. So like I said I think that's going to be a big time and next year we're already working on some more touring in The States, and to come back to Australia and go to a lot of countries that maybe we've never played before, so we're excited, it's gonna be a realty good year for us and all of this has happened before 'Judas' the record is even released so I can't imagine what the buzz with the fans will be like when the record comes out, because if you like 'Judas' you're gonna like everything else on this record for sure.
I think the best thing about this record is that it just flows from start to finish, there's no real stop and start points it's just a record you put on from the start and it just goes through until the end, it's so well done.
Thanks man, that's what we wanted to do, we wanted to do a record that's almost like 'Hysteria' or 'Appetite For Destruction' or 'Kick' from INXS your countrymen, or 'Back In Black' you know, albums that just had songs that every single one on the record could be a single, and eleven songs on this record is kind of a weird number but those were the songs that we felt were the best, we had twelve we dropped one because we didn't think it was up to scratch. Like I mentioned before this record was all about what's best for the song, what's best for the album and not worrying about well I'm a singer so I had to do some screams, or we need some instrumentation because that's what rock and roll bands do, and we need some prog rock in there, all of that went by the wayside and I think like you said the album flows so well and it really does have every song on the record could be a single in one way or another, so it's a good position to be in. If there's such a thing as rock radio albums that have seven or eight singles, this one could be that, so it's a win win situation for us either way, no matter what.
Lastly let's look ahead to the future, so finish this sentence for me, in 2018 Chris Jericho will?
Come back to Australia, do an arena tour, have a number one single on the radio in The States, all those sorts of things, that all sounds good to me.
Essential Information
From: Atlanta, GA, USA
Band members:  Chris Jericho – Vocals, Rich Ward – Lead Guitar, Frank Fontsere – Drums, Billy Grey – Rhythm Guitar, Paul Di Leo – Bass
Website:  http://www.fozzyrock.com
Latest Release: Judas (Out Now – Century Media)