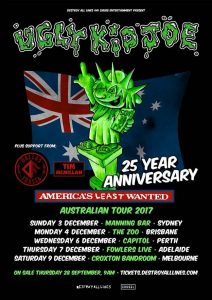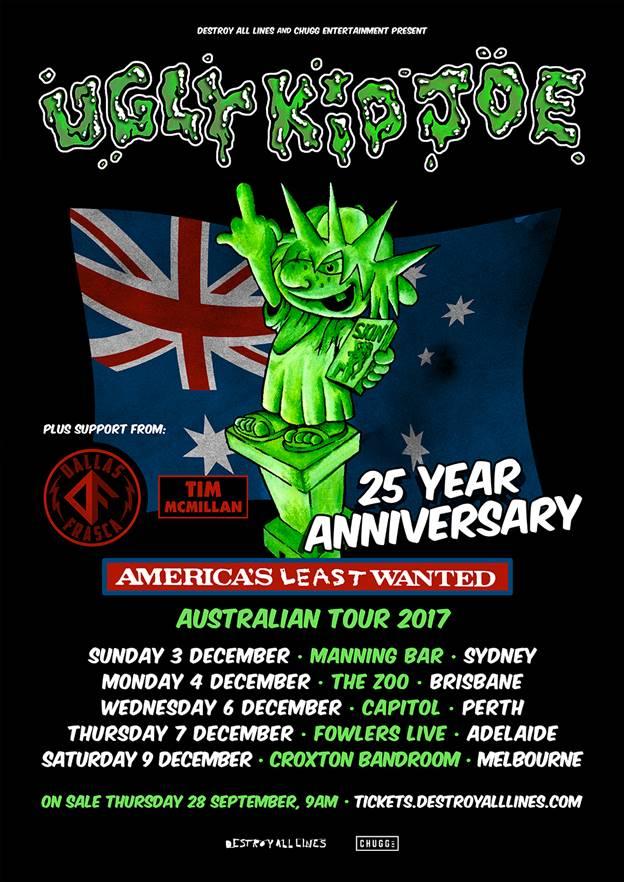 It was September 1992. Millions of snot faced skate – surfers worldwide were cracking a few brews in their bedrooms, on beaches and in their garages listening to one album…'Americas Least Wanted' by UGLY KID JOE. 'Americas Least Wanted' was a double platinum phenomenon selling over 2 Million albums catapulting UGLY KID JOE to headlining Arenas and touring with the likes of Van Halen, Bon Jovi and Ozzy Osbourne.
For the first time ever UGLY KID JOE will be celebrating the 25 year anniversary and performing 'Americas Least Wanted' in its entirety and Australia will be the first in the world to hear it as they kick off a National tour this December. It's time to re live the simpler times and embrace this wonderfully cathartic wrecking ball of rock 'n' roll energy and if there's one band that can start a party that everyone will remember, it's got to be UGLY KID JOE.
Joining the party will be Australian rock legends DALLS FRASCA who fit somewhere in between The Black Keys, and the incredible full-throated wail of Janis Joplin. Their songs are catchy, huge and you can feel the truth in their tales.
TIM McMILLAN combines the melodicism of Jeff Buckley with the eclecticism of Frank Zappa and the harmonic creativity of Devin Townsend. His latest release "Hiraeth" is a collection of instrumental pieces and songs composed & recorded during a year on the road in Europe and feature a variety of guest musicians from the rock world, including members of Motörhead, The Sisters of Mercy, Ugly Kid Joe and Mr Bungle.
Tickets go on sale Thursday 28 September, 9am.
TOUR DATES:
Sunday 3 December – Manning Bar, Sydney 18+
Monday 4 December – The Zoo, Brisbane – 18+
Wednesday 6 December – Capitol, Perth – 18+
Thursday 7 December – Fowlers, Adelaide – 18+
Saturday 9 December – Croxton Bandroom, Melbourne – 18+