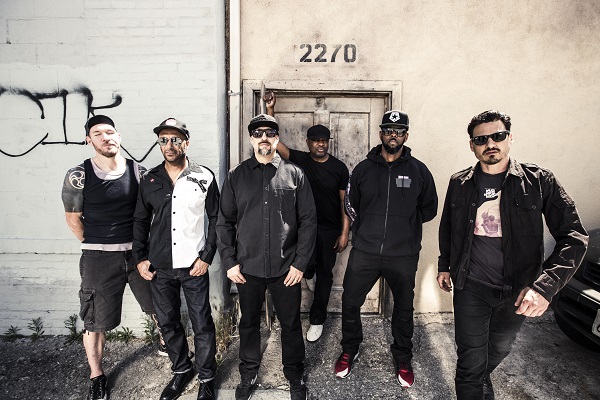 "Ultimately we're taking that song to the stage and we are going to play that song better than we recorded it and better from show to show and that's what me and Tom and Brad have always strived for is to be better than what we recorded and to try to be better live…"
From Release: Prophets Of Rage came together during 2016's tumultuous election to combat the coming storm, wherever it may lead. Fresh off the road and riled up following last summer's highly successful MAKE AMERICA RAGE AGAIN tour, the group knew it could evolve from protest performance art with a tactical mission, to a stand-alone entity with creative ideas all its own. The band fused the diverse styles, sonic firepower and hard-hitting social consciousness of their previous work, into an inventive and compelling new musical statement, completing the album's twelve tracks in just over a month of recording. Prophets Of Rage quickly became as much a shared experience between its members as it was a call-to-action for the world at large.
At a rehearsal facility in North Hollywood, Tim gave a call to talk about Prophets of Rage, the band, the music, the message, touring, history, and much more.
So to start us off, the obvious question, can you tell us how Prophets of Rage came to be?
Well yeah we've gotten this question a million times and part of me wants to give you an answer like well I actually woke up from a dream and there was a rock behind my house and an angel came to me and told that there was a rock and inside of it was an idea, but it wasn't like that. It was Tom Morello calling me and Brad and saying hey you guys want to jam with Chuck D, fuck yeah we want to play with Chuck D we've played with him many times before when we were on tour with Public Enemy in 1991, so yeah we played with Chuck D. Then B-Real, could you imagine how cool their voice would be so let's do it, so we hit B-Real up and it was like of course, so now we are able to play music from all three catalogues and that's like thirty five years of all kinds of stuff and then we can mash up anything any way we want it and that's super fun and easy like Rage was easy back in 1991. We went on tour, played a bunch of shows, played from our catalogues, played a couple of Prophets of Rage and it's a great P.E. song to begin with but I like the way it sounds from what we did, and we got back how from our U.S. tour and wrote a record and in three months' time came up with the songs from nothing, recorded with Brendan O'Brien who's been a guy we played with many times before, he's more than just an engineer he's a guy who's an incredible player on top of that and he knows how to use all the gear, he was like the engineer with Rick Rubin on 'The Ghetto Boys' album and stuff like that that I listened to when I was a kid and it sounded so sick. So Brendan is just an incredible engineer, knows his gear, collects gear, knows sounds and can be like "oh I know which guitar that is and amplifier" and we made a record and brought Chuck and B-Real into a completely different recording situation in the way a rock band does it than the way a hip-hop producer has you come in and do it, it's a different environment and it was fun the way we mixed it up came up in the music and we wrote twelve songs, we went in thinking we'd write a few and came out three months later with it recorded and mixed and it was twelve jams and I'm proud of those songs and they sound sick. I'm super into it and the most fun I've had since the first Rage record, so there's the history, there you go.
With the new album coming what are your feelings like around album release time?
I get excited because I feel like music is more than just the melody, it's the ideology and I love the ideology and I love to use music to earmark a time and the best way to earmark it the way I'm concerned is politically, you speak up and use your music and whether people like it or not it doesn't matter, matter of fact the haters I love that more than the people that dig it *laughs* it means that it's going to be exciting, you know? So that's it, the music is incredible.
What do you feel you've been able to do with Prophets of Rage that you weren't able to do in any of your previous bands?
Well obviously it's a lot like Rage because Tom, Brad and I have a sound that we have been sort of honing in for years and it's partly luck and partly like attention, and we have that sound and it's something that we're confident. Then we also played besides Rage with Chris Cornell we became a more melodic band and we learned to work around a chord progression and this sort of thing, and here we are as older more seasoned players and we're able to incorporate that aspect into something that does have a heavier sound but I feel like it still stays heavy you know?
Is there a message you want to spread with this band?
Speak up, use whatever you have even if it's just your voice to speak up and confront things in the world, we live in a  world of a lot of racism as far as I'm concerned and if there was any one message it comes out in what you see on stage is ethnicity in this band that I'm really proud of as well and it's great to come together both musically and culturally and ethnically on a level of art and playing in a band, so whatever it's all about at the end of the day you've gotta use your voice, that's what this is all about.
I've seen you play with Rage and Audioslave and the musical powerhouse that you are on stage is amazing, any idea of when we will get to see Prophets of Rage in Australia?
I don't know, man I hope it's tomorrow I know it's gonna happen, I don't know when. I've been trying to deal with a guy down there now and you guys live on the other side of the planet *laughs* I don't know if it's tomorrow or yesterday but we're on a completely different time warp but I'm excited and I know we're all excited to go to Australia and it's gonna be awesome when we go there because everything we've ever done down there has been exciting.
Over time obviously things change but what is the one thing you'd say has stayed the same over your time making music?
Well for me, it depends on how you want to break it down, but for me it's the bass guitar, like I love the bass guitar and I at the end of the day I'm in a band, I'm a player and I play the bass guitar in a band and I love what I do, so the bass the guitar is the one thing for me that I focus on and that will never change. It's like I was saying before, the ideology and just the confidence in that we're not going to write music that doesn't have anything to say, that's not gonna happen, we're gonna always use our music as a voice of culture and that's what we do, so that's been a constant as well and there's a lot of things like that. They're all given and the beauty of it is when we get in a situation where we're together and we don't say 'OK this song's gonna be about this and that' we get together and we play music and the songs sort of write themselves. Ultimately we're taking that song to the stage and we are going to play that song better than we recorded it and better from show to show and that's what me and Tom and Brad have always strived for is to be better than what we recorded and to try to be better live and that's the ideology of the Prophets of Rage as well and it's exciting.
You talk about the bass guitar and I have to say on a personal note I have to say that your bass part in the solo of 'Like a Stone' gives me absolute goose bumps every time, so thank you.
Oh right on, see you're one of the Audioslave guys, you're leaning more Audioslave, I can respect that I'm into that I think that's cool, but it's different, there are also those that are down with the Rage part and not into that, I'm loving that too. That's what I think is so neat about the Prophets is that we do pull from Hip-Hop and R&B and fun and rock and metal and punk rock, but we're a band, we're a real band playing… I lost my train of thought. *laughs*
I did want to touch on the fact that it's 25 years this year since the release of the debut Rage Against The Machine album, looking back what are you memories of releasing such a momentous album?
We made music that we wanted to make that's the main thing about it, we didn't strive to make a momentous album, we just strove to make the kind of music that we like and at that time if anyone would've asked us whether we would be here twenty five years down the road we would've laughed and I'm still laughing kind of about it to be honest with you.
So what does the rest of 2017 have in store for Prophets of Rage?
More songs, more videos, more shows, we haven't lined up everything yet but we're definitely going to be touring and we're gonna try and be better than the show before so that's where it's at and it's a shared experience between the audience and the band and we kinda need the audience. So the shows that are greatest are when the audience is just as good as the band. So it's exciting, I'm excited, we're gonna be everywhere.
Especially in Australia, yeah?
Like I said, it's not on the calendar but that doesn't mean it's not happening, I say we're coming soon.
Lastly let's look ahead to the future, so finish this sentence for me, by the end of 2017 Prophets of Rage will…
Prophets of Rage will play shows in Australia and play songs from our new record that's coming out in a couple of days and be better than we ever were before.
Essential Information
From: Los Angeles, CA, USA
Band Members: Tom Morello – guitar, Tim Commerford – bass guitar, backing vocals, Brad Wilk – drums, DJ Lord – turntables, backing vocals, Chuck D – vocals, B-Real – vocals
Website: www.prophetsofrage.com
Latest Release: Prophets of Rage (Out Now)