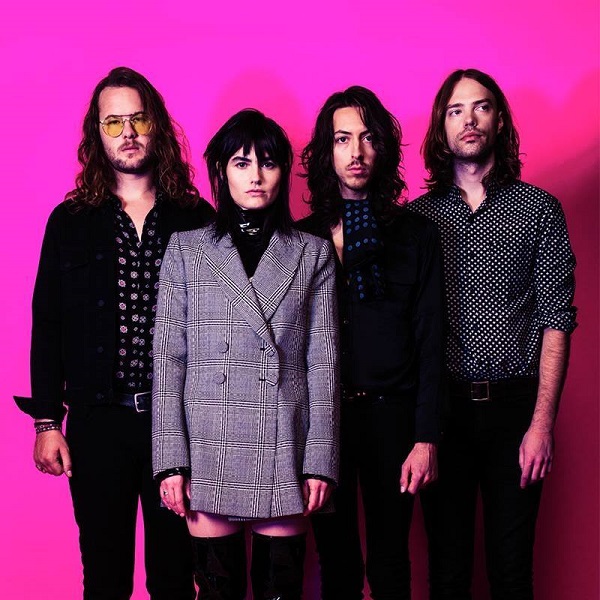 "It's just one of those things that we tried to do on the first record was get a sense of who we are as a recording band in no time and now we've got Doldrums and we've got this space to play around and experiment with what we are on record. We tried to elevate that identity and elevate that and make it big and see how far we could take it."
From Release: The Preatures' much-anticipated second album, Girlhood, the follow up to 2014's breakthrough debut Blue Planet Eye is out now.  Bold yet fragile, courageous and vulnerable, and direct but deep, the Preatures' second album explores the contradictions of being a modern woman. Their debut album Blue Planet Eyes received critical acclaim across the globe, and debuted at #4 on the ARIA Chart. The band were nominated for 3 ARIA Awards in 2015 for Best Live Act, Best Group and Best Rock Album and won GQ's Band of The Year Award. Known for their killer live show, The Preatures have sold out countless dates around the country and are not to be missed on their national headline dates this September!
In their studio in Sydney, Jack, Tom and Izzi of The Preatures gave us a call to talk about the band's new album 'Girlhood', changes, touring, experiences, and more.
You've just released your second album, how does it feel having it out there now?
Jack: A relief, a very exciting kind of sensation, like we've worked on this sense February last year and we can finally talk to people about it and they've had a listen to it rather than filling their ears with god knows what nonsense.
When writing and recording 'Girlhood', what if anything did you learn from making your debut that you took into the second album?
Jack: To take our time, it's just one of those thing, making the first record happened so quickly and with this record especially because of circumstance and they nature of the songs we were working on and just kind of where we were at what we really wanted to do at the beginning was make another record in a fairly short amount of time, but it didn't fall out that way and as we started writing we realised that we needed to take some time and let some things grow and sort of I guess we're lucky we could have that time. It's just one of those things that we tried to do on the first record was get a sense of who we are as a recording band in no time and now we've got Doldrums and we've got this space to play around and experiment with what we are on record. We tried to elevate that identity and elevate that and make it big and see how far we could take it.
In the three years since 'Blue Planet Eyes' is that what helped shape what would become 'Girlhood'?
Tom: I think we learned a lot of lessons on the road with touring 'Blue Planet Eyes' and how to almost pitch a song to an audience, and…
Jack: What do you mean by that?
Tom: I mean like there's gonna be songs that feature more electronically like 'Cherry Ripe' and then there's gonna be your straight up rock and roll songs like 'Girlhood' the title track, I think it sort of cemented to us that we can do what we want to do and still have a Preatures sound.
Izzi: Yeah.
You're also about to hit the road, for those that haven't seen The Preatures live before if you can, tell us some of your favourite terms you've heard used to describe your show!
Jack: Someone described us…
Izzi: A national treasure
*all laugh*
Izzi: That was a show we did in Adelaide and a girl wrote how we were a national treasure and I was like "YOU'RE a national treasure" *laughs*
Jack: Adelaide is a national treasure.
Other than the shows in Australia have you got any other touring plans coming up?
Jack: We're gonna dart over to The UK and do a show over in London and in that time we'll do another bunch of bits and pieces. There's a few things late in the year in Australia and some of them haven't been announced yet.
Izzi: A couple of festivals. We're still locking a whole bunch of stuff in and have no idea what's going on.
Jack: We're winging it.
Izzi: So we better not say because we'll make some kind of mistake
Jack: and piss off people *laughs*
Izzi: I know there's 'Festival of The Sun' and 'This That' festival and something around new year's eve that we just locked in but we can't talk about that one. So it'll be great, we just need to get back to playing shows now and probable start working on another record *laughs*
Jack: Yeah we probably will start working on another record before the end of the year.
Izzi: There's a really nice feeling you get when you release a record and you're doing all the promo and the admin, you've got no pressure to write, so it's the best time to write.
You've had some great experiences thus far over your career, has there been a stand out for you that will be pretty hard to beat?
Jack: That's really difficult, you're right because we've had so many great things happen.
Izzi: I think playing Glastonbury.
Jack: I was just about to say that, it was like a medieval metropolis, it was the most barbaric thing you've ever seen, it was like a quarter of a million people living in a shit heap in the middle of a valley beneath an ancient tour, and there's like bands everywhere and it's just crazy.
As a band for seven or so years, what's the one thing you've learnt about being in a band that you didn't think was part of the business?
Jack: people skills
Izzi: Basic accounting
Tom: I think the big one is realising there's bigger things at play than just you and the other three people in the band, the band is bigger than your life.
Jack: Oh shit.
Tom: The band make sacrifices for you and you make sacrifices for the band so it's not just like about any one of us and it's so important to stick together and have each other's back.
Izzi: Yeah we're like one of those horses like when you dress up in the horse outfit and two of them run in the opposite direction the whole thing falls apart.
Jack: We are just four people in a horse costume, and you can print that.
*all laughs*
What's on your list of things to do that you haven't yet had the opportunity to do?
Jack: We'd love to play Laneway festival.
Tom: I would like to play Laneway at some point in my life.
Izzi: Why won't you book us?!
Tom: I'd like to be able to be more prolific
Izzi: Yeah we'd just like to put out some more stuff.
Jack: It's a tricky one with the one you asked about the unexpected skillset you have to have in a group, it's a tricky thing to manage your creativity and you never thing you have to be that person, you just think you're gonna be doing cool shit all the time I think we're getting to the point now where we realise if we really want to make the most of what we've got while we've got it we really need to…
Tom: Start exercising that organ
Jack: Yeah and just make the most of it, there's no saying what could happen anytime at this point and I think it's one of those things you start to get when you get to your late twenties and you feel like time's running out and you just have to jump at everything and I think we're all collectively starting to brace with that feeling and just want to do more.
Lastly, let's predict the future a little bit. Finish this sentence for me, by the end of 2017 The Preatures will…
Tom: Not have killed each other.
Jack: That's an easy one, come on…
Izzi: I want to have another record out.
Jack: My pragmatist says by the end of 2017 The Preatures will have started working on another record.
Izzi: Have another record out.
Jack: This is the old yin and yang routine, again.
THE PREATURES | GIRLHOOD ALBUM TOUR DATES
Presented by Chugg Entertainment & Select Music
BRISBANE
Thursday 14th September – Brisbane Festival (All Ages)
www.brisbanefestival.com.au
ADELAIDE
Friday 22nd September – HQ (All Ages)
With Special Guests Polish Club and Rin McArdle
www.moshtix.com.au
PERTH
Saturday 23rd September – Capitol
With Special Guests Polish Club and Boat Show
www.oztix.com.au
The Preatures also appearing at Yours & Owls and Red Deer Music & Arts Festival
Essential Information
From: Sydney, Australia
Band members: Isabella – Keys & Vox, Jack – Guitar, Tom – Bass, Luke – Drums
Website:  http://www.thepreatures.com
Latest release:  Girlhood (Out Now)