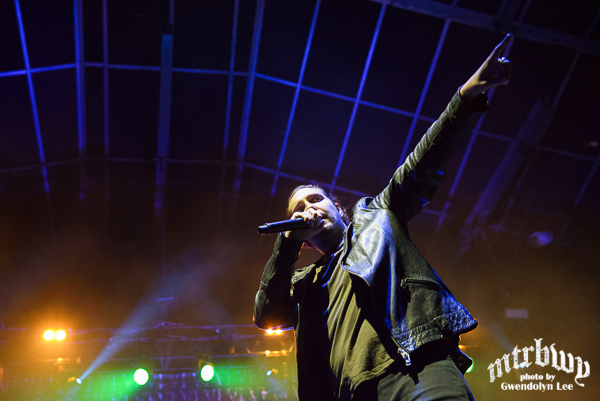 Now I've seen You Me At Six a few times now and I had to make sure I was here tonight as they certainly are a band that you don't want to miss live and with their newest album 'Night People' out and with them here in support of it I can't wait to see how the band has and continues to mature.. Also can't wait to see how many power ballads they play!
So I made it for Hellions who are up here right now making some noise and getting the place warmed up. Their heaviness is impressive and these Aussie guys are damn good and have it down. Their song of their namesake is brutal and kicks ass with its super interesting arrangement it kinda works. Musically this band is amazing, love their sound and look forward to checking out more of them. Way to pump the crowd up!
It's time for YMAS and as Josh walks on stage and starts singing 'Spell It Out For You' as the band join him to continue this slow starter before it blows up and here we go!! Yeah they've gotten better, wow what an opener! They throw it back with 'Bite My Tongue' and they all know this one. Oh wow a circle pit, nice, this one is heavy tonight and I'm loving it. Arms raise and clap along to 'Fresh Start Fever' which is great but 'Lived a Lie' takes it up a notch! Damn I love this one and man did that sound good. How was that song not a massive hit?! In fact it still should be, this is a perfectly crafted rock song.
'Loverboy' keeps it going and what I love about YMAS is that they simply don't have a bad song and this set so far is amazing, the band are so tight and heavy, Josh as a front man commands the crowd and belts it out, this is good. 'The Swarm' whoa and as he got the crowd to crouch down and jump up on his call they obliged and I love seeing that. The first hello and love for Sydney happens and right now as fists are being thrust towards the stage with a 'Hey!' we get 'Swear' from 'Night People' and you can tell it's just one of those songs made to play live.  So glad I'm here tonight. 'Give' is up next as things slow down a little in the first close to power ballad of the night, fingers crossed a few more pop up! We stay slower with 'No One Does It Better' and again, I'm beginning to sound like a broken record but wow. Ok so the title track to their newest album 'Night People' just got turned up to 11 and sounds so much better in here tonight, oh man this is huge. 'Cold Night' may just be my new favourite YMAS song, well tonight anyway unless they play 'Crash' but this song is straight up catchy rock and I'm so thankful there's a band like YMAS out there still making this kind of music. 'Take On The World' is in my opinion the best song the band has written in a long time and as the place gets lit up with phones they deliver this big epic, and truly if there was one song ever written to be played live it's this, in fact I don't know if I can listen to the recorded version now after hearing that. As only Josh and Matt stay on stage to play 'Too Young To Feel This Old' they nail it and then just walk off the stage. Odd.
So as we wait for them to come back the crowd gets louder and even more so when the band returned. And with a promise of four more songs, they start with 'Stay With Me' which rocked, followed by 'Reckless' which was awesome to see the crowd still into this (how could they not be) and the mosh going insane. So good and with a bit of a Killers mashup in there this one rocked. Then 'Underdog' is as good as anything else they've played tonight and with one more to go in their promise of four and it's an absolute monster in 'Room To Breathe' and what a way to close the show, a show that was full of energy from the band and the crowd, amazing music and proof that rock ain't dead, in fact it never will be if bands like You Me At Six can keep doing exactly what they did tonight which was kick so much ass that it's going to be uncomfortable to sit down on the train ride home.
Essential Information
Venue: The Big Top, Luna Park – Sydney
Date: September 23, 2017
Presented by: Frontier Touring
Website: http://www.youmeatsix.co.uk
Photo By: Gwendolyn Lee – Gwendolyn Lee Photography – Full gallery HERE
Set List
Spell It Out For You
Bite My Tongue
Fresh Start Fever
Lived a Lie
Loverboy
The Swarm
Swear
Give
No One Does It Better
Night People
Cold Night
Take On The World
Too Young To Feel This Old
Stay With Me
Reckless
Underdog
Room To Breathe