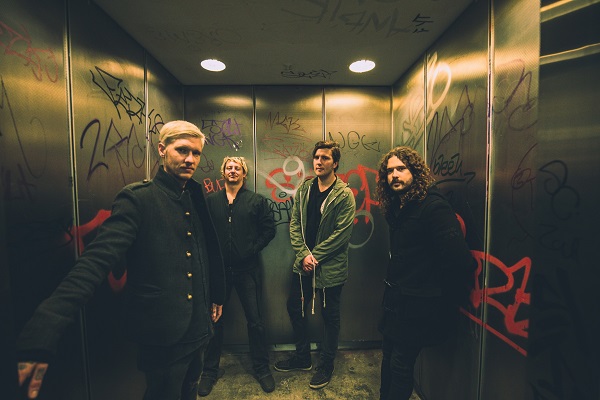 "…it's not a self-help sort of record, it's just an awareness thing without being preachy that's just how I write and it just sort of fell out that way, but it's more about the duality of man sort of situation like there's always an internal struggle no matter if you're singing in a huge band or if you're laying bricks for a living emotion still hits everyone and that's kind of what I wanted to get across without being preachy which can be difficult."
From Release: Over the past few years Rival Fire have honed, refined, and embellished their sound through performing live, and pushing themselves in both heavier and softer directions. Rival Fire have been on tour recently supporting the likes of Dead Letter Circus, Birds of Tokyo and Superheist. While on tour with Dead Letter Circus, Rival Fire struck up a close friendship with the Brisbane band which resulted in the band working with Luke Palmer and Clint Vincent who produced the newest album tracks 'War', 'Slave', 'Dreams'and 'Addiction'. Having previously released album tracks including 'Badman' and 'Riot' on their 'RIOT EP' last year, the band decided to add more songs to the final album.
At home in Melbourne we gave Rob Farnham of Rival Fire a call just as they were about to drop their debut album to tell us all about 'War', its creation, the band, touring, advice, and much more…
So for those that may not be aware of Rival Fire, how would you best describe your music and what you're all about?
I would probably say that it's more alt rock I mean we take a lot of influence from 80's music like synthesisers and that sort of stuff because that's the music that a couple of members grew up on, then a lot of us played in heavy metal bands and hard rock stuff so there's elements of that in there too. Mostly we just say ultra-sonic rock, I mean it's not something we set out to do, it's just how it fell out I guess.
You are just about to release your debut album 'War', what are the feelings like around this time before you release it to the world?
You go a through a range of emotions, at first it was super nervous and then excited and the just a general freaking out sort of situation. The album's been ready for a while so just getting everything ready before release and it's a huge weight off the shoulders and the fact that it's coming out Friday is a huge deal for us and we're just super excited to have those songs out there, mate.
So with the 'Riot' EP out previously was the process any different when putting together the album?
The songs off the EP are on the album as well so when we delivered the album it was 80% complete we did another four songs, it was a similar process and having at out and 'Riot' in particularly was at the time one of my favourite songs and just a strong song so we were excited to have that out but having the album out is just massive, the song 'War' itself I really like and there are a couple of others we did later in the recording process and I'm just really proud of it. It's taken a while to get to this position but really proud of what we've done.
So is there a story or premise you've delivered with 'War'?
Sort of, as I said a fair bit it's not a self-help sort of record, it's just an awareness thing without being preachy that's just how I write and it just sort of fell out that way, but it's more about the duality of man sort of situation like there's always an internal struggle no matter if you're singing in a huge band or if you're laying bricks for a living emotion still hits everyone and that's kind of what I wanted to get across without being preachy which can be difficult.
I'm a sucker for a big ballad and boom song three on the album we have 'Dreams' what a track, as I always like to single one song out to ask about here it is, can you tell us a bit about this one and how it came about?
I'm stoked you like that song, that's one of my favourites on the record as well and I love writing ballads, most of the ballads on the album start with something I've come up with which ballads tend to be easy to write, well not easy to write but my go to thing and 'Dreams' sort of started when we were writing in Sydney up at Sony just sort of demoing and doing some stuff and it sort of happened. I wanted to add four more songs to the album because we'd already released the EP and wanted to the EP to be on the album but I didn't want to rip people off, so we added another four songs and we did 'Dreams', 'War', 'Slave' and 'Addiction' with Clinton and Luke from Dead Letter Circus and it was just a process where we had some string players come in, some beautiful girls came in and did some cellos and violins and violas live which sounds  the piano was played by a friend of mine, Peter Holt who's at Sony as well. I don't know, it was just one of those things that evolved from a piano part and turned into a cool little rock ballad. Very proud of that song it's a great song.
Love that it was that early on the record too.
Yeah thanks mate, I learned at an early age that not only songs but an album you have to have a journey so there's ups and downs on a song just like on an album and because the album is quite diverse and you've got heavier songs like 'Riot' and 'War' and then you have the sort of opposite to that with a bunch of ballads on there, even again there's some sort of pop synth type stuff so I just wanted a bit of diversity and spread it out a little bit rather than just having these are the heavy songs, these are the ballads at the end sort of thing. Had to make it a little more of a journey.
In terms of touring what's on the horizon for Rival Fire?
Well we've got a co headline tour in October with band from Brisbane I unfortunately can't mention who it is as they haven't released their dates yet so we're waiting for them to give the old nod. We're playing at The Sea Shepherd 30th anniversary in September in Melbourne which will be great as well as its an awesome cause as well and all that sort of jazz and they've looked after us in the past with DLC tour which was last year. We've got shows before the end of the year as well we're just locking them down, just waiting on confirmation for the ones leading up to December. Then early next year in March we just landed a large tour and a national tour with a great Australian band which we're extreme excited about and once again I can't say who it is because they're meant to be releasing that information today or tomorrow but it's a while away and we're very excited about that one.
As a band for four or so years, what's the one thing you've learnt about being in a band that you didn't think was part of the business?
Ooh mate that's a good question, nothing surprises me anymore, I've been around for a while and even if I hadn't been in bands I've been in the industry growing up in it and know all sorts of crazy shit that goes on, but probably look, nothing early surprises me that I didn't think would be a part of it, I think I'll answer a different part of the question but you know you've just got to realise that everyone in your band has their own emotions and own lives I guess, it's like having five girlfriends you've got to take everyone's personal infrastructure into account because it can get a little bit testy, but you've just got to keep moving forward and make sure you've got people on your side that want to be there and that are keen and everyone's working towards the same goal rather than pushing back and you've just got to sometimes cut the dead weight and keep moving forward. It's all about the music and we have a lot of fun with the guys in the band and we're all really close and it makes touring a lot of fun because no one in the band hates anyone, that's always a good thing, but we love playing music together and obviously there's arguments sometimes but once you're on stage and you're playing with each other it's like "yes" it's a huge rush, we love playing live and I think that really shows when we do play live, but it's just about without sounding too lame, a brotherhood type thing and it's just a bunch of friends having fun and we take the band very seriously but we don't take ourselves too seriously which I think is super important.
Being around music your whole life what is the best piece of advice you have been given?
Probably just do what you love, and head down bum up situation that if you believe in a project or believe in yourself don't let anyone talk you down I guess, it's one of those things that you've just gotta keep pushing and keep moving forward. Treat people with respect and I've learnt from an early age from my old man, he's extremely loyal and you've gotta be loyal to people and treat them with respect otherwise you just get shit on and even sometimes because you are loyal get shit on as well, but that's just life unfortunately you know humans aren't perfect and it's just the way it sort of rolls, but I'd say loyalty, respect, don't talk down to people and all that sort of stuff when you're in a position to do that but you've really gotta realise if you shit on someone on the way up they're gonna do the same on the way down so it's just one of those things, it's just respect man, it's respect.
Well, it's not hard to be nice.
100% and that is the thing I agree with, it takes five minutes to be nice to someone and give an opinion or help someone out, I try and do that as much as I can, I've gone into a couple of music schools and talked about song writing and my journey through life and you've got to part with the information and try and help as many people as you can and yeah just keep moving forward. There's always going to be someone that doesn't like your music or you or your clothes or whatever, you've just gotta keep moving forward basically.
Lastly, let's predict the future a little bit. Finish this sentence for me, by the end of 2017 Rival Fire will…
*laughs* I don't know, hopefully do bulk shows and I don't know how to answer that *laughs* without sounding like a dickhead, I mean I just want to do shows, that's all I care about, I love the record and I love the songs and I just want to be on tour with my mates so that's what I would probably try and say I know that doesn't probably fit to what you were trying to get at. I just love doing shows. I don't think it's going to happen in 2017 but I'd love one of our songs to be on the Deadpool soundtrack or any of those Marvel movies, I'm a bit of a Marvel nerd I'd love that but I don't think any things coming out this year as its probably the ones that have already been done. Fingers crossed, mate.
TOUR DATES:
WAR Album Co-headline Tour
SAT 14 OCT – The Evelyn, Melbourne VIC (Headline)
FRI 20 OCT – Enigma Bar, Adelaide SA (Support)
SAT 21 OCT – Frankies Pizza, Sydney NSW (Headline)
FRI 3 NOV – The Brightside, Brisbane QLD (Support)
The Butterfly Effect Tour Support
THU 01 MAR – Prince of Wales, Bunbury WA
FRI 02 MAR – Metropolis, Fremantle WA
SUN 04 MAR – HQ, Adelaide SA – SOLD OUT
THU 08 MAR – Metro Theatre, Sydney NSW – SOLD OUT
FRI 09 MAR – Metro Theatre, Sydney NSW – SOLD OUT
SAT 10 MAR – Croxton Bandroom, Melbourne VIC – SOLD OUT
SUN 11 MAR – Croxton Bandroom, Melbourne VIC – SOLD OUT
THU 15 MAR – Cambridge Hotel, Newcastle NSW – SOLD OUT
FRI 16 MAR – The Triffid, Brisbane QLD – SOLD OUT
SAT 17 MAR – The Triffid, Brisbane QLD – SOLD OUT
SUN 18 MAR – The Triffid, Brisbane QLD – SOLD OUT
Essential Information
From: Melbourne, Australia
Band members:  Rob Farnham – Vocals, Tim Smyth – Guitar, Zac Connelly – Bass, Matt Darcy – Drums
Website:  http://www.rivalfire.net
Latest Release: War (Out Now – Sony Music Australia)