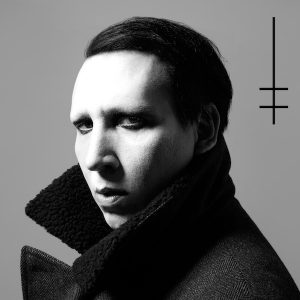 Marilyn Manson confirms October 6 release for Heaven Upside Down. New single "WE KNOW WHERE YOU FUCKING LIVE" trolls the dark frenetic territory that made Manson a God-like figure to so many. The ten tracks on Heaven Upside Down were recorded in Los Angeles and create a cinematic sonic palate that harkens back to the ferocity of seminal Manson albums Portrait of an American Family and Holy Wood. On the new album, he reunites with producer and film composer Tyler Bates following an epic collaboration on Manson's critically acclaimed 2015 release The Pale Emperor.
Zane Lowe premiered the song today as the World Record on Beats 1. Zane says, "It flies out of the speakers. The first time I heard it I felt like my car levitated 6 inches off the ground. It takes off, and vocally, I haven't heard Manson that aggressive and immediate on a record for a long time." Listen here.
Themes of violence, sex, politics and romance slice through Heaven Upside Down. Manson asks his fans to brutally pledge their devotion on "KILL4ME" and delves into new genres with a trap beat on the track "SAY10" as he proclaims "I'm a legend, I'm not a fable."
Manson's sensationalist music and art that rejects conservative values created an icon who has infiltrated fashion, television, film and music, and whose fingerprints coat modern culture. 20 years into his career, Manson is still a lightning rod of controversy and the pageantry and debauchery of his life are perfectly intact.
On September 27, Manson will kick off a US, UK and European tour.
HEAVEN UPSIDE DOWN
DUE OCTOBER 6 VIA LOMA VISTA RECORDINGS / CAROLINE AUSTRALIA – PRE-ORDER
HEAVEN UPSIDE DOWN TRACKLIST:
1. Revelation #12
2. Tattooed In Reverse
3. WE KNOW WHERE YOU FUCKING LIVE
4. SAY10
5. KILL4ME
6. Saturnalia
7. JE$U$ CRI$I$
8. Blood Honey
9. Heaven Upside Down
10. Threats of Romance