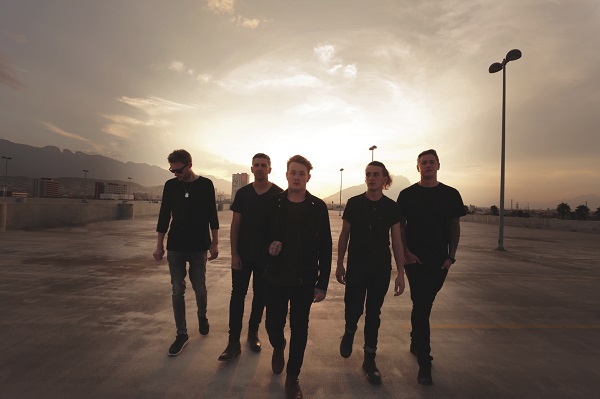 "…we just try and make the music different, we try and change genre slightly per record, I always try and bring different instruments in and different genres of music. I guess you've just got to keep changing what you're listening to and trying to get different influences."
From Release: Deaf Havana has a well-earned reputation as an impressive live act, touring consistently over the last twelve years, nurturing a passionate and dedicated following.  They are currently riding high on the back of their recent UK top 5 album, 'All These Countless Nights'. Deaf Havana first visited Australia back in 2013 as part of the Soundwave line up and the band are excited to head back to Australia
In London, James from Deaf Havana gave us a call to talk about their upcoming return to Australia, new music, old music, and much more.
You're heading back to Australia for some shows with Placebo as well as a couple of headline shows, how will these shows be shaping up?
It's been so long since we've been there so I don't know really, but we've released a lot of new stuff and we're just gonna get some rehearsals under our belt before we come down and hopefully we still have some fans over there so we're just gonna do the best that we can.
You were last here in 2013 for Soundwave in the four years between visits what if anything can people expect differently from Deaf Havana 2017 vs 2013?
*laughs* We're way less of a mess *laughs* back then that was our first time in Australia and the festival was so fun and there were so many friends over there so we were all over the place and just out every night, but yeah we're a lot more professional and I think our songs are a lot better now.
When you have four albums like you do now does it get harder to put a set list together whereas at the start you'd only have that to focus on, but how do you do it now?
Yeah it's pretty annoying, I mean we don't really play anything off the first album because that was different and we had different members and we can't really play those songs anymore. It's quite hard to put songs together because if you play a headline show it's not that bad because you've got an hour and twenty or an hour and a half, but if you play a support slot when you play for thirty minutes it's impossible to fit all the songs that you want to play at that time.
Especially with a new album where you're probably excited to get out and play only that, yeah?
Yeah I guess so, I think we still have to get quite a nice balance of all the stuff as well, obviously it's more fun for us to play new songs so we try and get a few new ones in there as well.
Do you have a stand out memory of that previous trip to Australia?
*laughs* Like every single day, it was ridiculous, it was summer and it was so hot there and we'd never been to Australia before and it's the best country I've ever been to and it was incredible. Like the stand out was probably Melbourne, it's my favourite city and I think the time we spent in Melbourne was incredible.
'All These Countless Nights' has been out now for around seven months, how has the cycle been since its release?
It's been pretty good, we've been quite busy and the best thing about it is seems to have been promoted in different countries where previously it was only in England, now we've been on the radio in Germany and in Italy and stuff, so yeah it's been the best album cycle we've ever had.
Four albums in now, is there one piece of advice you've been given that has stuck with you throughout your time making music?
Yeah and it's the piece of advice that I always give people and  it never sunk in until recently, it's basically just write music for yourself, don't write it for any other reason other than the fact that you love music. I think if you try and write to a certain agenda it might work for a bit but ultimately you're gonna be even happier I think.
Other side of that, as the band continues to make music what if anything do you try and do differently on each release to keep things fresh and exciting?
I guess we do just as simple as it is we just try and make the music different, we try and change genre slightly per record, I always try and bring different instruments in and different genres of music. I guess you've just got to keep changing what you're listening to and trying to get different influences.
Do you worry about alienating fan bases when you change a little bit?
Yeah I guess so but then again I think we did alienate people on our third record because we changed quite a lot but luckily a lot of people have been pretty good but that is always in the back of your mind, if you change significantly there's a good chance that people will be annoyed.
So maybe an electro dance record from you guys next time?
*laughs* Maybe.
Obviously over time many things can change within a band but what is the one thing that you'd say has stayed the same in your time together?
The thing that's stayed the same for us is that we haven't fallen apart and become better friends than we've ever been. I see a lot of bands where over time they still play together but on tour they go off on their own, but we always just have a great time and we're still really good mates and that's the main thing that's stayed the same, we just keep our friendships and they keep getting better.
What does the rest of the year have in store for you in terms of touring?
We have a couple more festivals then we have quite a long tour in The UK in November, then we have a couple of European dates and then I think I'm just gonna write for the rest of the year.
So we can expect something maybe sooner rather than later?
Yeah I want to keep it going this time, I don't want to leave it so long because that kind of sucks, so I've already started writing and hopefully we can get it out sooner rather than later.
Lastly let's look ahead to the future, so finish this sentence for me, by the end of 2017 Deaf Havana wants to?
Earn enough money to not cry about being broke all the time. *laughs*
DEAF HAVANA AUSTRALIAN SIDESHOWS:
Thursday 7th September 2017 – Ding Dong Lounge Melbourne
Wednesday 13th September 2017 – Oxford Art Factory, Sydney
20 YEARS OF PLACEBO featuring speclal guests DEAF HAVANA
AUSTRALIAN TOUR DATES: 
Wednesday 6th September 2017 – Adelaide Entertainment Centre Theatre
Friday 8th September 2017 – Margaret Court Arena, Melbourne
Saturday 9th September 2017 – Qudos Bank Arena, Sydney
Monday 11th September 2017 – Brisbane Convention Centre
Tuesday 12th September 2017 – Newcastle Entertainment Centre
Thursday 14th September 2017 – AIS Arena, Canberra
For ticketing information, head to www.ticketek.com.au
Essential Information
From: London, UK
Band members: James Veck-Gilodi – lead vocals/ rhythm guitar, Lee Wilson – bass guitar, Tom Ogden – drums, percussion, Matthew Veck-Gilodi – lead guitar, Max Britton – keyboards/ piano
Website:  http://www.deafhavanaofficial.com
Latest release: All These Countless Nights (Out Now)