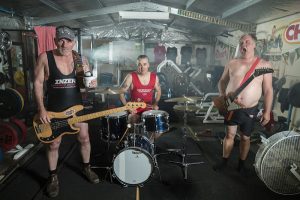 Australia's thirstiest rock dogs, the legendary COSMIC PSYCHOS, have got it into their heads to batter your earholes with more beer smashing tunes. They've announced an east coast tour with AMYL & THE SNIFFERS and released the video for ripper new single 'Better in the Shed'.
Ross Knight of the band tells us more, "I was up in the shed doing my nightly 10 minute song writing session the week before we recorded, and I'd had a few thousand beers and come up with a riff that I thought was absolute genius. But then I couldn't remember how to play it. So when it got to recording it, Silvia (our engineer) asked us if I had any lyrics – and I said "not for this cu*nt of a RIFF, the chords don't even fit and it sounded better in the shed!" So I just sang that, and we were done in one take." Angel sweet backing vocals courtesy of The Chiko Molls (featuring Amy of Amyl and the Sniffers, and Nadine from Killerbirds).
Thirty years on, the Psychos sound as urgent as ever…
Ross takes us through the video-shoot escapade; "As we were setting up, I found my old Powerflifting Squat Suits for me and Macka to wear, but unfortunately for Dean's knackers, he was given a Dead Lift suit, which isn't recommended for anyone with testicles to wear for longer than 5 minutes (he wore them for over an hour)."
Reliably incredible on-stage, you'd be a dill to miss the Psychos nigh-on blowing their amps in a live setting. There's nobody else like 'em. Newbies Amyl & The Sniffers are packing their mullets into their suitcases to share the rider and wallop audiences with their Sharpie stomp rock n' roll. Fronted by unforgettably upfront fireband Amy Taylor, these slimy, sexy southside garage rock rulers absolutely dominated at BIGSOUND. I mean bloody hell, they even scored a support slot with the Foo Fighters. You'll love 'em. Tickets on sale now via cosmicpsychos.com.au
Basically, this is an offensively hard-rockin' tune about writing dumb riffs. It will make you want to drink beer and bang ya head. Cheeky and irreverent as hell. What else could you want?
COSMIC PSYCHOS 'BETTER IN THE SHED' TOUR 2017
WITH SPECIAL GUESTS AMYL & THE SNIFFERS
Friday November 3
The Landsdowne, Sydney
with C.O.F.F.I.N
Saturday November 4
Crowbar, Brisbane
with Kitchen's Floor
Monday November 6 (Cup Eve)
Sooki Lounge, Belgrave
with Private Function
Tuesday November 7 (Cup Day)
The Corner Hotel, Melbourne
with Würst Nürse
Saturday November 11
November River Rocks, Geelong
SOLD OUT!
Sunday November 12
River Rocks Rehab, Geelong
with Exploding White Mice + Hits + Batpiss
Friday December 15
Fowlers, Adelaide
with Meatbeaters