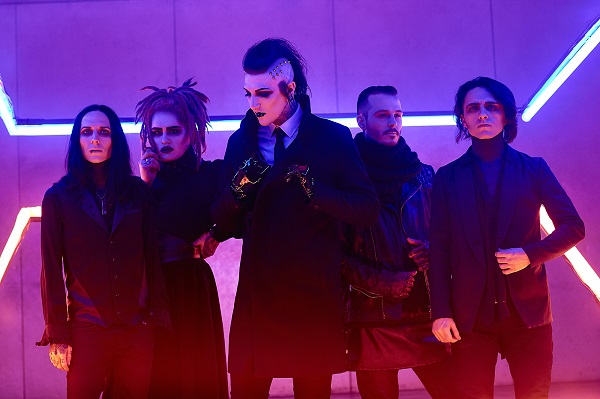 "I think that we continue to write songs that still fit what we think are the vision of Motionless but are definitely trying to push more musical boundaries and bring things together to create new sounds and new just new looks that have been seen before but never together."
From Release: Motionless In White are one of the most exhilarating bands to rise to fame in recent years, taking the metalcore world by storm with their unique offering to the genre. The band's latest album, Graveyard Shift, was released earlier this year by Roadrunner Records and features the hard and fast anthems "Loud (Fuck it), "Rats" and an appearance by Jonathan Davis of Korn on the track "Necessary Evil". Motionless In White came out swinging from Pennsylvania in 2005. Their first album, Creatures swiftly gained the attention of the metal community and was followed up by the hugely popular Infamous in 2012. High on the momentum of their success (and a few line-up changes), Reincarnate was unleashed and gained the #1 spot on Billboard's Top Rock Albums Chart. Their fourth full-length album and first for Roadrunner Records, Graveyard Shift continues to show the world why they are the most gut-punching, electrifying metal acts to date.
At home Chris gave us a call to talk about the return of Motionless In White to Australia, new music, advice, the future, and more.
It's been about three years since we last chatted so let's catch up, how have the last three years been for you?
*laughs* Busier and busier as each year goes by, it's just been relentless work towards in the last three years I think 'Reincarnate' was out at that point, so just working on a new record and it's really only two things, either working on a record or touring seems to be the only things that we do, then just a lot of behind the scenes work in the meantime, so all of that and just trying to find time to enjoy life in the midst of that un work related enjoying life which I do enjoy both of very much quite a bit, so yeah, stuff like that.
Of course we're here because you're heading back to see us in Australia, what can fans expect on this run of shows?
I mean I think it's the first time any Australian fans are going to get to see the band in our I guess just total form and I don't know how to put that any better, we've never had a chance to do a tour that wasn't either a festival or a support tour and last time we came was 2015 and we did a support run with Amity and it was a lot of fun to be support in those venues but this time I think it's just going to be the exact realisation of what Motionless is that fans can look forward to seeing is that in your face a lot more tighter club setting, of course a longer set list and some production and that just gives fans a show from the bands that they like instead of having to deal with a thirty minute set or a support slot.
You're here in support of your newest album 'Graveyard Shift' and as the band continues what if anything do you try and do differently on each release to keep things fresh and exciting?
We definitely always try to keep things in the realm of what we feel the band fits in to but when we do go outside of that on this album I think we tried to really show off a little more of a humorous side to the band throughout a few of the songs and the lyrics in a few of the songs they're meant to be something to help give the fans moments of entertainment outside of the seriousness and it works for some fans and it didn't for others but that's just what part of taking risks and to help realise what you want to do creatively. So I don't know, I think that we continue to write songs that still fit what we think are the vision of Motionless but are definitely trying to push more musical boundaries and bring things together to create new sounds and new just new looks that have been seen before but never together.
What was it like not having a Puppets song on the album?
*laughs* I guess good considering that that part of my life has finally concluded, so that's a positive thing. There is a song on the album called 'The Ladder' which is similar in attitude and in sounds but it feels really great to have a song that can still have that kind of outlet for musically and lyrically but is not about the same subject matter, so I felt like I still had my fix of that but I'm actually happy that it's not about the same thing we've been dragging out for three albums so it was good.
Four albums in now, is there one piece of advice you've been given that has stuck with you throughout your time making music?
I don't know, any advice I've ever been given is around the same thing of just don't stop being who you guys are and I thinks some of the advice that's mattered most to me is all the stuff I've been told early on when a lot of the self-doubt was there and I just needed that inspiration and motivation to continue doing what we did, but I'd say anything in the past, there hasn't been too much advice given it's just been a lot of the stay true to who you are kind of stuff and the first cliché of that may be it and its very true for our band and I think we've done a very good job at being who we are and not really trying to conform to any type of new sound that's really popular or anything that's going to ensure, well you can never really ensure any success but we're not really doing anything that I think is a total play out move to try and achieve any type of success and that's been advice that's been given to us early on and throughout our entire career.
Over time obviously things change within a band but what is the one thing you'd say has stayed the same in your time together?
Well I think one thing that used to really bug me is that a lot of bands that I used to really, really love because of the way that they looked and how it fit with your sound as the years went on they kind of just abandoned the look and just became… and that was part of what made me really love the band and they just abandoned it and moved on from it, and it left me like man, I wish that band still looked cool, and you can talk shit all you want on that look and that image and it shouldn't matter but for bands that have a theatrical mindset I think the image really does play a big part in the presentation of a band overall. So when I see bands that kind of abandon or walk away from it it's always been disappointing. I think for us it's just become more and more intense over the years and that's one thing that I'm very happy is still the same is that our sound has evolved but our image has evolved with it but not in a way where we've gone away from it. I think it's just gotten more refined and intense over the years instead of just nothing at all.
What does the rest of 2017 have in store for the band?
Basically just all headliners, surprisingly out of the eleven years we've been touring we've only ever done I guess you could say two and a half headliners, we did two headliners in the States, we've done a few in the UK, I think we've done two or three headliners in The UK, so I meant two and  half US headliners, we've done a co headliner with a band before, so we're really looking forward at going out there and bringing a headliner to Australia for the first time, we're gonna do another one in The UK and hopefully throughout Europe and The US coming up. So just a lot of that, a lot of preparing for stuff and trying to actually enjoy some time off for the holidays this year because it seems like every time we come back home a couple of days before Christmas and we kind of miss out on that whole family vibe and I think we're gonna take some time this year and really make sure we get some time with our families before shit gets really crazy in 2018.
Are there already plans for 2018 are there?
Yeah right now The UK headliner is booked and we're really trying hard to extend it into the rest of Europe, that's currently being worked on and that's as far as I know for sure, and then there's just a bunch of talks for the rest of the spring period at the moment.
Lastly let's look ahead to the future, so finish this sentence for me, by the end of 2017 Motionless In White want to…
*laughs* Take a fuckin' break. Relax a little bit, this year has been non-stop, man.
TOUR DATES:
METRO THEATRE, SYDNEY
TUESDAY SEPTEMBER 19
BRISBANE, THE TRIFFID
WEDNESDAY SEPTEMBER 20
ADELAIDE, THE GOV
THURSDAY SEPTEMBER 21
MELBOURNE, ARROW ON SWANSTON
SATURDAY SEPTEMBER 23
MELBOURNE, 170 RUSSELL
SUNDAY SEPTEMBER 24*
*All ages shows except September 24
For complete tour and ticket information, visit:
www.motionlessinwhite.net  & www.livenation.com.au
Essential Information
From: Scranton, Pennsylvania, USA
Band members: Chris Motionless – All Vocals, Ricky Horror – Guitar, Ryan Sitkowski – Guitar, Devin "Ghost" Sola – Bass, Vinny Mauro – Drums
Website: http://www.motionlessinwhite.net
Latest release: Graveyard Shift (Out Now)