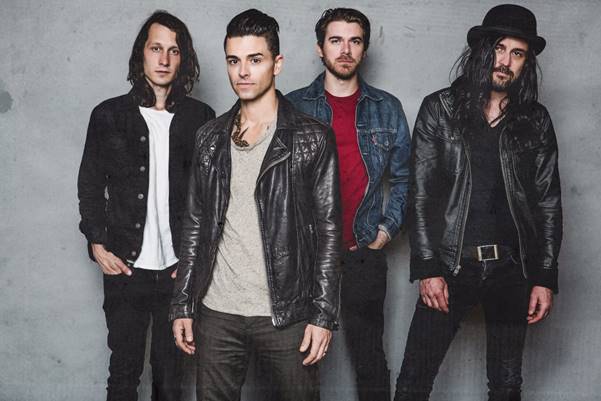 "So yes I've pushed the envelope of how to present a song maybe sonically, maybe production wise, maybe dynamically, but still ultimately I think I'm probably a lyricist more than anything else and so that's kind of the heart of the matter for me."
From Release: What was originally born as a solo side project for musician Chris Carrabba, Dashboard Confessional quickly grew to become one of alternative rocks defining standouts. The debut album, 'The Swiss Army Romance', became the soundtrack to a generation, with its heartfelt poetics resonating with fans who found solace in Carrabba's sensitive yearnings and fearless honesty. Dashboard Confessional's sophomore release, 'The Places You Have Come to Fear the Most', was the first to feature a fully-fledged band, with a spotlight on 'Screaming Infidelities', the smash hit that went on to earn the MTV2 Award at the MTV Music Video Awards amidst becoming the anthem of a generation. To date, Dashboard Confessional have a RIAA certified platinum album, multiple gold albums and continue to release inspiring records, keeping alive the genre Dashboard Confessional helped to create themselves.
While in Nashville we gave Chris Carrabba a call to catch up with him about Dashboard Confessional's return to Australia, new music, creative process, Twin Forks, and much more.
We've spoken a couple of times but last spoke a few years ago so let's catch up, how have the last three years been for you?
Busy. They've been busy and they've been fun and really rewarding. We've been on tour a bit the last three years after taking a hiatus for some time. It's interesting the way that we came back it felt like we didn't leave at all, it's glorious.
It's your first time back in Australia as Dashboard in five years, what can we expect at these upcoming shows?
Yeah! I mean we'd really like to deliver what I anticipate people would want, we get an opportunity to play a little bit of new material, a very little bit, we don't like to overdo that. We realise it's been a long time since we've been there for a visit and we know people have been waiting to hear certain songs and see us play them with conviction so that's all we have in mind.
Australia absolutely loves you guys, what do you think it is about the music of Dashboard Confessional that we just attach to?
I don't really know but I don't hate it. I think honestly let me think about that for a second *pauses* I would have to say it's a pretty thoughtful audience that we have there, you have a very active musical community there like the fans are not passive and I would say that we benefit from that a lot because we are an interactive band with our audience, we allow the audience to be the show really and we're just kind of the shepherds of the songs really. It's a bit of a head scratcher, I don't know why but I feel so lucky that we do though.
Let's talk tour memories; do you have a standout memory from a previous Australian tour?
Yeah, let's see, more than one, once we stayed for about five days after tour was over because we realised we had come to the country like three times and hadn't seen it, so we did as much touristy stuff as we could do in two days and then spent the next three days trying to figure out what it's like to just be there and found myself really comfortable there, it feels really familiar to me maybe because I spent so much of my youth in a coastal area and obviously not everywhere there is coastal but it does feel scenically a bit similar to where I've lived in the past and there's a manner of thinking there, pretty progressive and I'm a pretty progressive guy, and I really enjoyed getting to know some people, I met strangers and got on great with them and even had a couple of fans shepherd us around so we could see things that maybe you'd only see if you were locals.
Mine for you was the first time I saw you in Australia on your first trip in Sydney and seeing the sold out crowd sing every word to every song was amazing and you actually looked overwhelmed, it was probably one of my favourite concert moments actually in the fact that you were so taken back.
Can I be honest with you? That was such a strong memory for me too but it is a familiar thing for me to see people singing along, the particular volume that you guys sing at *laughs* is really impressive I have to say.
You mentioned the chance of a couple of new songs and it's been a long time since new original Dashboard music, any chance we can expect something soon?
Yes. There's always a chance *laughs* no, no, we're getting very close.
Do you have an idea of when we may get to hear the new record?
No, I don't really work for the record labels, so those are things that I think are decided by somebody else but I'm as excited as anyone else to find out.
How if in any way has the creative / song writing process evolved for you over the years?
Well it's always evolving and I only really take stock of it when somebody asks me about it. I was just talking with a friend in another band who's done writing their record and they're god, thirty years into their career I think, and he was asking me how I approach songs and I was asking him how he approaches his writing of songs, we both kind of agreed that you just have to accept with every song the way that it's going to be written that day kind of. It's a duality, you're doing two things at once, you're trusting the way the song needs to be written is the way you're gonna write it that day but every day I get up and write a song using a methodical approach, I get out my guitar, a pen and piece and paper and write a song to completion, even the bad ones, because the hardest part I find is finishing a song, it's really hard to finish a song especially if it's good. So if I stay in the practise of finishing it even if it's not good, when the good ones kind of float in to the room I've honed that bit of skill knowing how to get to the finish line, but I still just sit down with an acoustic guitar most often, sometimes it's a piano, sometimes it's an electric guitar, but most often it's probably an acoustic guitar. Actually, Martin guitars just sent me a guitar not long ago to just get an opinion on, really, and I opened it up and a song just came right out of it and I said I don't have anything other to say about this guitar other than thanks for pre-loading it with a song *laughs* and I was sad to have to send it back because now I feel connected to that thing, but it was a nice moment. You know sometimes you can write a song and you can spend weeks on it and you could be really proud of it, I find that they're not the ones that ultimately connect with the broad audience, it's not to say that the songs aren't appreciated, I think they are and find their fans but the ones that spring forth I don't know, fifteen minutes, half an hour, an hour, a couple of hours something like that, those are the ones that have the longest legs for some reason. We put one song on Spotify, that one, the one I found on the guitar and I think we're gonna play that one when we get there.
Now I've been a big fan of your work with Butch Walker, any chance you'll work with Butch again?
Well, yeah, I mean we don't have any plans to work on anything together but we stay in touch with each other and I do think we both plan to work together again, I know we're not doing this next record with Butch because we decided we ought to do it on our own. After this one though there's a few producers that I'd like to work with that I've worked with in the past and there's a few that I've never worked with that I look forward to. You know there was a time that I was very prolific in a record releasing schedule and then we took time off, and now that we've made a record we just haven't decided how we're going to release it but we've made it, we made it on our own I feel like there's no reason to slow down now.
In doing Twin Forks for that period what did being in that band allow you to bring back to the Dashboard camp?
Well one thing it did, is one of my band mates and writing partner in that band is a guy named Jonathan Michael Clark and he served as one of the producers on some of these songs, he's really a fantastic producer. Then of course just getting away from a certain style of writing and when I say style of writing maybe subject matter, makes that subject matter very fresh when you return to it and it suddenly I find that I'm very eager to explore it again.
Can we expect anything else from Twin Forks in the future?
Yeah we've got a good, well shoot, I probable had a record done and this kind of thing happens to me a lot, probably happens to a lot of people a lot but I only know my life experience, but you think you've written a record and then you write a song that's better than the whole record *laughs* and you say I guess that's the bar now so I've gotta either meet that or exceed that now. So we thought we'd finished the record sometime last year, then I wrote one song that was like a new bar then Jonathan and I wrote a song together and that was like a new bar and we just said, well, let's put this down for a second because we just have to get away and come back and listen to these two songs as if they're all we've got, not try to spruce up the other ones which we could have done and then have one out, I was eager, I am eager to have a Twin Forks record come out but I've gotten to do it this long by being patient so I'm going to continue to be.
So obviously things change over time, but what would you say is the one thing that's stayed the same for you over your time making music?
Huh… I think it just keeps coming back to whatever the subject matter that the song is trying to explore and express as honestly as possible. So yes I've pushed the envelope of how to present a song maybe sonically, maybe production wise, maybe dynamically, but still ultimately I think I'm probably a lyricist more than anything else and so that's kind of the heart of the matter for me.
Lastly let's look ahead to the future, finish this sentence for me by the end of 2017 Dashboard Confessional will…
Have gone to Australia…
*laughs* We know that…
Oh… We will have planted the seeds for our next chapter.
Dashboard Confessional Tour Dates
WEDNESDAY 13th SEPTEMBER – THE FORUM, MELBOURNE
FRIDAY 15th SEPTEMBER – EATONS HILL HOTEL, BRISBANE
SATURDAY 16th SEPTEMBER – METRO THEATRE, SYDNEY
Tickets here: http://selecttouring.com.au/tours/dashboard-confessional/
Essential Information
From: Boca Raton, FL, USA
Band members: Chris Carrabba: Guitar, Scott Schoenbeck: Bass, Armon Jay: Guitar, Ben Homola: Drums
Website:  http://www.dashboardconfessional.com