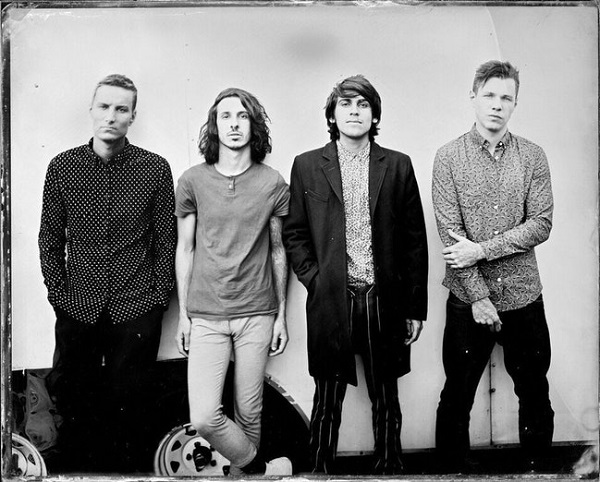 "Obviously we want to keep evolving as people and as a band and really telling yourself to stay in your own lane, keep the blinders on to at least focus on what you're doing and what you're creating with your guys rather than constantly looking at what everyone else is doing…"
From Release: Texas metalcore quartet, CROWN THE EMPIRE. The four-piece outfit skyrocketed to popularity in 2010, delivering a crescendo of down tuned guitars and electronic samples. Having already played Soundwave and the Warped Tour in Australia, Crown The Empire's return is keenly anticipated by their ecstatic fans.
In L.A. doing some scheming and plotting for the future, Andy of Crown The empire gave us a call to talk about the band's return to Australia, new music, plans for the future, and much more.
You're heading back to Australia, rather than ask what people can expect, what's the best way you've heard the band described live that will entice people to catch your set?
Ooh, I'd say explosive, I'd say there are vibes, I don't know I feel like that's just a blanket term for general good times, I'd say rowdy, we've always been high energy and we'll get people to move and really, really enjoy themselves in that moment. It's not often we get to go to Australia and the energy is definitely different from places we've been to a tonne of times. So being able to have the opportunity to go to new places and see people that are more excited only make the shows go even more crazy.
You were last here in 2015 for Soundwave in the two years between visits what if anything could people see differently from Crown The Empire 2017 vs 2015?
Oh yeah , years of refinement, we've changed members and put out new music and what we are as a band has changed, we've matured as people, we've been out in Los Angeles and had the opportunity to meet other incredible artists that inspire us to do more and it's just great.
How has the adjustment been since David's departure, was it difficult adapting to one vocalist?
I'm sure it's a crazy transition for the fans but for us it's been the same people since we were sixteen, everyone that's in the band has been in it from the start and initially it was just me and the same group of dudes, so in a way going back to our roots and pushing ourselves to all do new things. The guys are all doing more vocal work, everybody's been trying to better themselves for this band, pick up new instruments and constantly refining so we can be better and this last tour was the first time we didn't have any backing tracks, even with everybody, we're really wanting to strip ourselves down and really see what we can do as musicians because for a really long time we were holding ourselves back in seems like.
Three albums in now, is there one piece of advice you've been given that has stuck with you throughout your time making music?
Yeah, I've had the opportunity to talk about music with so many artists that we respect and people that know us well and have just been open to the conversation and to see other people's opinions of you. I'd say the biggest thing we've learned is to make things for ourselves as well, it's easy to get sucked into the bubble of what people expect you to be and if you stick to that it's all you ever will be. Obviously we want to keep evolving as people and as a band and really telling yourself to stay in your own lane, keep the blinders on to at least focus on what you're doing and what you're creating with your guys rather than constantly looking at what everyone else is doing or chasing the dragon of trends and what you think people will like or what people think will be big rather than just doing what you want to do as a band and that's something I really appreciate now.
You mentioned new music before, so what are the plans for new music at the moment?
Yeah we're working on some stuff right now with our producer, just getting back into the writing feel, I don't know what I'm allowed to say but we're moving forward as a four piece and constantly creating ideas. We have so much time now and after Australia we have the rest of the year to just be creative and make mistakes and to make weird music and really figure out what the next step for us is. New music whatever it may be, the music has been shifting around from streaming and just a shift in culture, what was cool two years ago is completely void and there's a lot of bands in the drain and having to evolve or fall of the edge, and so we're really excited to keep this thing going and seeing what we can accomplish now that we've kind of realized what we need to do and who we are.
In your seven years in the band obviously things change but what would you say is the one thing that's stayed the same in your time with this band?
That's a good one, I'd say the want, the hunger, the inspiration, you know we've been in this band seven years and I was sixteen when I joined and it was my first band and only job I've ever had and I feel like I would be squandering an opportunity that a lot of people would be in if we didn't keep that hunger, that want to keep getting bigger and keep connecting with people and I think that's one thing that all of us still appreciate, touring and meeting and being around people that support and love this art and whatever they get out of it is the reason why we do it.
So what is on your list of things to do that you haven't had the chance to do yet?
I'd say branch out and do a tonne of different things, we kind of withdrew ourselves from the public eye just because of the weirdness that social media kind of brings, people tend to overshare and people tend to let people peak into a window of their lives that is really personal and it felt uncomfortable as far as the band changing and the evolution of everything. So just to do more, to do everything better, we spent a lot of time being stuck in the monotony of just going through the motions and not really being too nervous to address or to look at ourselves and evolve and so doing more things in art in general, whether it be making friends with more film people, more photographers, more cooks, more chefs, I don't know I'm just constantly looking for inspiration anywhere. I just want to get good at everything. *laughs*
Lastly let's look ahead to the future, finish this sentence for me, by the end of 2017 Crown The Empire will…
Reveal their new selves. We will show ourselves truly and honestly to everybody.
TOUR DATES:
METRO THEATRE, SYDNEY
TUESDAY SEPTEMBER 19
BRISBANE, THE TRIFFID
WEDNESDAY SEPTEMBER 20
ADELAIDE, THE GOV
THURSDAY SEPTEMBER 21
MELBOURNE, ARROW ON SWANSTON
SATURDAY SEPTEMBER 23
MELBOURNE, 170 RUSSELL
SUNDAY SEPTEMBER 24*
*All ages shows except September 24
For complete tour and ticket information, visit: www.motionlessinwhite.net  & www.livenation.com.au
Essential Information
From: Dallas, TX, USA
Band members: Andy Leo: Vocals, Brandon Hoover: Guitar, Hayden Tree: Bass, Brent Taddie: Drums
Website: http://www.crowntheempire.net
Latest release: Retrograde (Out Now)