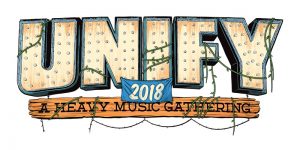 UNIFIED Music Group, THE HILLS ARE ALIVE and RED HILL ENTERTAINMENT are proud to announce the hugely successful UNIFY will return in January 2018, featuring headline performances from THE AMITY AFFLICTION, PARKWAY DRIVE and ARCHITECTS as part of a 29-band lineup over two nights.
The fourth instalment of Australia's only heavy music boutique camping festival will take place over two nights from January 12 to 13 at the wonderfully green pastures of Tarwin Lower in South Gippsland, Victoria.
Tickets on sale at August 31 at 12.30pm from 24hundred.net
UNIFY has been a smashing success since its inception with the festival selling out every last ticket in its first three years. The festival is a uniquely Australian event that takes pride in showcasing our scenic natural surroundings as well as the incredible heavy music output our country has become renown for.
In 2018, the UNIFY lineup features 22 Australian artists, including legacy sets from Parkway Drive and The Amity Affliction, as well as performances by the best heavy artists the country has to offer including Hands Like Houses, Hellions, Behind Crimson Eyes, Tonight Alive, With Confidence, Cursed Earth and stacks more. Joining the crème of the Australian crop will be international heavyweights Architects (UK), Four Year Strong (US), Stick To Your Guns (US), Knocked Loose (US), Being As An Ocean (US), Knuckle Puck (US) and Roam (UK).
Parkway Drive's seminal, gold-certified album Horizons is turning the big 1-0 in October and to celebrate the pride of Byron Bay will return to UNIFY to play a very special Horizons anniversary set. Parkway Drive have spent over a decade at the forefront of heavy music and the ARIA award winners have earned five gold albums, half a million Australian album/DVDs sales, a couple of platinum DVDs and a coffee table book that highlights the band's love of life and true DIY spirit. Their most recent album, Ire, debuted at #1 in the ARIA chart and was declared Best Metal Album of 2015 by Apple Music. Their relentless touring has seen Parkway Drive blow away main stage audiences at the world's biggest rock festivals, and their recent sold out run in Europe and the US boasted their biggest and most explosive production and pyrotechnics to date, so expect a very special set at UNIFY 2018.
The Amity Affliction are set to headline on Saturday night and were the main attraction at the inaugural UNIFY Gathering in 2015, so it's a no brainer the festival asked them to come back and celebrate their 15-year anniversary. It's easy to see why The Amity Affliction are the first heavy band to headline arenas in Australia – they have three consecutive ARIA #1 albums (only the sixth Australian artist to achieve this milestone), one Platinum and three Gold records, as well as an ARIA #1 gold-certified documentary. TAA also scored a top 20 album on the US Billboard Chart, graced the cover of Rolling Stone Australia and have played on the main stage of all the major heavy music festivals around the world, including incredible sets at Reading and Leeds in the UK this past weekend. To celebrate 15 years together, UNIFY punters will be treated with a very special Amity spanning the band's entire career. This will be the last chance to hear a lot of these songs live before they are retired to the vault.
Architects will make their UNIFY debut in 2018 and their set will be an Australian exclusive performance. Originally in the country for Groovin The Moo festival in May, Architects sold out multiple shows in each city around Australia off the back of their powerfully dark and confronting album All Our Gods Have Abandoned Us, which charged straight to the top of the ARIA Chart, landing at #2 – the highest ever chart position of their career in not only Australia, but the rest of the world. In its first three years, UNIFY received hundreds of requests for Architects to play the event. 2018 will be the first chance for punters to see one of the most influential heavy acts of the last decade perform at Australia's premiere heavy music event. This is a headline set not to be missed.
Hands Like Houses will return to Tarwin Lower off the back of the most successful 18 months of their career. Their critically acclaimed third album Dissonants impressively debuted at #7 on the ARIA Chart and Top 10 Billboard Independent Albums, Hard Music Albums, Alternative Albums and Rock Albums. The band have also spent their time playing their biggest headline runs worldwide, including selling out every single show on their last Australian tour before doors opened. The boys have just wrapped up their mainstage appearance at Vans Warped Tour and will be right at home on the UNIFY festival stage in 2018.
Rounding out the lineup is a who's who featuring Tonight Alive, Hellions, Four Year Strong (performing Rise or Die Trying in full), Stick To Your Guns, Knuckle Puck, Behind Crimson Eyes, 50 Lions, Being As An Ocean,With Confidence, Knocked Loose, Make Them Suffer, Polaris, ROAM, Void of Vision, Cursed Earth,Young Lions, Outright, Introvert, Dear Seattle, Belle Haven, Sienna Skies, The Beautiful Monument, Save The Clocktower, Arteries and Mirrors.
Once again, UNIFY will be held in the small rural town of Tarwin Lower – situated on their recreation reserve and football field – in South Gippsland, a cruisy two-hour drive from Melbourne. The site is set across a secluded recreation reserve, surrounded by greenery and a 10-minute drive from the ocean in neighbouring Venus Bay.
There's a lot of exciting additions to UNIFY 18 for punters, including a new limited VIP package that includes a three-night stay at a house in Venus Bay, transfers to and from the festival site and more. For those eco-conscious fans who prefer to camp onsite, there's a brand-new option to stay in a Kartent – a waterproof, 100 percent recyclable cardboard tent for two. The best part? It comes completely set up and all the hard work is done for you.
There are also a number of transport options for those trekking to Tarwin Lower, including two bus services. The UNIFY Bus will pick up and drop off passengers from Southern Cross Station, and the ticket price is cheaper than previous years. The event has also partnered with Banana Bus who pick up and drop off from 15 suburban locations in Melbourne.
In an effort to encourage bus travel and try and decrease traffic on the roads and the overall carbon footprint of the festival, those who wish to drive and park onsite will be required to purchase a car pass. Punters who drive three or more ticket holders in their vehicle will have their car pass fee refunded in UNIFY credit to spend onsite. The festival actively encourages carpooling, and the official UNIFY carpooling group will launch in September. More information on all of the above can be found at unifygathering.com.
With the incredible support of the local Tarwin Lower community behind us as always and a killer lineup in place, once again UNIFY will be the perfect start to 2018.
triple j, KERRANG! & 24HUNDRED PRESENT
UNIFY 2018 A HEAVY MUSIC GATHERING
FRIDAY JANUARY 12
PARKWAY DRIVE
[A Decade of Horizons]
ARCHITECTS
[Exclusive Australian Performance]
TONIGHT ALIVE
FOUR YEAR STRONG
[Performing Rise Or Die Trying]
BEHIND CRIMSON EYES
50 LIONS
WITH CONFIDENCE
POLARIS
KNOCKED LOOSE
BELLE HAVEN
SIENNA SKIES
MIRRORS
SATURDAY JANUARY 13
THE AMITY AFFLICTION
[15-Year Anniversary Set]
HANDS LIKE HOUSES
HELLIONS
STICK TO YOUR GUNS
KNUCKLE PUCK
MAKE THEM SUFFER
BEING AS AN OCEAN
ROAM
VOID OF VISION
CURSED EARTH
YOUNG LIONS
OUTRIGHT
INTROVERT
DEAR SEATTLE
THE BEAUTIFUL MONUMENT
SAVE THE CLOCKTOWER
ARTERIES
FOR MORE INFORMATION PLEASE HEAD TO UNIFYGATHERING.COM