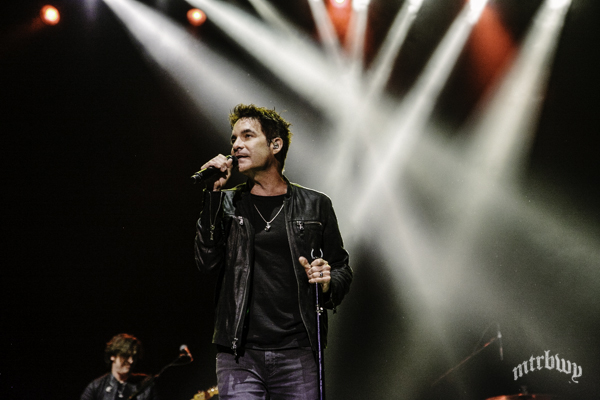 Next stop, Sydney… Train are back in Australia and tonight they're going to 'Play That Song' for us as well as hopefully a few others as otherwise we're in for a very short show…
A mix of disco and House of Pain lead us in as the train arrives at the State Theatre, seriously there's train sounds and that is hilarious to me. The band clad in black take the stage to a great reception and with 'Drink Up' we're underway and with a big rock and roll ending and a "Good evening Sydney" it's '50 Ways To Say Goodbye' and this one with its ridiculously catchy chorus gets me every time and one better with the middle 8, damn. Without even missing a beat we head straight into 'If It's Love' and Pat Monahan's voice is as strong as ever, plus I dig this song because they mention Winger and they rule!! If this three song start is anything to go by then we're in for one hell of a show.
'Angel in Blue Jeans' is tight, jeans and musically, I have to say that this line up of the band is amazing. That song is so damn good even if the crowd didn't want to sing the whoa ohs as made evident by the look on Pat's face. Although they love joining in with 'Get To Me' and again in true Traindition (just made that up) the chorus is just a massive hook. Oh sweet 'Save Me San Francisco' speaking of hooks this one is outstanding and it's always great hearing it live and stoked it's still in the set. Here's another oldie 'Calling All Angels' and it still gets the justice it deserves and this version tonight was outstanding. 'Bruises' slows it down a little and gets the crowd joining in a bit and Pat nails this one. Oh wow let's go way, way back!! 'Meet Virginia' with its two bitchin' guitar solos, tshirt giveaways and just all round awesomeness is an absolute stand out so far. Oh man they're banging them out tonight, 'Drive By' gets half the audience running to the front and I guess we're all standing up then… Damn. Amazing.
Wow. No microphone and an absolute perfect rendition of a solo track of his called 'Always Midnight' the power and absolute amazingness of his voice in this venue is truly something to behold. Wow. That was a moment. The band return for 'Marry Me' and the live version is so much better than the recorded as it gives it some punch. We get our clap on with 'Valentine' and I feel like Marty McFly is about to come out and play guitar on this, there is definitely an old school vibe about this one.  A sweet jam of some modern tracks takes us into 'Lost and Found' before one that everyone here knows and didn't they love it when this one started!! 'Hey Soul Sister' got plenty of love as it should've as it really gave Train a kick and I have to say that I didn't realize how big 'Play That Song' had become for the band as this is going down like cake at a wedding right now, they're lapping it up and I'm going home to watch 'Big', damn that song is catchy. The band leaves the stage but not for long…
Oh man!! I didn't expect this one and I'm so happy to hear it in the set! 'Parachute' is in my opinion one of the best Train songs out there and I took every second of this one as I can't be sure when I'll hear it again. Cover time and a big ask with 'Under pressure' but I have to say wow that was great. The band got to showcase some amazing vocal work and again proved that this band Pat has now is second to none. There's a whole lot of talent up there right now.
Of course closing the show with 'Drops of Jupiter' full of chicken and soy lattes and as expected this is a big sing along they close the set as they started. Musically perfect, vocally perfect and just all round perfect. Train always deliver an entertaining show and tonight was no different. Simply outstanding.
Essential Information
Venue: The State Theatre – Sydney
Date: August 1, 2017
Presented by: Live Nation
Website: http://www.savemesanfrancisco.com
Photo By: Annette Geneva – Every Day Is Saturday – Check out our full gallery HERE
Set List:
Drink Up
50 Ways To Say Goodbye
If It's Love
Angel In Blue Jeans
Get To Me
Save Me San Francisco
Calling All Angels
Bruises
Meet Virginia
Drive By
Always Midnight
Marry Me
Valentine
Island Jam / Lost and Found
Hey Soul Sister
Play That Song
Parachute
Under Pressure
Drops of Jupiter