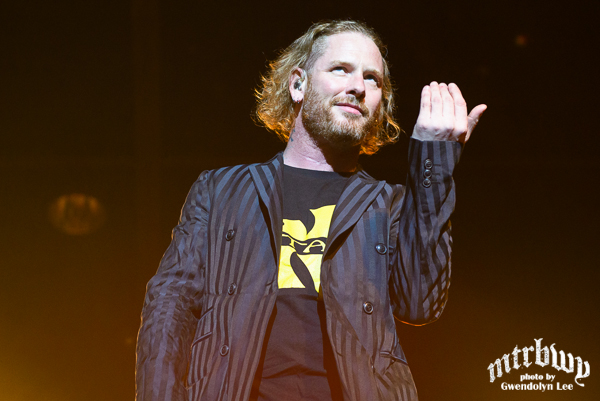 It's been a few years since Stone Sour have been back to Australia, and tonight in Sydney and in support of their new album 'Hydrograd' the crowd are ready for some kick ass rock and roll the way Stone Sour deliver it every time.
First up though to warm up the what feels like already warm crowd despite it actually being quite cold in The Hordern tonight local boys Bare Bones are here and I'll tell you what, a band with big riffs, big sound and they truly commanded the stage like they were the headliners. One to watch that's for sure.
Bang on time, blinding lights shower the crowd as the intro music is muffled by the cheers of the crowd now truly ready to go. The band walks on stage as the cheers turn up even louder and with a hand held high Corey Taylor laps up the love and with a whirling headbang and a "Sydney fucking Australia" the band kick into 'Taipei Person / Allah Tea' complete with confetti guns. If this is the kind of intensity we can expect from the band tonight then man this is gonna be insane. After some Sydney love 'Made of Scars' gets a run and is absolutely kick ass and then going back to the first album with 'Take a Number' and after that 1, 2 punch with this one things slow down for about 30 seconds before it gets heavy again and as it fades out with a simple "are you ready" we get 'Reborn' and smashed with an absolute wall of heaviness. This band is so good and in terms of tone, these instruments truly shine right now.
This is cool, they're playing the music of 'Walking on The Moon' but sang the lyrics of 'Say You'll Haunt Me' over the top, until they turn it around and into the usual version. Nicely done indeed! Some great guitar work and solos by Christian and Josh stood out here as Corey threw out his fifth water bottle. Oh this is heavy!! '30/30-150′ is awesome and saw more confetti guns and even more water bottles thrown. There's just so much intensity in this performance and that's so refreshing to see. Pulling out 'Bother' with just Corey and a guitar and a crowd more than happy to help with the words and phones held high to capture this one they obviously dig and have from the beginning. Hearing it tonight is something pretty special and you could tell it was pretty special for Taylor as well. Heading to 'House of Gold & Bones part 1' with 'Tired' and one of my favourite Stone Sour tracks and with a triple guitar assault here it just sounds fatter and I'm so ok with that. That was a highlight so far! Back to Hydrograd with 'Rose Red Violent Blue' and its nice middle of the road feel but nice hook laden chorus is always nice to hear and after being told they just made a video for it I look forward to what they do with that one.
Off to 'House of Gold & Bones part 2' and 'Do Me a Favor' which rocked followed by a track now fifteen years old and off the first album with 'Blotter' and listening to these older songs as good as they are you can really hear how the band has progressed over the years. Actually, let's just take a moment to appreciate the power of Corey Taylor's voice holy shit he is the man as we 'Get Inside' and its sheer brutality making it easily the heaviest song of the night. Now it's time for the one I was waiting for 'Song #3' and it's officially one of my faves of theirs now and it just fits in so well. You can tell we're getting towards the end of the set as it feels like the big guns are coming, straight after the catchy as fuck 'Song #3' the masterpiece of 'Through Glass' takes its place and was an obvious stand out and a song I listen to differently now after recent tributes but in this live arena its power is something to behold, and with that the band leave the stage.
Not for long though as 'Gone Sovereign' stars playing and they bust in and blast this one into outer space with some excellent purple and green guitar work full of harmony solos and didn't miss a note. Fists are thrust in the air and just like that Corey yells to stop the set as there was a medical issue and I have so much more respect after seeing the way that was handled. You legend Corey. Let's hope all are OK. Back into the set once everything was safe and 'Absolute Zero' is off the fucking charts. This one is by far the song of the night and warranted more confetti guns as it damn well should and I think I've decided this is by far my favourite Stone Sour track and it could've been done after that but as five whacky waving inflatable arm flailing tube men appear it's been a long time since I rock and rolled and it's only rock and roll but I like it, like it with 'Fabuless' and what a sensational way to close what was a high intensity, vocally perfect and musically perfect set.
Stone Sour are out there and keeping the rock and roll dream alive, this is a band with so much to say, to play and to do it their way. If you haven't seen Stone Sour live I'll go all Molly on you here but do yourself a favour as this is a band that will show you how it's done, and done right. Horns up!
Essential Information
Venue: The Hordern Pavilion – Sydney
Date: August 26, 2017
Support: Bare Bones
Presented by: Live Nation
Website: http://www.stonesour.com
Photo By: Gwendolyn Lee – Gwendolyn Lee Photography – Full gallery coming HERE
Set List
Intro
Taipei Person / Allah Tea
Made of Scars
Take a Number
Reborn
Say You'll Haunt Me
30/30-150
Bother
Tired
Rose Red Violent Blue
Do Me a Favor
Blotter
Get Inside
Song #3
Through Glass
Gone Sovereign
Absolute Zero
Fabuless