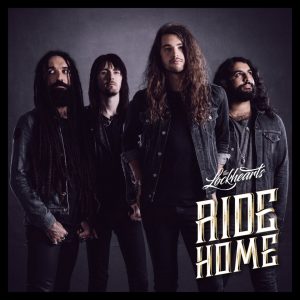 Sydney's favourite Old Mates Block Party execs The Lockhearts have officially released their new music video for their latest single Ride Home. Filmed entirely on hand-built miniature sets made by The Media Collective, Ride Home is the first video release from their upcoming debut album,Americana Doom Fuzz, out via Golden Robot Records in early 2018. Award-winning Director and longtime friend, Tanzeal Rahim helmed the video, following on from the success of the band's previous award-winning clip, Low.

From actual explosions and "boner" gags to tongue-in-cheek muscle car cliches, Ride Homeshowcases the raw energy and creativity of The Lockhearts, embracing their 70s rock roots and having fun with git-boxes (albeit with less full-frontal nudity than their Instagram…) And to take it to another level – Mad Max:Fury Road explosives experts from Dan Oliver Special Effects were on set to keep it lit.

"Ride Home has quickly become a crowd favourite at shows. It's about distancing yourself from negative people. If somebody with an agenda senses compassion in you and latches on until you're completely drained, the best thing to do is put them in a cab and get them out of your house," comments Tim Meaco.
Currently halfway through their Ride Home tour, you can still catch the boys at a venue near you!

THE LOCKHEARTS "RIDE HOME" TOUR DATES
Friday, 1 September, 2017 | The Lass O'Gowrie Hotel | Newcastle | Tickets
Friday, 8 September, 2017 | The Backroom | Brisbane | Tickets
Friday, 10 November, 2017 | Factory Theatre | Sydney | Tickets **

** Supporting The Supersuckers (USA)

BUY OR STREAM RIDE HOME BY THE LOCKHEARTS NOW
http://radi.al/RideHome

FOLLOW THE LOCKHEARTS
Facebook | Insta | Twitter | Spotify | YouTube