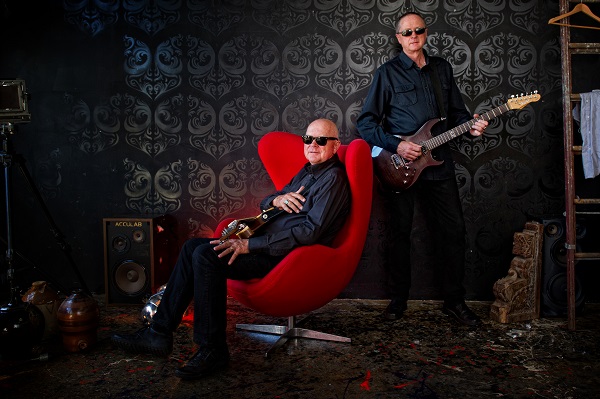 "…I think it's a pretty balanced story we don't get into too much stuff I mean being in a band is not necessarily an easy experience,  a lot of things happen over the years but it's basically a pretty positive tale of how the whole thing started in the first place and what we sort of had to go through to try and sort of get somewhere and build up some sort of career…"
From Release: Brothers, Angels & Demons coincides with the publication of the first Angels book, The Angels (out 1 August through Penguin Random House), written by Bob Yates with Rick and John Brewster, featuring a foreword by award-winning author Jimmy Barnes. Barnesy recalls the early days in Adelaide when Cold Chisel did gigs with the band then known as the Keystone Angels. He saw them become one of the greatest Australian bands of all time.
John Brewster gave us a call to catch up and to talk about all things happening, books, albums, tours, so much going on for The Angels, so check out what's coming up…
We chatted at the beginning of the year, so let's catch up, how have the last 7 months been?
It's been pretty crazy you know with finishing the book and it's great to have that out now, and we've been recording some stuff including putting together the double album that Liberation will be releasing, which included working on six tracks that were recorded at the Adelaide festival theatre in 2010 with the line-up of Bidstrup, Bailey and Doc Neeson, Rick and me with a Symphony orchestra. So that was quite a project, so yeah we're always busy *laughs*.
When we spoke you were just finishing the book and now it hits next week. Tell us a bit about what people can expect from 'The Angels' book. 
The story basically, and I think it's a pretty balanced story we don't get into too much stuff I mean being in a band is not necessarily an easy experience,  a lot of things happen over the years but it's basically a pretty positive tale of how the whole thing started in the first place and what we sort of had to go through to try and sort of get somewhere and build up some sort of career and it's something that's obviously been an amazing journey for us and I think we've represented that journey pretty well. Bob Yates was incredibly diligent in tracking down people who worked with the band forty years ago and getting their side of the story and I think any tale of a band and in many ways a lot of the most exciting times I suppose is when the band's gone from nowhere to somewhere, the early days.
After just over forty three years in the business why was now the right time for a book?
Well because we've been forty three years in the business *laughs* I mean the thing is well you know it's a large book because it's large career and a lot has happened over the years and obviously it's a time when there's been great sadness over the last few years losing Chris Bailey and Doc Neseon was a great tragedy and nothing that unusual, so many bands have lost members that's life you know. We just felt that it was time to tell the story before we forget the thing you know? *laughs*
Any stories you left out on purpose?
There are always stories you leave out on purpose *laughs* I mean I think it's a really balanced story but there are some things we'd prefer to keep private although we've been pretty frank about stuff that we used to get into back in the days, drugs and alcohol were certainly a factor in our band.
To coincide there's also a double album called 'Brothers – Angels and Demons' of 36 tracks. Talk us through putting the tracks together and how you chose what has become the album. 
Well it's two different albums, it's two CD's. One was actually kind of driven by Liberation and sort of a little bit of it came about because we did an intimate concert at the Foxtel studios of January of last year and in that concert we actually reformed the original Moonshine Jug & String band which is actually the band that started, Doc Neeson wasn't actually the original in that band he joined about a year later, but all those guys are still around so we did a bit of a Moonshine Jug & String band set, and then we followed it up with Brewster Brothers, Rick and me and my three sons, Sam, Tom and Harry which was crazy it's like a Partridge Family I suppose *laughs  but it was fantastic, those songs, those Brewster Brothers songs we'd written at a time when Doc Neeson had left the band and we really didn't know if we had an Angels career anymore we started writing songs for ourselves, for me to sing in my kind of funny way. So that's represented on this album and of course in studio stuff that we've done with Dave Gleeson, actually a couple of live things as well. The second CD is all Doc except for one song that Jim Hilburn sings, but we chose songs for that second CD that aren't necessarily the hits because there's been a lot of greatest hits compilations that have gone out over the years and they're fantastic,  but songs you won't find on those records, like 'Skid Row After Dark' which I think is one of our greatest songs, 'Shoot It Up' which I love from the 'Watch The Red' album, of course the six Symphony of Angels songs that I was telling you about earlier which include Rick on the Hammond B3 with the Adelaide orchestra doing 'Dawn Is Breaking', we did 'Love Takes Care' more acoustic with the symphony players and I was pretty excited about it actually because I spent a lot of time in the studio just piecing this together. There were actually some moments where Doc had forgotten the words but we found that he remembered the vocal in sound check so we're lifting his vocal out of sound check and putting in to the performance and it all worked pretty well. *laughs*
And to round out the trio of awesomeness you're heading out on a run of shows. Can you tell us how these shows are looking to shape up?
Yeah well we're starting to talk about those shows and what we're going to play and how we're going to represent the band, I mean it's exciting to us to have special guests with us like Diesel who's doing The Enmore theatre with us, we've got Rose Tattoo, ironically Bob Spencer is joining Rose Tattoo for those gigs and I think that will be a really great thing for the band actually, we love the Tatts they're got great songs. Last year we rekindled a friendship with Mi-Sex and they came on the road with us and with Steve Balbi singing we just thought the band was fantastic, so we've asked them to join us for some of the shows. Johnny Kannis and the Hitmen who go way back with from the early days in the band and he credits us with introducing The Hitmen to the suburbs and of course Mark Opitz discovered them and he worked with us and he recorded their first album. So there's a bit of history there and I guess that's what this is all about, it's all about people who's been around the band in the past and currently and I think we're gonna put on a great show. I know we're gonna put on a great show *laughs*.
Let's jump back to the band, 'Face to Face' is about to turn 40! Are there any plans for a bit of a celebration?
Well we haven't actually got any plans at the moment but believe me we will do something for sure because it's an absolute milestone and that album changed our whole life, and I reckon it still sounds as great today as it ever did, so yeah I guess it's one step at a time, at the moment we're dealing with what's going on around the book and the upcoming tour, I should also mention we're doing what we're calling a book tour prior to The Angels going out on the road, which is Rick and me and our ex lighting designer or director call him what you like Raymond Hawkins who is one of the greatest lighting guys this country has ever seen and I mean the light show that we used to put into pubs was unbelievable. So he's gonna be our MC, he's very entertaining *laughs* so we're going to do intimate venues like in Sydney The Brass Monkey and The Leadbelly gig, Lizotte's up at Newcastle and Rick and I will have our instruments, we'll play some music and people in the audience can ask us questions and there'll be a bit of a chat going on.
It seems like you're busier now more than ever, how is it being in The Angels in 2017?
It's fantastic, who'd have thought it? What we started doing way back in the 70's was kind of something that we wanted to do through our life and we've actually proved it that we can do it through our life and Rick and I are doing pretty well we're the old guys in the band, we've got young people in my son Sam on bass who's just unbelievable and then Nick Norton on the drums who both guys are in their mid-thirties and they're incredible players, Dave Gleeson of course, what can I say about Dave? Wonderful frontman, great singer, I'm proud of the new songs that we've done with the band, I think that's a really important thing for us to continue to create new music. I mean what a career I mean as I'm talking to you I'm probably sounding excited because I kind of am, I think to still be doing it and not feeling like we're just going through the motions, we're playing with as much passion as we ever did.
So how if in any way does the creative process differ now from your beginnings?
Yeah it's a bit different, like in the old days Rick and I would write a lot of stuff in cars going to gigs these days it's all changed but we're encouraging the other guys in the band to also get involved in the song writing process, like my son Sam comes up with some ideas, Nick Norton is an amazing songwriter, great lyricist, and Dave Gleeson, we've discovered a lyricist in Dave Gleeson he wrote almost nothing in The Screaming Jets but we've got him to write quite a few songs with us, the lyrics I should say not so much the music. Rick and I just have this overview of it if you like and we produce the music but we're really encouraging all the other guys in the band to write, and perhaps in the old days it wasn't like that, Rick and I and Doc of course we had our vision and it was a bit hard to break into that, so it's good, it's really good.
So last time we chatted we predicted what would happen by the end of the year so let's look ahead even further. So in 2018 The Angels will…
Well we'll be out there again, we'll be celebrating the 'Face To Face' album, at the beginning of the year we'll be doing eleven shows at the Red Hot Summer tour out there in more of the regional areas and they're fantastic gigs, so there's eleven of those at the beginning of the year. Then later in the year we may even do another symphony thing. We can't talk beyond that because I wouldn't know *laughs* all I know is that we've have great meetings with our agent and we talk about ideas on how we'll present the band for various tours etc and some stuff is still in the works we don't want to get ahead of ourselves.
RICK & JOHN BREWSTER presents THE ANGELS BOOK TOUR
READING, MUSIC, QUESTIONS AND ANSWERS                      
With special guest Raymond Hawkins as emcee
Tickets on sale Monday 3 July 
For more info, click here
The Angels book by Bob Yates with Rick & John Brewster
Out Tuesday 1 August through Penguin Books Australia
Pre-order available here
Thu 24 Aug | Brass Monkey, Cronulla NSW
brassmonkey.com.au | Ph: 02 9544 3844
Fri 25 Aug | Leadbelly, Sydney, NSW 
theleadbelly.com.au | Ph: 02 9557 7992
Sat 26 Aug | Centro CBD, Wollongong, NSW
centrocbd.com.au | Ph: 02 4225 3556
Sun 27 Aug | Lizotte's, Newcastle, NSW
newcastle.lizottes.com.au | Ph: 02 4956 2066
Thu 31 Aug | Birds Basement, Melbourne, VIC  
birdsbasement.com | Ph: 1300 225 299
Fri 01 Sep | Hysteria Lounge, Lilydale, VIC    
hysterialounge.com.au | Ph:  0487 888 434
Sat 02 Sep | German Club (upstairs), Adelaide, SA
ticketek.com.au | Ph: 13 28 49
BROTHERS, ANGELS & DEMONS SPECIAL GUESTS
Friday 13th October 2017
Thebarton Theatre, ADELAIDE SA
Special guest: MI-SEX
www.ticketmaster.com.au | 136 100
Saturday 14th October 2017
Astor Theatre, PERTH WA
Special guest: MI-SE
www.astortheatreperth.com | 1300 111 369
Friday 20th October 2017
Enmore Theatre, SYDNEY NSW
Special guests: Diesel & MI-SEX
www.ticketek.com.au | 132 849
Friday 27th October 2017
The Palms at Crown, MELBOURNE VIC
Special guest: Rose Tattoo
www.ticketmaster.com.au | 136 100
Saturday 28th October 2017
The Palms at Crown, MELBOURNE VIC
Special guest: Rose Tattoo
www.ticketmaster.com.au | 136 100
Friday 3rd November 2017
Country Club, LAUNCESTON TAS
Special guest: Dave Wilson Band
www.tixtas.com.au | 1300 795 257
Saturday 4th November 2017
Wrestpoint Showroom, HOBART TAS
Special guest: Dave Wilson Band
www.tixtas.com.au | 1300 795 257
Friday 10th November 2017
Doyalson RSL, CENTRAL COAST NSW
Special guests: Rose Tattoo & MI-SEX
www.doylo.com.au | (02) 4390 0622
Saturday 11th November 2017
Ettamogah Hotel, KELLYVILLE NSW
Special guests: Rose Tattoo & MI-SEX
www.moshtix.com.au | 1300 438 849
Friday 17th November 2017
South West Rocks Country Club, SOUTH WEST ROCKS NSW
www.rockscountryclub.com.au | (02) 6566 6252
Saturday 18th November 2017
Laurieton United Services Club, LAURIETON NSW
www.laurietonclub.com.au | (02) 6559 9110
Friday 24th November 2017
Penrith Panthers, PENRITH NSW
Special guests: Rose Tattoo & Hitmen DTK
www.ticketek.com.au | 132 849
Saturday 25th November 2017
Waves, WOLLONGONG NSW
Special guests: Rose Tattoo & Hitmen DTK
www.moshtix.com.au | 1300 438 849
Friday 1st December 2017
Eatons Hill Hotel, BRISBANE QLD
Special guests: Rose Tattoo & MI-SEX
www.oztix.com.au | 1300 762 545
Saturday 2nd December 2017
Nightquarter, GOLD COAST QLD
Special guests: Rose Tattoo & MI-SEX
www.oztix.com.au | 1300 762 545
Essential Information
From: Australia
Band members: Rick Brewster – lead guitar, vocals, John Brewster – rhythm guitar, vocals, Dave Gleeson – lead vocals, Nick Norton – drums, vocals, Sam Brewster – bass
Website:  http://www.theangels.com.au
Latest Release: Brothers, Angels & Demons (Out Now – Liberation)