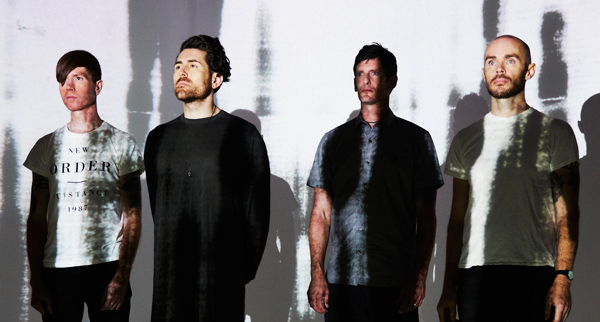 "…the reason we started doing this in the first place when we were just kids was never to make money, wasn't to be popular, wasn't to be on the radio, back when we started it was about playing a show, writing a song, recording that song, just very simple things and I think in that respect those are the things we still really value…"
From Release: For AFI, the name of the game has always been about evolution; so it's always a nail-biter to see where they land on each release. Enter The Blood Album. Proving they are as fired up now as when they began. The blood, sweat, tears and thousands of sold out shows have morphed AFI into one of the most ferocious live acts in the world today. They will be bringing it to Australia in full force this September, showcasing songs from across their incredible catalogue
At home in Los Angeles, Jade from AFI gave us a call to talk about the band's upcoming Australian tour, their latest album, and much more.
We're here because you're headed back to Australia! This being your first headline run in pretty much a decade, how will these shows be shaping up?
You know ever since coming to Australia for the first time which was about fifteen years ago at least, it's been amazing down there and you know we've done a few festival runs and a couple of headline tours and it feels very much like being at home when we're down there it's got a very California vibe as well and the shows are as good as the ones we have in California so we always look forward to coming back.
You were last here in 2014 for Soundwave and always get such a great reception in Australia, what do you think it is about AFI that Australian audiences just love?
I mean I can't really answer that without sounding arrogant *laughs* I'm hoping it's just cause they like our music, they respond to what we're doing and maybe they feed off the fact that we love coming down there and we love what we're doing. It's as simple as that.
Do you have a stand out memory of a previous trip to Australia?
Let's see… we played a show in I believe it was Sydney in 2006 and we played this place that was close to 6,000 people and it was one of the biggest headline shows we had played at that point and it was in another country it wasn't even in the United States it just felt like this is amazing, we're playing this arena thousands of miles away from home and all these people they know all the words and it was just a really amazing thing. I think it was the last show of the tour too so it was a great way to wrap up that run.
I've seen you guys a few times before and your live show is just amazing, what is it about the band and what you bring to the stage that makes the performance so captivating?
You know we come from punk and hardcore, that's where we started and in that world especially in the hardcore world it's a lot about movement on stage and energy and stage diving and doing all these thing and the crowd kind of giving that back. At the end of the day even though we've changed a lot musically we hit the stage and we still have that same ethos and we give a lot of energy on stage and we move around a lot and that kind of translates to the crowd I think.
'The Blood Album' has been out now for just over six months, how has the cycle been since its release?
It's been pretty amazing, the first tour we did on this record you know we hadn't played a single show in three years which is kind of how we do it, we don't play any shows between records and we did this tour and we got to the end of the tour we thought this is one of the best if not the best tour we've ever done in the twenty five year history of the band and it's a weird thing to have that happen so deep into our career, but everything and the vibe of the tour was so great that it's like we're really truly lucky to be doing it this long and still have these kinds of shows.
This was also your first time in the producer chair, sitting on that side what was it like having to put on a producer hat as well as a performer hat?
A lot of work *laughs* I write all the songs as well and so I wrote all the music and Davey writes all the lyrics, so coming of a year of writing and then right into producing it was a lot to do but at the end of the day in the band we've all felt that it was just the best fit, so a little daunting but it ended up being a pretty great experience.
Did you ever have to come down on the guys and tell them they're doing it your way and they had to listen to you?
*laughs* Well that was one of the fears, you've been in a band where you're peers for so long I didn't feel comfortable doing that and luckily we're all professionals and if we didn't know what we're doing at this point then we might as well not be doing it. Everyone knew what they needed to do so I didn't have to have an awkward confrontation like that and I don't think I would've anyway I would've rather had a mistake on the record that have had to scold someone.
As the band continues what if anything do you try and do differently on each release to keep things fresh and exciting?
I think as Davey and I write the songs every time we go to write a new record it's been a couple of years in between records and we've just got to do something at least a little different because we're different people at that point and we're influenced by different things and you don't want to look back, you don't want to do a return to form and we don't want to be like "OK well this record was successful for us so let's try to do that record again" I just think that's the kiss of death. As long as we try to do something and push forward and do something relevant to us at least that's all we're shooting for.
Obviously over time many things can change within a band but what is the one thing that you'd say has stayed the same in your time together?
I mean I think a major thing, well one of the things is our friendship and being able to be friends with the other guys and be able to live together on a tour bus for a couple of years that's very important because if you can't do that then your band's gonna fall apart. Having respect for each other and the reason we started doing this in the first place when we were just kids was never to make money, wasn't to be popular, wasn't to be on the radio, back when we started it was about playing a show, writing a song, recording that song, just very simple things and I think in that respect those are the things we still really value, just like can we make music that excites us, can we record it and go out and play it in front of people? If we can do that then everything else is just gravy.
What does the rest of 2017 have in store for AFI?
We've been touring throughout the year and Australia will take us through to September and we don't have anything on the books yet past that, I'm sure something will materialize, it would be nice to get a Mexico or a South America or something like that, and Japan we haven't been there in a while so that would be great.
Lastly let's look ahead to the future, so finish this sentence for me, by the end of 2017 AFI wants to?
Have played to as many as our fans as possible, to have a successful touring cycle and I think we've kind of done that at this point, and maybe as a personal thing to start writing the next AFI record.
Oh really? It's normally a few years between records so starting early?
*laughs* Well part of that is the writing and recording and preparing to put out that takes a long time so I've gotta start writing really early.
AFI | NATIONAL AUSTRALIAN DATES 2017
With Basement & Introvert
Presented by Destroy All Lines, Chugg Entertainment, Hysteria Magazine and
triple j's SHORT.FAST.LOUD. 

SYDNEY
Saturday 9 September – Big Top, Luna Park – Licensed All Ages
MELBOURNE
Sunday 10 September – Forum Theatre – 18+
ADELAIDE
Tuesday 12 September – HQ – Licensed All Ages
PERTH
Thursday 14 September – Metro City – 18+
BRISBANE
Saturday 16 September – Eatons Hill – Licensed All Ages
Tickets: www.tickets.destroyalllines.com
Essential Information
From: Ukiah, California, USA
Band members: Davey Havok – Vocals, Jade Puget – Guitar, Hunter Burgan – Bass, Adam Carson – Drums
Website:  http://www.afireinside.net
Latest release: AFI – The Blood Album – (Out Now)