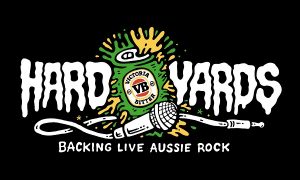 Calling all hard working musos. Victoria Bitter and FBi Radio are teaming up to bring you VB Hard Yards – an opportunity for local bands to play with rock heroes Cosmic Psychos this November.
The VB Hard Yards initiative will lend a helping hand to the Sydney rock community who are hard up for places to play following a decline in the city's live music venues.
Rock music has been shoved into the 'too hard' basket in Sydney, but there are still hundreds of incredible bands refusing to shy away from a bit of hard work. VB will join forces with the legends at FBi Radio to identify those still slogging away making killer music, and give 'em bit of a leg up.
Three VB Hard Yards finalist bands will receive mentoring from, and  perform with Cosmic Psychos this November. Plus, the winner will grab $3,000 cash, studio time to record, mix and press a new single on seven-inch and a listening session with FBi Radio's music director, Amelia Jenner.
Bands need to be independent, over 18, NSW residents able to get to Sydney for a gig, and enjoy wielding a guitar/set of drum sticks. If you or someone you know fits the bill, head over to the FBi Radio website for more information.
Applications close 11:59pm on September 22.