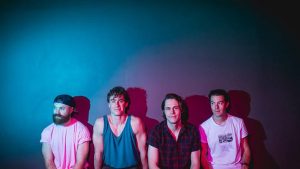 If you're looking for sing-a-long summer floor filling anthems, more swagger than Jay Z and infectious pop rock alchemy then DON BROCO is your new favorite band!!
DON BROCO are quite clearly aiming for the stars leaving a trail of sold out venues in the UK in their wake. In November this year they will headline a 10,000 capacity venue in London but Australian fans will get to witness their bombastic live show for the very first time this December in intimate surroundings.
To say DON BROCO is excited is a massive understatement and lead singer Bobby can't contain his excitement…"STRAYA! We're coming for you harder than Borry after 5 points of speed on a 40 hour run. As our good mate Johnny Depp informed us, your country is a 'treasure trove of unique plants, animals and people' and we can't wait to experience it for ourselves. Brisbane, Melbourne & Sydney we'll see you in December! "
Tickets go on sale Thursday 31 August 9am local.
Check out the videos for: Technology + Pretty + Everybody
TOUR DATES:
Thursday 7 December – The Brightside, Brisbane – 18+
Friday 8 December – Corner Hotel, Melbourne – 18+
Sunday 10 December – Oxford Art Factory, Sydney – 18+
Comments
comments