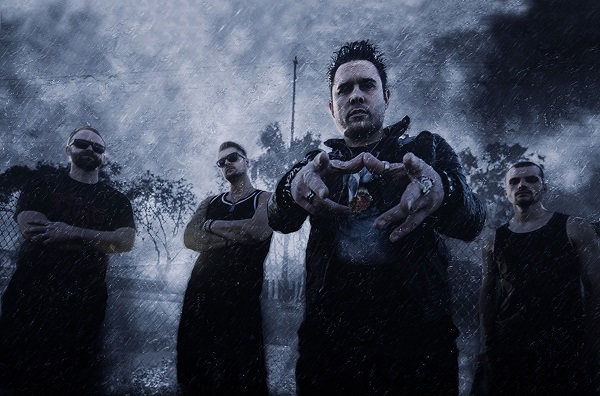 One of my favourite things is when a band hasn't toured Australia before, well by that I mean there's so much excitement, anticipation and uncertainty about what to expect. So tonight TRAPT make their debut in Sydney and let's see if these songs fans have been listening to for years come across as good as we hope they will on the stage.
Red Hook open the show and like caged animals that want to run free the band are contained to the small stage but it doesn't deter them in the slightest as they belt out their set of big catchy rockers including a ballsy cover of Rage Against The Machine's 'Guerrilla Radio' which I give them kudos for as I tell you what, that was good. It's been a while since I've seen these guys and I'm looking forward to seeing more of them as they continue with new music.
Red Bee and their technicality impresses me from the get go. In seeing these guys a few times before I have to say how impressed I am at their sound, their energy and overall presence. The curse of the small stage doesn't deter these guys either as they play through their set of originals including some new material they're playing for the first time which if that's anything to go by I feel like we'll be seeing more of Red Bee around the circuit. Two quality openers set the scene for what's to come.
Red Trapt, sorry I mean Trapt, (thought there was a theme) take the stage and with a "Sydney!" they launch into 'Still Frames' and this room, I should say this packed room is loving it. Arms thrust in the air and as they sing back to the band this couldn't be a better welcome for a band that have never graced this city. As they 'Bring it' with not only song but performance they are absolutely killing it, as I said at the beginning I know personally if waited a long time to see this band live and they are not disappointing, they're tight and Chris as a front man is exactly what you want. 'Who's Going Home With You Tonight' has always been a catchier song of the bands catalogue and here it is live and it's killing it. 'Castaway' somewhat slows things down but still maintains the power of the song especially in the vocal delivery as Chris' power shines through.
'Contagious' is up next and another big powerful track that gets the crowd joining in, then 'It's Over' the second from their new album 'DNA' keeps the pace going and I'm seriously impressed with this band, I mean sometimes you don't know what to expect when you haven't seen a band before but when they come and they deliver in the way they are right now then it's such a treat to be at a gig like this, I suppose we have to remember that even though they haven't been here that doesn't mean they haven't stopped playing, so we're witnessing a well experienced band up here right now. Look out!! It's a ballad!!! I just may need a moment here… 'Ready When You Are' is now officially my new favourite Trapt song!! If you know me or have read one of my reviews you'll know of my love of power ballads and this one is welcomed to my list of awesomeness. The addition of the extra guitar as Chris turns it up a notch lifts the song to the heights it deserves. Ok stop it! A middle 8 build, I swear if this hits a key change I'm done!! Thankfully no key change allows me to be here for the rest of the show and to hear 'Echo' which was close because this is one of the bands bigger known songs here and you can tell as the crowd receives it with the knowing and respect it deserves and of course receiving the best reception of the night so far.
'Only One In Colour' is another slower one and sees Chris keep the guitar on and wow, shit, this one is great!! Hearing these songs for the first time in a long time is pretty damn cool I have to say and they all know this one too! We step away from the power of the ballads to just get some straight up power with 'These Walls' and hooks galore! 'Passenger' keeps things chunking along with its message of hope and determination straight off of their new album 'DNA' and then to 'Black Rose' way back into the catalogue and is another big power ballad style song and I'm loving this set, no not only for the ballads but they're delivering a tight set of great modern rock songs and I'm ok with that. The set continues with 'Human (Like The Rest Of Us)' keeping up the same energy that has not wavered throughout the show, man they are truly delivering.
"Are you and will you always be… Head fucking strong?" is the question asked and of course the crowd goes berserk and the buzz the band must feel seeing a reaction like that would be amazing. This being the song that most here would've been introduced to Trapt by, me included. So you can see the crowd either choosing to film it on their phones or just going nuts over it, it looked like a 50/50 split there. I know I was one of the ones rockin' out to this modern rock classic!
The band leaves the stage but only for a moment before Chris returns with an acoustic guitar to play 'Stories' for us and knowing he's been out on an acoustic run overseas makes me want to hear these songs delivered this was. His voice is a powerhouse. The band who I need to mention have killed it tonight also return to join Chris already on stage for one more song, that being 'Stand Up' and the energy we had from the first second is still there and I tell you what, I don't think this will be the last time we see Trapt in Australia. The reception was amazing, the band were outstanding and the songs just gave us a kick ass night of live rock and roll.
Essential Information
Venue: The Bald Faced Stag – Sydney
Date: July 7, 2017
Presented by: Metropolis Touring
Website: http://www.trapt.com
Setlist:
Still Frames
Bring It
Who's Going Home With You Tonight
Castaway
Contagious
It's Over
Ready When You Are
Echo
Only One In Colour
These Walls
Passenger
Black Rose
Human (Like The Rest Of Us)
Headstrong
Stories
Stand Up