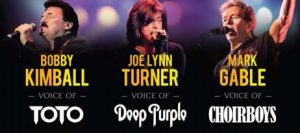 Iconic performers Bobby Kimball and Joe Lynn Turner head 'down under' to join Australia's Mark Gable for 10 day concert tour.
Legend Voices of Rock is proud to present the incredible voices of four of the most influential and acclaimed international rock bands of the 70s and 80s with dozens of Top 40 hits and over 130 million record sales between them. Bobby Kimball is the legend voice of TOTO, Joe Lynn Turner is the legend voice of DEEP PURPLE and RAINBOW and Australia's own Mark Gable is the legend voice of CHOIRBOYS. Australia is ready to rock!|
Bobby Kimball, the original front man of TOTO, with six Grammy wins and four more nominations, is one of the most recognizable voices on radio. His soaring vocals feature on TOTO's biggest selling hits such as Africa, Hold the Line and Rosanna, as well as recent TOTO hits, Falling in Between and King of the World, will thrill Aussie audiences.
DEEP PURPLE is considered amongst the pioneers of hard rock with iconic songs like Smoke on the Water, Highway Star, Black Night, King of Dreams and Hush. Joe Lynn Turner not only fronted DEEP PURPLE, but also Ritchie Blackmore's spinoff 80s progressive rock band RAINBOW. RAINBOW ranked in VH1's 100 Greatest Artists of Hard Rock with hit songs Stone Cold, I Surrender, Spotlight Kid and Difficult to Cure. Joe Lynn Turner is widely respected, working with such other legendary artists as Billy Joel, Taylor Dane, Yngwie Malmsteem, Cher and even Australia's very own Jimmy Barnes.
The CHOIRBOYS were a mainstay of Countdown in the late 80s, with Molly Meldrum correctly acclaiming their first album was "destined to become an Aussie classic". He wasn't wrong. Run to Paradise is now an Australian rock anthem, and other hits like Boys will be Boys and Never Gonna Die are destined to evoke strong memories of the 80's.
Producers Murray and Adrian Roach commented; "Concert goers will be treated to over two hours of uninterrupted international chart topping hits that shaped the development of rock music worldwide. We only have one concert on each city so we anticipate tickets will go fast."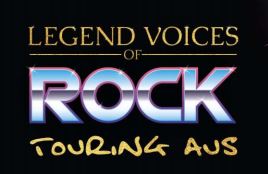 TOUR DETAILS
Gold Coast Sat 23rd Sept 2017
Brisbane Sun 24th Sept 2017
Sydney Mon 25th Sept 2017
Penrith Wed 27th Sept 2017
Newcastle Fri 29th Sept 2017
Hunter Valley Sat 30th Sept 2017
Wollongong Mon 2nd Oct 2017
Canberra Tues 3rd Oct 2017
Melbourne Thurs 5th Oct 2017
Adelaide Sat 7th Oct 2017
Tickets www.legendsofrock.com.au