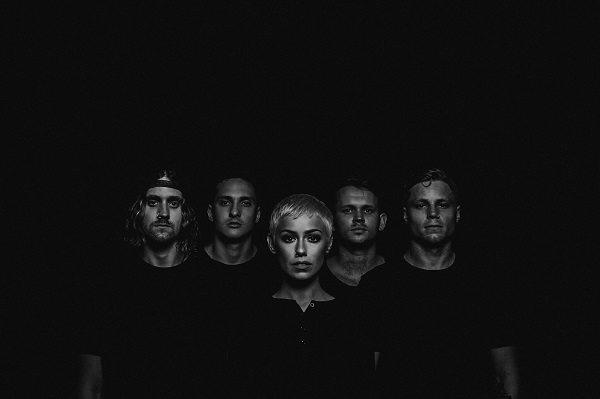 "Now I feel it's not even about being a teenager it's about being a child and it's like lets run wild, what would a kid do? Definitely being a lot more experimental which is something I've always wanted to do and the direction I want to take Tonight Alive in from here on."
From Tour Release: Sydney's own Tonight Alive are heading home and to celebrate they've announced a very special Australian headline tour. Kicking off on October 31 at The Basement in Canberra, this run of dates will see Tonight Alive go back to where it all began and revisit all the rooms they used to play when they first started. Joining Tonight Alive upon their return will be their new friends in The Beautiful Monument.
We skyped our old friend Jenna of Tonight Alive while she was in Thailand to catch up, discuss everything happening in the Tonight Alive camp, touring, label changes, future plans, and much more.
It's been two and half years since we chatted properly so let's catch up, and in following you over that time this will be a good one, how have the last two and a half years been for you?
*laughs* Oh my gosh, no one has ever asked me how have the last two and half years of your life been. Expansive, yeah, they've been just ever evolving, ever changing, ever blossoming, everything is happening all at once and I'm just trying to enjoy the ride and it's great. I'm learning more than I ever have before I feel like even when I was probably in school I'm hungry to learn and it's been a really nice mindset to be in. Yeah we toured nine months of last year, we put out a record in March of last year and we very quickly decided to follow that record up and change record labels and spent three months writing an album and now we're in Thailand and making a kick ass rock record and so everything is quite positive and I feel very supported at this point in time.
You mention changing record labels, you've recently joined some new label families, namely UNFD here in Australia and Hopeless Records everywhere else, so how pumped are you to be starting a new chapter?
Very, very much so, we were on Sony and Fearless for five years and we made three records with the same teams and same ears and eyes on our band, and although we had really close relationships with those people the band outgrew its skin and I think it outgrew its environment, so when those deals finished it was just a really, really exciting time for us to connect with people that we have had relationships with for years and years but have never worked personally with. So Dane at UNFD and Erik at Hopeless have been good friends to the band for a really long time, so it's exciting because I think we're on rock labels now and we're on labels that really understand our band and our message and they just want to support that and they don't want to change anything about us and that's very refreshing and it's very liberating for our writing and our creative process so it's been a great change already.
Of course we're also here because you're headed back to see us, what's the feeling like coming back home to play some headline shows in these smaller venues?
It feels like it's about damn time, it's just been too long I mean the last time we headlined in Australia was 2016 January and that wasn't even a full length tour ,and there used to be times back in the day we would do multiple tours in Australia in a year and there was one time we did eleven tours which could have been overkill but we were teenagers or young adults and there were a lot of shows going on, so we were playing them. So just very excited to come home and play again, we just always wanted to but the timing just hasn't been right and it's just right now and we're going to be promoting a new record and new music and yeah.
I also love the competition you're running to get the female rock bands on board, have you had much response so far?
We've had two thousand entries in two days so it's mental, we've never seen that kind of response from fans before, it's incredible how many people are ready to get on board so I just feel like why haven't we done this before and why would we do anything different? In a way we have an opportunity to offer young Aussie bands a chance and I think a lot of venues have shut down since we started and a lot less tours come through. A lot of people are always bringing international supports and you often find the same bands will get the support slots and I get goose bumps even saying that as I remember what it was like being much more involved in the scene when we were a little younger, so I really, really want to put good people on the stage and have them share their voices and their music and their messages, so yeah it's very exciting.
So we had a taste with 'World Away' and you mentioned you're making a nice little rock record, but what can we expect from the new album from you guys?
Well when we were in conversations with our new labels they were saying just go and make the record that you want to make and that was really nice as that was as much input as they've had *laughs* which is really, really groovy and we've just put ourselves in the studio for three months at my house at the start of the year sort of over the summer and we just got back in touch with what excited us when we were young. I feel like there's this whole concept of returning to the child and what's it like to have childlike wonder and childlike excitement about music again, so we're playing riffs and ripping melodies and it's fun again. Not that it wasn't fun on the last record, but it was a lot more of a serious polished record and it needed to be because we took a step outside of our little world and we really pushed ourselves to write a different style record and that was important to us at the time because we didn't want to repeat the past, and we toured on 'The Other Side' for three years so we were a bit burnt out from playing head banging, jumping music we were just ready to say hey we're not teenagers anymore and that's what this was. Now I feel it's not even about being a teenager it's about being a child and it's like lets run wild, what would a kid do? Definitely being a lot more experimental which is something I've always wanted to do and the direction I want to take Tonight Alive in from here on.
What about inspiration? What's been helping with the new music and the songs?
I've kind of been on this journey the last couple of years learning about psychology and higher consciousness and I think things like becoming a vegan kind of changed the way my mind works and I've always been quite health conscious and these things just started affecting me in different ways. So I'm definitely talking about relatable topics, but I'm also going into a bit of social commentary about where we are as humans and what we're doing to the world and ourselves and that's exciting because it's always been important to me to say something worth saying and there's only a handful of songs that I think I've skipped out on that opportunity over the years. Examples might be a song like 'Lonely Girl' which is really fun and it's certainly relatable to have an ex best friend and you know to be wronged in that way but at this point in my life it's not important to me to talk about that anymore.
So obviously things change over time, but what would you say is the one thing that's stayed the same over your time together in Tonight Alive?
Our relationships, I don't think they've changed very much, the dynamic of the band is very much the same as when we were young, we're all different people but we're very much connected and for some reason you can't pull us apart, we miss each other when we go home from tour and we're apart for a few days and it's like "hey man, what are you doing? *laughs*" because we're not used to being any further than a room or a cubicle or a wall away from each other.  So our relationship with each other has kept us very much united and especially the moments where we're challenged and tests are put in front of us and pressures are put upon us and those are the moments that we really see our unity rise and I kind of love that. I don't think anything can really scare us or shake us anymore because I've seen it happen enough when we rise and we put our feet down and we say no or we find our way through things together. So that's our strong front there.
Over your career you've done a lot so far but is there anything that tops your list of things to do you haven't yet had the chance to do?
I'd like to start our own festival *laughs* I know it's very ambitious and maybe we'll go back and read this and go whatever happened to that idea and that may be the case but I either want to open my own venue or start my own festival and do it in Australia, do it in Sydney and just see where that takes us and give Aussie bands a shot and local artists and food outlets and things like that and just promote a really healthy community for young people, all people but I think it's especially important for young people to have a safe place where they can express themselves freely. I think there's just so fewer places to do that from when I was growing up and maybe it's because I'm not that age anymore that I don't see it but I think a festival with only a few international bands but mainly local bands and just a creative environment for people that would really make me happy. Or one of my other ideas was the venue was to have it like an after school program where people can come and do homework or practise in a rehearsal space and it also has a venue attached to it which is an interchangeable size, but it has a large stage so that everyone that plays there can play on a professional stage with lights and good sound and a lot of space to perform, but the room size is interchangeable so anybody can play there. So that's a big idea that's gonna take a lot of support and backing but we'll see what happens, that would really top things off for me.
So what does the rest of the year have in store for you?
You're pretty much looking at it to be honest, because after making this record we're gonna set it up, so we'll be making videos and getting the creative side together so that we can package it and put it out for people, so we're all gonna go our separate ways for a little bit to different corners of the world and work on our own projects and things like that, but really it's all about the preparation for the future which really isn't that far away. So you can expect some announcements in the next few months that will point towards the New Year, very early New Year.
Lastly let's look ahead to the future, finish this sentence for me by the end of 2017 Tonight Alive wants to…
*laughs* What do we want to do? *laughs* I learnt the term Magnum Opus the other day, so by the end of 2017 we want to have created our Magnum Opus *laughs* you know maybe the Magnum Opus will have a part two in the future but I certainly feel like it's heading in that direction if that's not too much of an arrogant thing to say, I think it's good to be proud of your work. Yeah I just feel very present in what we're creating right now, I don't feel like it's two years old already, we only finished writing the record a couple of weeks ago so it's very fresh.
BACK TO BEGINNINGS TOUR DATES:
with special guests THE BEAUTIFUL MONUMENT
THE BASEMENT, CANBERRA
TUESDAY OCTOBER 31
UNI BAR, WOLLONGONG
WEDNESDAY NOVEMBER 1
OXFORD ART FACTORY, SYDNEY
THURSDAY NOVEMBER 2
CAMBRIDGE HOTEL, NEWCASTLE
FRIDAY NOVEMBER 3
THE ZOO, BRISBANE
SATURDAY NOVEMBER 4
FOWLERS LIVE, ADELAIDE
THURSDAY NOVEMBER 9  (all ages)
CORNER HOTEL, MELBOURNE
FRIDAY NOVEMBER 10
TICKETS ON SALE
12PM THURSDAY JUNE 8
My Live Nation pre-sale:
10am June 7 until 10am June 8
For complete tour and ticketing information, visit:
tonightalive.com
unfdcentral.com & livenation.com.au
Essential Information
From: Sydney, Australia
Band members:  Jenna McDougall – Vocals, Jake Hardy – Guitar, Whakaio Taahi – Guitar / Vocals, Cam Adler- Bass, Matt Best- Drums
Website:  http://www.tonightalive.com
Forthcoming Release: Coming 2017… (UNFD / Hopeless Records)