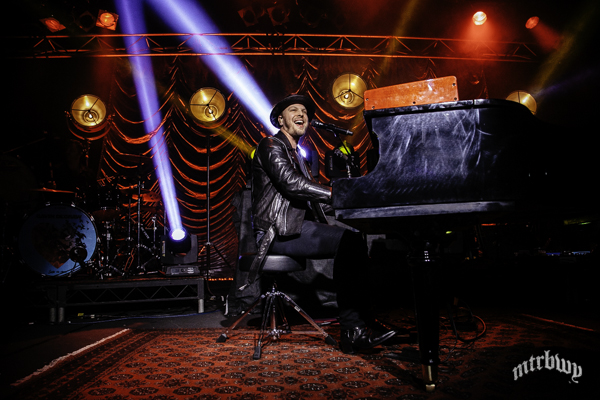 I love an artist who isn't scared to perform their songs in an acoustic form and tonight Gavin DeGraw in his first time back in Australia since 2004 takes on that challenge to deliver an acoustic set of his tunes to a very eager and attentive Sydney crowd.
An extremely happy DeGraw walks on stage and sits down at the piano and with a count in hits us straight away with 'Chariot' and with the trio of piano, guitar and drums if this is what sets the scene for tonight then we are in for one hell of a treat and this one of course being the title track from his debut is a great way to start the show. Before it even faded out the guitar takes us to 'Making Love With The Radio On' from his most recent album suits this environment and allows the track to shine. From his newest to his first we go back to 'Chariot' and 'Crush' and then without when skipping a beat it merged into '(Nice To Meet You) Anyway' and the crowd are loving this. This being an acoustic night will allow the songs to take on a different life and case and point with 'I'm In Love With a Girl' which just sounds outstanding this way, what a song and an amazing reception to it has Gavin happy and after so long away you can tell how much he's stoked to be back. Throwing in a newer track 'Kite Like Girl' and regardless of the time people have known it when I look around there are people loving this one and that kick ass.
The guitar strums the opening melody to 'Candy' and what a song, wow, and hearing it live tonight that just may be my new favourite DeGraw song, sorry 'Not Over You' you're out for well a few more songs as 'Candy' now wins. Gavin gets up from the piano to kick into 'Best I Ever Had' and with some amazing crowd participation this one is a huge stand out in what has already been a spectacular set. There is so much love in this room for Gavin tonight and it's a pleasure to witness. Throwing in a country and western song of his that allows him to just let his voice shine through solo on the piano he gives us 'Stealing' and the silence besides the cry of "oh my goodness" from an adorning female fan which was amazing, he steps away from the piano again and delivers it perfectly at one point even moving away from the mic to belt out his vocal power. Wow. Then in what feels like almost a reggae style song 'Run Every Time' again shows off his amazing vocal talent and at this point I really don't want this show to end tonight, this is so good.
The delivery of 'Say I Am' is second to none an again, wow. So many wows, I apologize for them all, actually no I don't, this is some fucking amazing talent right here. Once again back to his first album as a sea of phones come out to capture 'Follow Through' and the crowd singing along just made this something special. 'Radiation' fits in a treat and now going to his newest record 'Something Worth Saving' after a great story about its naming and then giving us the title track and well this is just outstanding, this big ballad is everything you want from a song and its live performance, what a song, I'm blown away. The double bass comes out for a very unexpected cover of George Michael's 'Faith' mashed up with 'Annalee' Followed by 'Sweeter' which funked things up a little and some killer musicianship from this trio drives this one home.
'More Than Anyone' allows Gavin to start this solely on the piano before the band joins in and this ballad stands out this far into the show and his voice is as strong as when the set started but he gives it a rest as the crowd take this one to close it out and it's always a pleasure to hear that. Actually I have to make special mention of that as this crowd is fucking awesome in here tonight. After an amazing story of essentially his beginnings he plays us a song that he learned as a child and what helped shape him to where he is today, that being 'Change Is Gonna Come' and the silence in here as he plays it is the greatest amount of respect an artist can ask for, it's seriously impressive and amazing also rare to not hear any talking whatsoever. He speeds things back up again 'I Love her So' followed by 'Soldier' and as we get towards the end of the set this one thankfully got a run, I was starting to worry it may not and judging by the sing along I'm gathering others were waiting for it too. Then the upbeat 'She Sets The City On Fire' is a worthy addition to the set and DeGraw's catalogue and live show.
OK so it's time for the song I've been waiting for, it's 'Not Over You' and finally hearing it live and hearing it played this way was something special, with his vocals still at 100% he delivers a song that is in my opinion the best in his catalogue to perfection, as he leaves the stage to thunderous applause and 'Gavin' chants he is back in no time only to play 'Belief' by request and I wasn't sure this one would get played, but here we are and again, wow. Closing the set with arguably his most well-known song, 'I Don't Want To Be' it was the only way the set could end, and after two hours and fifteen minutes an audience still peaking and appreciative, an even more appreciative Gavin DeGraw truly does not want to leave the stage, shaking hands and smiling from ear to ear.
There is no way he can or will take thirteen years to come back to Australia after seeing this reception and this unbelievable show, in fact this is the show of the year so far for me, so I'm going to sum this gig up in the corniest but absolute best way I can… That was Gavin DeGrawesome!
Essential Information
Venue: The Metro Theatre – Sydney
Date: July 4, 2017
Presented by: Live Nation
Website: http://www.gavindegraw.com
Photo By: Annette Geneva – www.everyday-is-saturday.com – Check out our full gallery HERE
Set List
Chariot
Making love with the radio on
Crush
(Nice to Meet You) Anyway
In Love With A Girl
Kite Like Girl
Candy
Best I Ever Had
Stealing
Run Every Time
Say I Am
Follow Through
Radiation
Something Worth Saving
Faith / Annalee
Sweeter
More Than Anyone
Change Is Gonna Come
I Love Her So
Soldier
She Sets The City On Fire
Not Over You
Belief
I Don't Want To Be