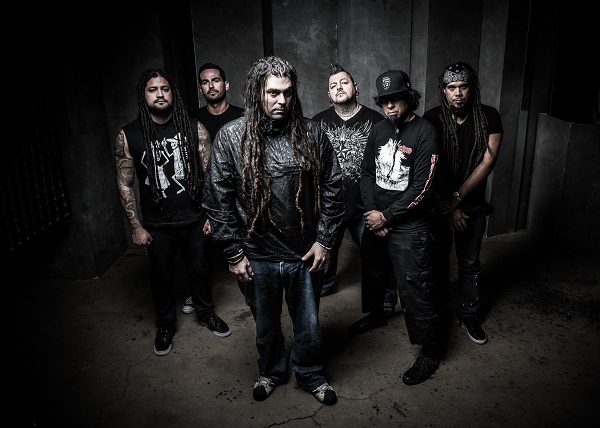 "We were purely just bodies trying to create some kind of music that we thought was cool and at least made us feel culturally powerful I suppose and us being metal heads and doing what we did I suppose that's the one thing and it's also the one thing that's allowed us to still continue to do this so many years later…"
From release: Hailing from New Jersey/New York, ILL NIÑO are a not just a meteorological event, they are a musical force to be reckoned with. Their revered album 'Revolution Revolución' marked what was the beginning for these founding fathers of Latin metal. ILL NIÑO offered something different, they brought a flair and ethnicity to the metal scene. With their jaw dropping percussive artillery and Flamenco guitar tones, the band meshed the Latino passion with an aggressive metal assault. Their live show is where they shine: driving, energetic and animated, not many bands can match them. The fans are what pushes ILL NIÑO to continue to dominate after a decade.
While in California we Cristian a call to talk about Ill Nino's return to Australia, memories of releasing 'Revolution Revolucion', new music, and much more…
You're heading back to see us, and you're playing 'Revolution Revolucion' in full, what was the idea behind doing this?
It's a little nostalgia, just trying to bring back a little bit of what I think made all the fans connect with us in the first place you know? We I suppose can consider ourselves very lucky and at this point very grateful, we had a great first album and it did impact the way that it did and it seemed like it was something that fans were really liking and were interested in when they saw that other bands were doing it, so it felt like a natural move to go out there and play the record in full. It's kind of like a view nostalgia that may be going around a little bit at the moment a little bit but it certainly has had a huge impact on us and the fans and on the shows.
How will the shows shape up?
Well we're playing the entire album and we're throwing in one to two songs off all the other albums in there depending on the night and I suppose in Australia it'll be a small package there will be a lot of bands or there shouldn't be *laughs* I'm not 100% sure yet so I suppose we'll be able to get full set time and there won't be any curfew issues, well I'm hoping anyway, I know that when we were in Europe recently there were a lot of bands and it was a big tour and we were headlining on the list but sometimes you can throw in six songs depending on time you can only throw in three depending what kind of curfew we're working with. I think in Australia it's not like a brought package or anything like that so we'll be able to play as long as possible, I'm looking forward to going there.
Looking back to its release in 2001 what do you remember about releasing your debut album?
The day that the album was supposed to be released was supposed to be September 11, 2001 and there was a couple of other artists that were going to release albums that day and all our releases got pushed back to a week later. The initial memory I have from the release of our album was that I was still working, I was still doing construction and I remember waking up in the morning knowing our album was supposed to be released that day and being excited about what we were going to sell or just getting some kind of notion as to how well we did when we were touring to support the debut album, and I know I woke up and I was just going to work that day and got to see what was going on on TV and it obviously September 11 had a huge impact on everybody's life but you know in a selfish kind of way *laughs* it kind of left me thinking 'what the hell is going to happen?' in a situation like that is the world going to end? Is the album never going to come out? That's it, it's all garbage now! *laughs* so it was a little bit of a let's say sour experience, and that day turned into a terrible day which lead to a lot of things, we were supposed to head out on a Machine Head tour, we were almost going to duck out of it because we were worried that we had family in New York and nobody knew what was going to happen, but the next week Roadrunner was able to get all the albums released again and I think rightfully so, I think the world needed some music at that point you know. It's one of those things we haven't really talked about it until this because this tour has brought those things up and people asking and we it happened and it was released a week later and it did seem there was some light at the end of the tunnel and to be honest at that point we weren't expecting anything because we didn't know, we didn't know what was going to happen to the world. So you can say we're lucky to still be thriving and surviving.
Seeing you guys live before is amazing, what is it about the live side of Ill Nino that is so important?
You know I think in rock and roll if you can't bring it live, if you can't really put yourself into the music and really give a tantric and energetic live performance then you may be a musician but you may not be a performer and that's the thing that divides some genres of music where there are musicians but not necessarily performers and I think rock bands that were inspired by the underground movements of hardcore and punk rock are just themselves so that was a very rebellious and anti-society movement, so I think on stage it's just a representation of what we can call our war dance *laughs* so we get on stage and do our Latin metal war dancing and that's what we call it. Certainly we were just inspired by punk rock and hardcore and the underground that made actual performance that didn't need to be theatrical but was still extremely powerful and tantric and I think that's what the point of our show is to just try and not really be there mentally it's just to let go and some nights are better than others to be honest with you because you know we're only human beings *laughs*. The last tour we did in Europe was amazing and towards the end of the tour a couple of us started getting sick and we had some rough shows there but nevertheless we got through the fans were still 100% and it's all that keeps us going man the fans.
Terror Universal are also coming along for the ride, how are Ahrue and Dave going to go pulling off double duties for the whole tour?
Well he's done it before, they've gone out with us before and does it well, Dave is a machine, he's a well-engineered metal drumming machine, when it comes down to consistency and just overall powerful performance he's a badass drummer and I wouldn't be surprised if he could do it with three bands in one night *laughs*. For him it's nothing, maybe by the end of our show he's a little sore but I don't think he tells anybody just out of he doesn't want anyone to give him shit about it.
So in terms of new music can we expect something soon?
Definitely if we can start sharing some of the music we've been writing individually with each other you know, and we're planning right now to find some time to finalise at least ten to fifteen songs and have the bulk of the album I don't want to say scheduled but at least conceptualised and know what the ideas of the record are going to be, and I certainly want to try to work hard on this album to resurrect the things that made us the band we were in the beginning and it's tough. I know the music scene is just like a human being, it goes different ways and you grow differently and you could say you sprout and sometimes the roots are a good thing to come back to depending on how special it was and I'm hoping that the playing of these old songs especially the songs we didn't get to play for fifteen / sixteen years brings us back to a really good creative place that can just take us to the level that we really want to be.
You've been in this band for almost twenty years now, and it's easy to say what's changed over your time together but what's the one thing you'd say has stayed the same?
The one thing that has stayed the same in our band is luckily the identity, I don't want to say that we were trying to do anything to take the world over or anything but we were influenced by a lot of great music at the time and I think we just wanted to do it in our own way and still show that inspiration in our music but have songs and entire albums that didn't necessarily sound like other bands and I don't know that we tried or we were just lucky enough to each have individual influences that were different enough to make what it was, to make Ill Nino what it was, but certainly to say that the one thing that has stayed the same is just our identity, we play culture metal, we're a Latin metal band and a lot of people in the beginning I suppose put us in the nu-metal territory and as soon that kind of went by the wayside it was mostly the Latin metal movement that we referred ourselves and our fans with and it wasn't really us that did it, it was really our fans that discovered this. We were purely just bodies trying to create some kind of music that we thought was cool and at least made us feel culturally powerful I suppose and us being metal heads and doing what we did I suppose that's the one thing and it's also the one thing that's allowed us to still continue to do this so many years later, our identity, our fans are very open minded and kind to their own and open to culture and we're not one of the only bands that does it but certainly there aren't enough in the world.
Lastly let's look ahead to the future, finish this sentence for me by the end of 2017 Ill Nino wants to…
By the end of 2017 Ill Nino wants to have a bunch of new songs recorded *laughs*  that's probably the best priority to put in front of us right now or at least the most important priority. We don't want to end the 'Revolution' tour and not feel like we let the momentum go, our fans are the fuel of our fire pretty much so we want to give them something they can be proud of for the next one.
ILL NIÑO & TERROR UNIVERSAL Tour Dates: AUGUST 2017
Wednesday 2 August – Capitol, PERTH – 18+
Thursday 3 August – Fowlers Live, ADELAIDE – 18+
Friday 4 August – Metro Theatre, SYDNEY – 18+
Saturday 5 August – Max Watts, MELBOURNE – 18+
Sunday 6 August – The Triffid, BRISBANE – 18+
Tickets On Sale NOW from: http://www.destroyalllines.com/
Essential Information
From: New Jersey / New York – USA
Band members: Cristian Machado – Lead Vocals, Dave Chavarri – Drums,  Laz Pina – Bass, Ahrue Luster – Lead Guitar, Diego Verduzco – Rhythm Guitar, Oscar Santiago – Percussion
Website:  http://www.illnino.com/