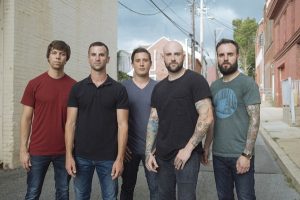 August Burns Red is back with the announcement of new album Phantom Anthem, the follow-up to 2015's Found In Far Away Places that took the band to new heights and earned them a GRAMMY nomination. The Lancaster, PA five-piece teamed up with Sirius XM Liquid Metal to premiere new track "Invisible Enemy" and have released the imaginative new music video today. Phantom Anthem is available for pre-order at AugustBurnsRed.com.
Working with director Samuel Halleen, the band's most iconic videos are reenacted by 3D marionette versions of themselves, with no details spared. To the clothes they wear on stage, to the small details in their personal instruments, this video truly captures the energy of August Burns Red's commanding presence and even includes some of the band's top fans in the video.
By personally aiming beyond your perceived potential, you can truly grow. That's been the case every time August Burns Red record an album, and it's quietly turned the Pennsylvania quintet-JB Brubaker [lead guitar], Brent Rambler [rhythm guitar], Matt Greiner [drums], Jake Luhrs [lead vocals], and Dustin Davidson [bass]-into a GRAMMY® Award-nominated heavy music torchbearer. Their journey began back in 2003 with marathon jam sessions on a farm belonging to Matt's family in the egg refrigerator. Embracing a diehard Rust Belt work ethic, they tirelessly pushed towards the top of heavy music with a series of critically acclaimed albums and countless gigs. A hard-earned high watermark, 2015's 
Found In Far Away Places
 marked their second consecutive Top 10 debut on the Billboard Top 200.
The single "Identity" notched a GRAMMY® Award nod in the category of "Best Metal Performance." A streaming juggernaut, both "Identity" and "Ghosts" [feat. Jeremy McKinnon] crossed the 3-million mark on Spotify. When it came time to record their seventh full-length Phantom Anthem [Fearless Records] with longtime producers Carson Slovak and Grant McFarland, the game didn't change. The musicians put their heads down and rallied around the same shared goal, uncorking a barrage of infectious intensity, the boys augmented and amplified the touchstones of their signature style on Phantom Anthem. The musical equivalent of a clenched fist haymaker, the grooves hit harder, the hooks blaze brighter, and the instrumentation ignites even more intricacy.
Phantom Anthem will be released on October 6th and can be pre-ordered now at iTunes, with single "Invisible Enemy" as the instant grat track available now. "Invisible Enemy" is streaming now at Spotify.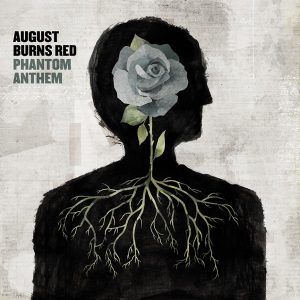 August Burns Red
Phantom Anthem – Track List
1. King of Sorrow
2. Hero of the Half Truth
3. The Frost
4. Lifeline
5. Invisible Enemy
6. Quake
7. Coordinates
8. Generations
9. Float
10. Dangerous
11. Carbon Cop
Artist: August Burns Red
Label: Fearless Records/Caroline Australia
Title: Phantom Anthem – Album
Single Release Date: July 28 2017
Album Release: October 6 2017
Genre: Metal