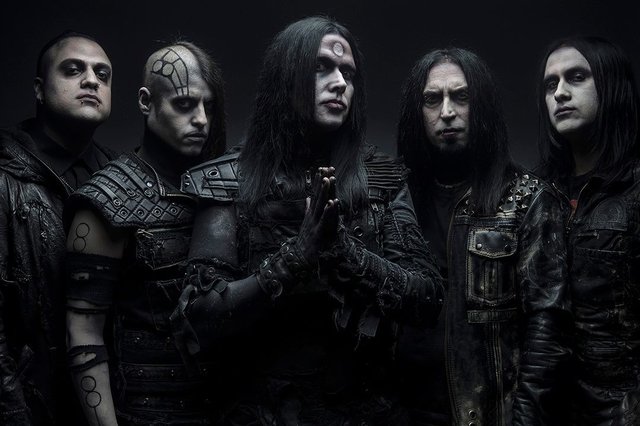 "So having that kind of team behind us gives us a bigger platform to stand on, and for me the whole point of being on this label is to get our music and get us in front of more people that have maybe never heard of us before. I say this all the time, we have a million fans out there they just don't know it yet."
From Release: 'Condolences' showcases WEDNESDAY 13's growing obsession with the world of heavy metal and its endless possibilities for exploring tales of horror and violence. Produced by renowned studio guru Zeuss, new songs like anthemic first single 'What The Night Brings' and the pile-driving 'Blood Sick' still exhibit a dash of B-movie weirdness and are full of WEDNESDAY's trademark twisted lyrics, but where previous albums were rooted in the worlds of punk rock and glam metal, 'Condolences' is a full-on modern metal record with gigantic balls and the attitude to match.
In what was my 500th interview I'd done for MTRBWY, I caught up once again with Wednesday 13 who I've had the chance to talk to five times over the years, this time to discuss 'Condolences', creating new music, videos, joining Nuclear Blast, touring, and much more…
It was only a few months ago that we caught up, but here we are with a new album coming so let's catch up on all things 'Condolences' what are the feelings like for you leading up to a new release?
Oh I mean every time you put a record out it's always a really exciting feeling, you can't wait for it to get out and you can't wait for your fans to hear it. This one in particularly we've had done for quite some time now, we finished recording this record back in September and then we shopped it around to get a deal and we didn't get our deal until the first of this year so that kind of put a little delay on it, but so for us it's been a little while longer waiting for this record to come out for we've just been like caged tigers, we can't wait for this thing to come out and for our tour to start. So yeah, it's been a while and we've put a lot of work into this record, our last release was January 2015 so yeah this is our new one, we've put everything we had into this record we spent three months writing and recording it and that's all we did for three months and I think when people hear it they'll see that we spent a lot of time on it.
Did you set out with a goal of how you wanted the album to come together or was it something that evolved as the creative process started working?
The thing that I've kinda learned for me over the years is to never really have a complete solid idea of what it's going to be because every time I record a record it always kind of changes in the studio and things are sort of picked to life, so I kind of go in with ideas of what I want to do and try and achieve those and then I get those ideas done but I don't say "it has to be just like this" because it never turns out just like that, but it's good to go in with ideas and see what happens. For this record for example I knew it was going to be heavier I wanted it to be a heavier record and that's why we chose our producer Zeuss to do that, he could get that sound for us that we needed so with ideas like and overall I can never tell how a record is ever going to turn out, this record is gone beyond darker and heavier than I ever thought it was going to be but that's a good thing.
What did this record allow you to do when making it that you feel you haven't been able to do on any of your albums previously?
Well this one has so many different elements to it and this is the first record we sat down as a band and sat in a room and wrote these songs from scratch for the most part, so that was different from the past because normally I just pass them the demos back and forth and we just got in the studio and just do sort of what I created and this time it was more of a group effort, so that was definitely different this time. Then added in our producer Zeuss, that's the first time I've had a producer on a Wednesday 13 album so that definitely kind of freed the reins for me, I didn't have to sit there and overthink everything, he was the judge and jury for the band, he'd say "OK that's cool, good enough" where for me I'm that kind of guy that doesn't know when to stop recording or adding stuff, if it was up to me and I was producing that record we'd probably still be working on it right now saying "I need to add this…"
Was it hard to keep your mouth closed sometimes when he was working?
No, this was a really easy recording process, we were all on the same page and it was good there was never any bickering or weird stuff.
With a new album of course I have to ask when you'll be coming back to play it for us?
That's a good question, I hope sooner than later, I know that when we were just there recently on the acoustic tour I was speaking to the promoter there and I said I definitely wanted to come back, I hope we can come back at the first of the year and I hope we can work Japan in with that as well and so hopefully we can do all that. Australia's been really, really good for us and it was cool to come back and do the acoustic thing but I really want to come back with this new record and new show that we have because we've taken the stage show up a notch just the same way we've taken the sound of the record up.
I was going to say, in speaking to you many times before, I know you'll already have ideas for the tour, any little secrets you can share about what this show might entail?
It's gonna be bigger and weirder than anything I've done before, we've got a new lighting show that we're working in and stuff that I've never really done before I've just kind of used my house lights but there'll be a full on light show this time, all new stage risers and lots of new toys for me to play with on stage props and masks, all kinds of weird stuff it's gonna be a lot of fun, I'm super excited about it.
The one question I get asked constantly when I speak to you is when can we expect a live DVD?
We have a DVD that we sell at our live shows, nothing at retail or anything just something we have at our live shows and will be available on our tour and it's basically a compilation of live stuff and backstage stuff it's a two hour almost behind the scenes of touring of touring all over Europe and The UK between 2011 and up to earlier this year. So it's just like all our funny Vine videos and stuff like that it's a two hour Vine video with concert stuff in there, so it's really cool and we've been working on it for a while, so it's just something we'll have at our merchandise.
What are you hoping this record may allow you to do as an artist that you still haven't yet been able to do?
Being on the label Nuclear Blast has definitely given us a bigger platform to stand on and we have a bigger team behind us to do more things, you know I've been doing this for quite some time now and doing it DIY for many years and now I have a team like Nuclear Blast and with the roster they have, they have everyone from Slayer to Lamb of God to Machine Head and some of the biggest acts in metal, they're pretty well respected and they have a lot of clout. So having that kind of team behind us gives us a bigger platform to stand on, and for me the whole point of being on this label is to get our music and get us in front of more people that have maybe never heard of us before. I say this all the time, we have a million fans out there they just don't know it yet.
When you look back to your beginnings what's the one thing or piece of advice that you've brought along with you for the ride that you still do to this day?
I don't know, I've definitely watched and observed a lot of things and I don't know if there was any one thing or advice I've just sort of coached myself *laughs* my life has just been you've gotta give it all in this business or you're getting get up and out of it, so I think one of the things that has just allowed me to stay in the business for this long is the self-knowledge and observing and learning from my mistakes and stuff like that, but if you want to survive in this business you've got to become a target, you've gotta give it everything and be willing to lose everything to do that and I've done all of that.
So what does the rest of the year have in store for you?
Lots of touring, it's been crazy busy so far and the record's not even out yet, we just filmed our fourth video last weekend and I've just confirmed our European tour for the fall, getting our US dates for the fall, just a lot of touring, I think we're going to have August and December slightly off from touring but we'll be busy we'll still be doing stuff. Yeah, a lot of touring and the first of the year will be starting touring again. That's what we do, that's what we love to and that's where we're the best at it is playing live I think and putting on a show so I can't wait.
Fourth video? Are you going to be doing a video for every song on the album?
It's looking like it could be at least half the record right now of doing videos and they're turning out really cool, the newest and fourth is the title track to the album and it's a really, really dark video, I created my fake funeral for this, so it should be interesting. We put a lot of time into this video and it's definitely one of the weirdest things I've ever done, being at my fake funeral watching all my friends and band put flowers on a casket was pretty bazaar.
Essential Information
From: Hollywood, CA, USA
Band Members: Wednesday 13
Website: http://www.officialwednesday13.com

Latest Release: Condolences (Out Now – Nuclear Blast)