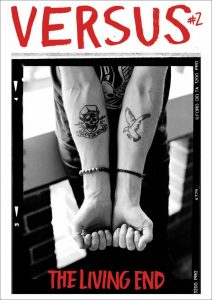 Following a wildly enthusiastic response to Issue 1 of his VERSUS ZINE, Australia's pre-eminent music photographer KANE HIBBERD is proud to launch Issue 2, following Australian rock royalty THE LIVING END on tour, thanks to Melbourne Bitter.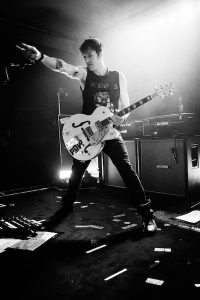 Barely stopping to draw breath following the debut of his high-quality photographic print zine, Kane packed his gear and hit the pavement again. A solid friendly with The Living End, who he has shot countless times live and in the studio over the years, made them the natural fit for the next installment. The band's recent 'Staring Down the Highway' tour boasted an enormous seventeen dates, taking in a truckload of often neglected regional areas. This rare behind the scenes coverage gives exclusive insight into the day to day life of the touring party, featuring a few cameos from Australia's most loveable party animals, tour supports The Bennies.
The Living End are indisputably one of the most iconic and best-loved rock'n'roll bands in Australian history. Their tireless work ethic and uniquely fun approach to music has endeared them to Australian fans for over twenty years. Their seven full-length albums have provided the rock soundtrack to countless key moments for fans across the world. Few Australian bands have commanded such dedicated allegiance from their fans, so consistently, and with such charm. The Living End are as irresistible as ever; Chris, Scott and Andy put on a world class rock show like no other…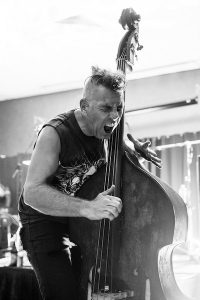 Renowned worldwide for his tireless work ethic, commitment to exciting, innovative visuals and for being a seriously nice guy, Kane Hibberd has forged an innovative niche for himself within the Australian music industry. A crucial aspect of Hibberd's MO is his uncanny ability to capture intimate, behind the scenes portraits that give true insight into the working lives of musicians, in all their charming and exciting, but often grotty and banal glory. Previously the official Soundwave Tour photographer, Hibberd has worked with an intimidating list of the world's most recognisable musicians, published his wildly popular 'Kanye Lens vs Soundwave' photographic book and scooped up a series of prestigious prizes.
VERSUS is proudly supported by Melbourne Bitter as part of the iconic Aussie beer's commitment to supporting independent music and the local arts community. This project, tactile and narrative is an avenue for enjoying a connection with an artist that is more artful than your standard social media drivel. Look out for VERSUS at a record store, venue, pub, cafe or ace retail store near you very soon. Best of all? It's FREE!
More info and stockists at versuszine.com