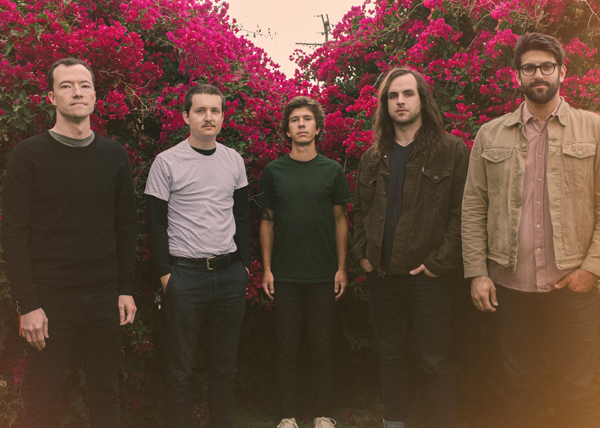 "Even if you are a considerate person to begin with, being in such small spaces with the same people so many days a year really tests your ability to co-exist with others. Maintaining a healthy relationship is the most important thing."
From Release: Every artist destined for greatness have that one defining album and for Touché Amoré it's 'Stage Four'. Named both in recognition of this being the band's fourth studio album and for the passing of lead singer Jeremy Bolm's mother from cancer in 2014, Stage Four is a towering record. Pitchfork described it as "A harrowing and unrelenting record, Stage Four is a glowing testament to the post-hardcore band's melodicism, honesty, and unconditional empathy" whilst Alternative Press exclaimed  "the result is a beautifully sad collision of melody-drenched, aggressive art rock that retains plenty of the fast-paced intensity the band's perfected."
We had Touché Amoré answer some questions for us ahead of their Australian tour, check out what they had to say!
We're here because you're on the way back to Australia, so for those that may be heading out to see you for the first time, how would you best describe a Touché Amoré show?
They can be energetic and personal. It's up to the audience what kind of show they want it to be. We're happy to play anywhere.
Here in support of 'Stage Four', and with a new album comes a bigger catalogue, have you decided on how you'll be shaping up the sets for these upcoming shows?
We mix a good amount from each record. Mostly our second album Parting The Sea Between Brightness and Me and Stage Four.
In touring here before do you have a stand out memory from a previous tour here you can share with us?
Cliff jumping in Perth with the band Break Even stands out. Also playing a floor show at a book store in Sydney with Title Fight.
Now, 'Stage Four' has been out now for about nine months, how has the album cycle been so far?
It's been really fun. We've been lucky to tour with bands that we love and musicians and people. Europe was with Angel Du$t and we toured the US twice now off of it but with Culture Abuse once and Thursday and Basement once.
Four albums in now does it get easier with each release or is it the opposite and you continually try to or feel you need to do something different or better the last?
We just continue to write the music that comes natural for us to make. Once you focus too much on what NOT to do you likely lose focus on who you are.
In being a band now for ten years what have you learned in your time together about being in a band that you didn't expect would be a part of the whole thing when you started out?
It's tough to say. I think we are all still learning new things every year. I think you learn to be more considerate of others. Even if you are a considerate person to begin with, being in such small spaces with the same people so many days a year really tests your ability to co-exist with others. Maintaining a healthy relationship is the most important thing.
Obviously over ten years a lot changes but what is the one thing you would say has stayed the same in your time together?
The love for vinyl and putting out as many creatively designed records as we can.
So is there anything that you haven't yet had the chance to do as a band that you'd love to tick off the list?
There's a few places we haven't toured we would love to. Iceland is at the top of the list.
It's hard to believe we're almost half way through, but what does the remainder of 2017 have in store for the band?
More and more touring it seems.
Lastly, let's look ahead to the future, finish this sentence for us, by the end of 2017 Touché Amoré wants to…
Be home for the holidays.
TOUR DATES:
WEDNESDAY, 5th JULY: THE TRIFFID, BRISBANE – LIC/AA
THURSDAY, 6th JULY: THE CAMBRIDGE HOTEL, NEWCASTLE – 18+
FRIDAY, 7TH JULY: THE FACTORY THEATRE, SYDNEY – LIC/AA
SATURDAY, 8th JULY: ARROW ON SWANSTON, MELBOURNE – AA
SUNDAY, 9TH JULY: CORNER HOTEL, MELBOURNE – 18+
TUESDAY, 11th JULY: FOWLERS LIVE, ADELAIDE – LIC/AA
WEDNESDAY, 12th JULY: AMPLIFIER BAR, PERTH – 18+
TICKETS AT TICKETS.DESTROYALLLINES.COM
Essential Information
From: Los Angeles, CA, USA
Band Members: Jeremy Bolm – Vocals, Clayton Stevens – Guitar, Nick Steinhardt – Guitar, Tyler Kirby – Bass, Elliot Babin – Drums

Website: www.toucheamore.com
Latest Release: Stage Four (Out Now)