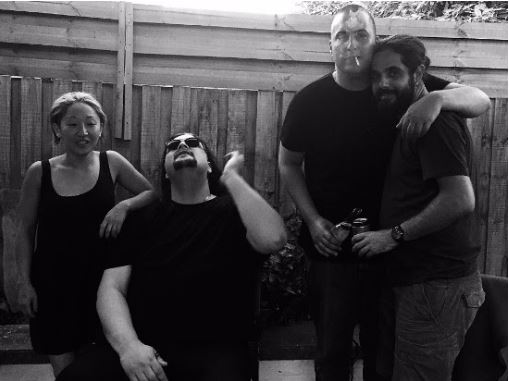 "We feed a lot off the passion and the energy of the audience, and in a way it becomes a cathartic thing for everyone involved, the band, the audience, even sometimes the burnt out sound guy (only sometimes though). It's like a cult meeting, only with less Kool Aid."
From Bio: Twenty years ago, Society Of Beggars would have been banging around Berlin's dark corners with Nick Cave and the Bad Seeds, or silently watching the industrial fallout of late 80's Manchester. But they're not – They're here now, in the northern suburbs of Melbourne, creating music to reclaim the throne of authenticity and depth in modern rock & roll. After releasing the single "An Angel Called Night" in 2016, the band have received national airplay on Triple M, and played to audiences across Australia on their national tour, gaining notoriety as one of Australia's most energetic and visceral live acts. Their eagerly anticipated six track EP 'An EP Called Night' was produced by world renowned super-producer Lindsay Gravina (Rowland S Howard, The Living End, Violent Soho) and represents a move towards a darker and more mature sound. The result is an EP that taps into the nostalgia, comfort and energy of the night-time.
Found on a recommendation of a friend of ours we checked them out and we really dig this band so we hit them up to get the word out and we now proclaim Society of Beggars one of our Best Things You've Never Heard.
Let's start with the basics; for those that aren't aware of you, can you please give us the abridged version of the Society of Beggars story, and how you would best describe the music of the band?
We met in Adelaide quite a few moons ago, united at a party by hijacking the stereo and a shared love of Led Zeppelin's BBC Sessions. We shopped our wares around A-town until we all decided to move to Melbourne and move into a two-story house together with 13 people. From then on all we did was write music and subsist off Mi Goreng noodles and cigarettes. Partners moved over, we lost some and gained some…and spent three years trying to make a defining statement on the band, which was our latest EP 'An EP Called Night'. It's high octane, high emotion music for people who think too much and make too little.
Can you now please introduce each band member including yourself, and give us a rock 'n' roll fact or myth about each of you?
Yianni – My brother and lead singer of the band. Slept with Dibi in the same bed on the first night they met.
Dibi – Drummer and aforementioned bed partner. Has been hit by some form of glass by every member of the band, sometimes accidentally, sometimes on purpose.
Nic – Bass Player. Although small in stature, she would literally beat every person in this band in a fight by a mile. Roller Derby builds core strength.
Jim – myself, guitar player. Currently addicted to re-runs of Ru Paul's Drag Race.
You've recently released 'An EP Called Night', so instead of giving us a standard review, let's say if you had to give us your best door to door sales pitch to try and convince someone to listen to it before they slam the door in your face, what do you say to them?
I'd ask them if they remember what a tomato tastes like. Not a store bought, cardboard tasting tomato that looks like a cartoon tomato. A real, organic tomato that's been sitting in some Nona's garden soaking up the sun. It may look weird, bulbous and unfamiliar, but when you taste it you realise what a tomato is supposed to taste like, that flavour and realness that you didn't even realise you were missing. That's what our music is like – An EP Called Night is like an organic tomato, it reconnects you to the realness of music you didn't know that you were missing.
In terms of your song writing, what do you consider to be the most important ingredients that make up one of your songs?
Most important to us is the music. We have a tendency to overthink things as musicians, and we've had to take a step back and keep things simple to capture a feeling and emotion in the song. More often we'll jam something out until it makes the hairs stand up on our necks. That's when we know we've got something.
Lyrically and musically, currently who or what inspires/influences your music the most?
All of us are in to different types of music but it all kind of intersects and intertwines into something beautiful. For me personally, it's Hip Hop. The brashness and boldness of Hip Hop appeals to me, as does the fact you've got more conventional 'rock stars' in hip hop like Kendrick Lamar, A$ap Rocky and so on than you do in rock and roll anymore. I'm interested in people that blaze trails with their music but aren't afraid to be themselves, and we certainly need more characters in rock and roll currently, that's for sure.
On the other side of that, what bands did you grow up listening to and how did they help create the style of music that can now be heard throughout your music?
My father brought us up on a steady diet of The Beatles, The Kinks, ELO, bands that were real song craftsmen in the best possible way. This instilled a kind of fearlessness in music, that it could be open and not separated by genres and scenes and so forth. I then got in to bands like Nirvana and Soundgarden a bit later. They taught me about loud guitars and loud voices and the power that can have through music, that not everything had to be about 'I met this person and now I'm in love…' and so on. Their songs were about strange things that helped me through a lot of dark shit and wasn't trying to keep anything hidden from the listeners.
In seeing you live there is just a passion and intensity that flows through your performance that is almost mesmerizing to watch, so for those that haven't seen you live how would you best describe a typical Society of Beggars show?
Sweat. A lot of sweat. We feed a lot off the passion and the energy of the audience, and in a way it becomes a cathartic thing for everyone involved, the band, the audience, even sometimes the burnt out sound guy (only sometimes though). It's like a cult meeting, only with less Kool Aid.
For a bit of fun, say you get the chance to open for any artist or band in the world, who would they be and why?
I'd say Nick Cave & The Bad Seeds. Not because necessarily our music and there's goes together, but I feel like there's a similar kind of emotional vein there. Plus, they were a bunch of weird cats who never really fit in to what was considered hip or popular and that appeals to the outsider in me.
If you could cover one song in your live set that no one would ever expect, what would it be and why?
We already have a fair catalogue of strange covers. We once did a mash up of Jefferson Airplane's 'White Rabbit' with Sugababes' 'Overload' for a fairly Rawk audience. I don't think some of them knew what they were hearing. As far as I'm concerned there are no guilty pleasures, only great songs so I'd be up for anything. Except Ed Sheeran.
Lastly, with 2017 well under way, here's a chance to gaze into your crystal ball and see the future.  So, by the end of 2017, Society of Beggars want to:
Eat all of the world's supply of Halal Snack Packs
Writing, writing and writing some more
Try to take over the world
Essential Information
From: Melbourne, VIC, Australia
Band Members: Yianni Michalopoulos – Vocals, Jim Michalopoulos – Guitar, Nicoli Foulstone – Bass, Dibi – Drums
Website: http://www.societyofbeggars.com
Latest Release: An EP Called Night (Out Now)