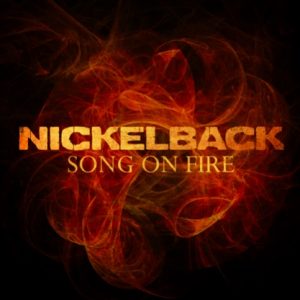 Today, Diamond-certified, global award winning rock band, Nickelback, released the music video for their new single "Song on Fire." "Song on Fire" is taken from their ninth studio album
Feed the Machine which will be released this Friday, June 16th via BMG.
"As we were working on this song, a very personal one for me, we all instantly connected to it on different levels through our own experiences," said the band's lead singer, Chad Kroeger.
"Everyone has a need to love or be loved and we've all been hurt or felt loss.  It's about your heart yearning for something that your rational mind knows is impossible to hold onto. There is a universally, haunting finality to losing love and we found 'our protagonist' (in this song) trying to reclaim it; but not knowing where to begin or that it might ultimately be in vain."
The video for "Song on Fire" explores these concepts further by telling a heartwarming tale of love prevailing. Interspersed throughout footage of the band performing, the video follows the story of a woman lost in the woods.
The woods serve as a metaphor for the woman's struggle to find herself as well as her way back home. Phantoms from the woman's life try to point her in the right direction as an unknown man struggles to find and reach out to her. Unfortunately, the woman continuously slips through his fingers, driven in the opposite direction by an ominous hooded figure dressed in black. When all hope seems to be lost, a final act of love and devotion is able to break her free. As the woman comes back to reality it is revealed that the she was fighting for her life in the hospital – the phantoms her family and the unknown man her devoted husband.
"Song on Fire" is currently available across all streaming platforms and as an instant grat track via digital retailers. The Feed the Machine Tour kicks off June 23 in Noblesville, Indiana, and continues with 45 dates across North America including stops in Detroit, Los Angeles, Chicago, Toronto and Vancouver, with more dates to be added along the way.
Pre-order Feed the Machine now here.
For more information please visit: www.nickelback.com
For tickets to the Feed the Machine Tour: http://www.nickelback.com/tour
ABOUT NICKELBACK:
On June 16th Nickelback will be releasing their 9th studio album Feed the Machine via BMG. Recorded in Vancouver and co-produced by Chris Baseford, the album features title track "Feed the Machine" and recently released singles "Song on Fire" and "Must Be Nice."
Since forming in Alberta, Canada in 1995, globally celebrated, diamond-certified rock band Nickelback have cemented themselves as one of the most commercially viable and important acts of the past two decades. Nickelback's success includes worldwide sales of more than 50+ million units, solidifying their status as the "eleventh best-selling music act" and second best-selling foreign act in the U.S. of the 21st century—behind only The Beatles. Their inescapable and irresistible smash "How You Remind Me" was named Billboard's 'Top Rock Song of the Decade' and was No. 4 on the Top 10 songs of the 2000s list.  Amongst all of these accolades, they've also been named Billboard's "Top Rock Group of the Decade."  Along the way, they have received a staggering nine Grammy Award nominations, three American Music Awards, a World Music Award, a People's Choice Award, twelve JUNO Awards, seven MuchMusic Video Awards, and have been inducted into Canada's Walk of Fame (2007).  With more than 23 chart-topping singles and fans spanning the globe, Nickelback boasts twelve consecutive sold-out international tours, playing to well over eight million+ diehard and adoring fans. In March, Nickelback joined the exclusive DIAMOND-certified club after the RIAA certified the group's fifth studio album, All the Right Reasons, DIAMOND for surpassing 10 million units. Nickelback is Chad Kroeger (Lead Vocals, Guitars), Ryan Peake (Guitars, Backing Vocals), Mike Kroeger (Bass) and Daniel Adair (Drums, Backing Vocals).