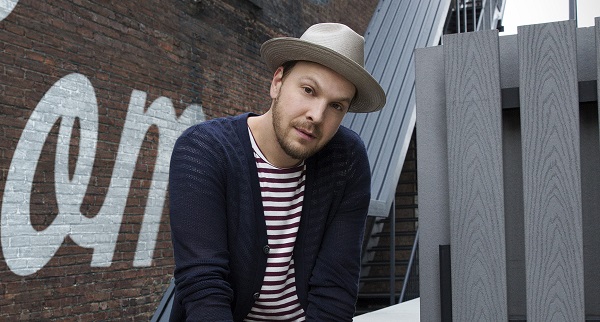 "I'll actually do my best to play all of the songs that I feel people have heard before because as much as I want to expose people to new music and want to act artsy and stuff like that I think it's my first job as an artist to play my fans the music that they're here to hear first and foremost, I think artists have a responsibility to do that. So I'll do my best to play everything that I believe they're there to hear and then some…"
From Tour Release: Multi-platinum selling and Grammy nominated recording artist GAVIN DEGRAW has announced Australian dates for his 2017 An Acoustic Evening with Gavin DeGraw World Tour. Following a multi-city trek across Europe, Gavin DeGraw heads to Brisbane, Sydney and Melbourne for club shows this July to perform songs spanning his entire career. The intimate set will give fans the chance to see DeGraw perform unplugged and stripped down configurations of some of his biggest hits as well as rare album cuts, some of which he's never performed live. The tour will continue to support DeGraw's fifth album Something Worth Saving which was released last September.
While in Nashville, Gavin DeGraw gave us a call to talk about his upcoming return to Australia for his acoustic tour, what people can expect, the way his music hits people, working with Butch Walker, and more…
We're here because you're heading here on your acoustic tour, how are you going to be structuring these shows?
These will be trio gigs, I'll be playing the piano and it'll be like a piano trio, so me, my guitar player and my drummer and my guitar player also plays upright bass so we'll see if we'll be able to bring the upright bass too, we'll see what the set-up is like when we get there. It's a fun show, man, it's funky and we know how to play, so it'll be for people who know what that is supposed to sound like.
What's it like going back and revisiting your songs and stripping them back to their acoustic roots?
Oh it's great, it's great man it's actually very rewarding. I wrote these songs to be strong songs not to be just production tunes you know what I mean? So they're written from a real songwriter stand point and they really, really hold up nicely in this setting and I think actually some of the performances completely outdo some of the records to be honest with you which is great I mean it's like animal time for a trip, it's great. We dig in you know, it's exciting.
Do you find that sometimes the songs seem to take on a different meaning when played acoustically?
You know I'm not sure if they necessarily take on a different meaning but I do think that there's another level of intimacy that happens because there's less overtones and there's less little cannon melodies to pull you away from the lyrical content, because there's more of a direct line between the listener and the vocal, and the lyric and the vocal is always the most intimate section or piece of the music you know in this type of music. So I really think it assists in feeling that direct emotional connection to the content of the song. I will say that there are moments where you feel that songs take on different meanings when you have conversations with your fans, someone may say hey your song such and such makes me think of my relationship with my son or my husband or whatever and I go wow I never wrote it like that, that was like about my dog *laughs* so there's a lot of different things you know? Or someone could say I got married to that song and it's really personal and you think oh that's funny because I wrote that song about being single, so *laughs* there's certainly many different approaches to interpreting a song and when you write a song you do want there to be some levels of openness there where people can internalise them in their own way and have their own connection with the material. So it is fun to me to hear it sometimes and sometimes they hear exactly as you hear it and you interpret it, it's rewarding and it's also fun to hear the different interpretations.
It's really funny you should say that as I was going to say that on a personal note 'Not Over You' became a very important song for me at a crazy time in my life so I just wanted to say thank you for writing it and I wanted to ask is there was any chance you could play it in Sydney?
Wow man, what a nice compliment thank you. Yeah I mean absolutely I'll definitely play it there as I was lucky enough to have some success there with that song on Australian radio so it was very much a surprise for me because I hadn't been there in so long and as a writer and an artist you don't necessarily expect to have success, particularly in places you don't frequent so I was really taken aback from it and was like wow this is really great, so absolutely, I'll actually do my best to play all of the songs that I feel people have heard before because as much as I want to expose people to new music and want to act artsy and stuff like that I think it's my first job as an artist to play my fans the music that they're here to hear first and foremost, I think artists have a responsibility to do that. So I'll do my best to play everything that I believe they're there to hear and then some, so I'll definitely play that song of course.
You're also out in support of your new album 'Something Worth Saving' in the nine months or so since its release how has the cycle been so far?
Pretty good so far, I think the first single did decently, the second single I don't think is doing what I want it to but you can't call them all you can't predict what each one is going to do, there's so many variables with response and with the songs out there and what you're playing against and also who's willing to play what you're putting out and what kind of day and things like that and there's so many things that you can't control. So I think the next move for me is to put out the title track, I've never released a ballad as a single ever, so I want to put out the title track which is 'Something Worth Saving' because I think it's beautiful and I think there's a lot of things that aren't beautiful happening and I want to put out beautiful music to kind of take me to another place where I can kind of keep the dream alive of things being pretty, sounding pretty, sounding nice. I came from a place where not everything was very nice so I wanted to write pretty music to kind of create that fantasy land for myself so I think that title track is a good way to go and I think it'll be a nice way to mix things up. When Ed Sheeran released his ballad I said that was such a great little song and I thought you know what, this is refreshing to hear a ballad on the radio you never get to hear them and I thought that was a breath of fresh air for radio and as a listener just flipping through channels and being able to stumble upon that I was really happy about that and I sent him a text right away when I heard that and said "hey man I just want you to know that I feel like you wrote a classic, an instant classic" and for a song writer that's a truly special thing.
Every time someone does I have to ask about working with Butch Walker as I'm a huge fan, what is that experience like working with his genius?
Oh yeah, he's great man! You know I've recorded with Butch probably a handful of times over the course of my career and the first time I recorded with him I walked in with a couple of songs, one of which was a song that I feel like was the song that got away and it was a song called 'Soldier' and 'Soldier' is still one of my favourite recordings of anything that I've ever done and that's because of Butch, he gets great sounds and he's very song sensitive and I remember when I walked in with that song and I played it for him he just looked at me and said "yeah man, I know what to do let's just play it as it needs to be played live and we're just gonna hit record and that's gonna be that"  and that's what we did, it wasn't this overly massaged carefully done thing, it was a live performance of a group of guys hanging out just kicking it in the room just playing our hearts out, and that's one of the reasons I love playing with Butch and recording with Butch because I really think he's a song guy, he understands. So on this album when I reached out to him I said "Hey man, I wrote a couple of songs and I wrote them alone again and I just don't want anyone to touch them but you" and he said "man absolutely come by" and I was right down the street at the time because he keeps a studio in Nashville as well, he keeps one out in Santa Monica as well but he keeps one here too and he said "Yeah man I'm here man, just come by" so which I did and I went in and played him a song I wrote called 'Making Love With The Radio On' and then I played him another one, I said "I've got another one man, it's a ballad and I know how everyone feels about ballads" and he goes "No Man, I love you ballads, I love a Gavin ballad" I said "Thanks man" and I played it for him and he said "yeah man, let's do this you've gotta do this" so we recorded that one as well and again, those are two of my favourite songs on this album just because his production style is so uninterrupted by studio tricks and laptop work, it's guys playing instruments together that's the thing.
You know there's this thing that a friend of mine is a country musician named Dwight Yoakam and Dwight uses this funny term called ear mass which I love the term and he'll say someone else's ear mass might not line up with your ear mass and like that, it's the way you hear stuff and hear timing. So there's this great way that what he calls ear mass I believe works with playing live with other musicians and it's when people are playing music together there's that middle ground of timing, I play the rhythm one way on my instrument, the guitar player plays the rhythm another way on his instrument and the drummer does it his way on his instrument and that one thing that none of us is playing at all, that invisible timing that's that weird mass that you can't make happen, it's the one that exists in this invisible space that you can't touch, that's that magical time that no one's actually playing, no one can play that time, it's that little bit of mass that no one's playing and where we all meet in the middle and that's the mojo you know what I mean? That's where the mojo is and that's what makes something feel great, I mean I took what Dwight said about us all having different ways of hearing and I turned it into the mojo conversation you know? Which is what we all need, that's what we're looking for.
Lastly as we have to run, let's look ahead to the future, finish this sentence for me, by the end of 2017 Gavin DeGraw wants to…
*laughs* Gavin DeGraw wants to basically knock down all the walls of everything he's ever done and recreate everything from the ground up, that's what I want to do.
I look forward to that!
Me too, man! I am going to wipe the slate clean, and I'm not going to remodel the old house I'm going to build a new castle you know what I'm saying?
AUSTRALIAN TOUR DATES
THE TRIFFID, BRISBANE
MONDAY JULY 3
METRO THEATRE, SYDNEY
TUESDAY JULY 4 (all ages)
170 RUSSELL, MELBOURNE
WEDNESDAY JULY 5
For complete tour and ticket information, visit: 
www.gavindegraw.com & www.livenation.com.au
Essential Information
From: Nashville, TN, USA
Website: http://www.gavindegraw.com
Latest Release: Something Worth Saving (Out Now – RCA)