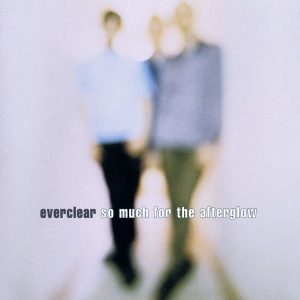 World-renowned, multi-platinum rockers Everclear are thrilled to announce they will be touring Australia in September, to celebrate the 20th Anniversary of their best-selling album So Much For The Afterglow.  Everclear will perform the entire So Much For The Afterglow album, including hit songs "Everything to Everyone," "I Will Buy You a New Life," "Father of Mine," "So Much For the Afterglow," and "One Hit Wonder," along with tracks from the rest of the band's extensive discography – including their huge Australian hit ''Santa Monica'' which saturated radio playlists across the country.
On the upcoming tour, lead singer Art Alexakis shares: "It's hard to believe we made this record 20 years ago. Even though I'm in a different place now than the guy who first wrote and sang these songs, and even though faces, voices, and relationships change, the songs still feel relevant and vital every time we play them live.  I can't wait to get back to Australia and play this whole record for the first time with the guys in Everclear. It's going to be awesome!"
For over two decades, Everclear's sound has reflected the rock, post-punk and singer/songwriter influences of Art Alexakis, including acts like X, The Replacements, Pixies, Bruce Springsteen, Tom Petty, and Elvis Costello.  Everclear found success with their first three albums on Capitol Records, Sparkle and Fade, So Much For The Afterglow and Songs From An American Movie Vol. One: Learning How To Smile, which were all certified platinum.  In 2015 the band released their ninth studio album titled Black Is The New Black via The End Records/ADA.
So Much For The Afterglow is the album that quickly won over listeners with its trademark combination of melody, rhythmic energy, evocative lyrics and thundering guitar crunch.  It remains a beloved fan favourite and continues to inspire new generations of musicians & music lovers today.
Everclear is comprised of Art Alexakis (Vocals/Guitar), Freddy Herrera (Bass/Background Vocals), Davey French (Guitar/Background Vocals), and Jake Margolis (Drums).
Tickets on sale to the general public for all shows on Monday 12th June at 10.00am
EVERCLEAR – AUSTRALIAN TOUR DATES
Friday 29th September 2017
The Tivoli Theatre, Brisbane
Tickets available from 10.00am, Monday 12th June
www.ticketmaster.com.au
Saturday 30th September 2017
Cambridge Hotel, Newcastle
Tickets available from 10.00am, Monday 12th June
www.ticketbooth.com.au
Tuesday 3rd October 2017
The Metro Theatre, Sydney
Tickets available from 10.00am, Monday 12th June
www.ticketek.com.au
Wednesday 4th October 2017
The Gov, Adelaide
Tickets available from 10.00am, Monday 12th June
www.oztix.com.au
Thursday 5th October 2017
Croxton Band Room, Melbourne
Tickets available from 10.00am, Monday 12th June
www.oztix.com.au
GET SOCIAL WTH EVERCLEAR:
www.instagram.com/everclearband/
#everclearoz