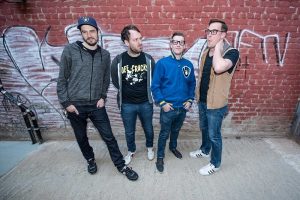 GET PUMPED. Hotly tipped Milwaukee punk quartet DIRECT HIT! are headed to Australia for the first time ever. Still giddy from the international pick up of their 2016 Fat Wreck Chords LP WASTED MIND, these mind-bending giggos are going to be some of the year's best.
As PunkNews so succinctly declared upon the release of Direct Hit's WASTED MIND LP in 2016, "in a time where mediocre pop punk bands are a dime a dozen, Direct Hit! still manages to be at the forefront of what can be done with the genre". The reviewer went on to smack a 4.5 star rating on the Fat Wreck Chords release, which is as apt and jubilant an exploration of hardcore hallucinogen use as we've seen in years.
Taking inspiration from William S. Burroughs' Naked Lunch and Hunter S. Thompson's Fear and Loathing in Las Vegas, the gonzo effect takes hold on the new album, with unnerving narratives about never ending acid trips and drug-fueled partying. This pathological commitment to a party paired with the band's high-energy pop punk output, guarantees that Direct Hit's series of small Aussie giggos are going to be a riotous time and a half.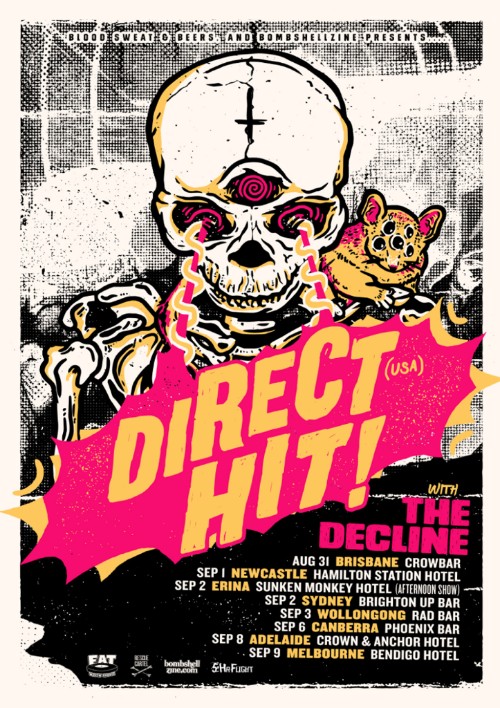 Perth's The Decline have just returned from touring Europe with CJ Ramone, celebrating their new album RESISTER which is available through Bird Attack Records (United States), Pee Records (Australia), Finetunes (Europe) and Bells On Records (Japan). Their recent tours have featured appearances at Resurrection Fest (Spain), Punk Rock Holiday (Slovenia), the FEST (FL, USA) as well as acclaimed tours in different countries with Teenage Bottlerocket (USA), The Flatliners (CAN) and A Wilhelm Scream (USA).
Listen to their new track Can't Have Both .
DIRECT HIT! AUSTRALIAN TOUR
WITH GUESTS THE DECLINE

AUGUST 31- CROWBAR, BRISBANE
SEPTEMBER 1- HAMILTON STATION HOTEL, NEWCASTLE
SEPTEMBER 2- SUNKEN MONKEY HOTEL – ERINA (ARVO)
SEPTEMBER 2- BRIGHTON UP BAR, SYDNEY
SEPTEMBER 3- RAD BAR, WOLLONGONG
SEPTEMBER 6- PHOENIX BAR, CANBERRA
SEPTEMBER 8- CROWN & ANCHOR HOTEL, ADELAIDE
SEPTEMBER 9- BENDIGO HOTEL, MELBOURNE