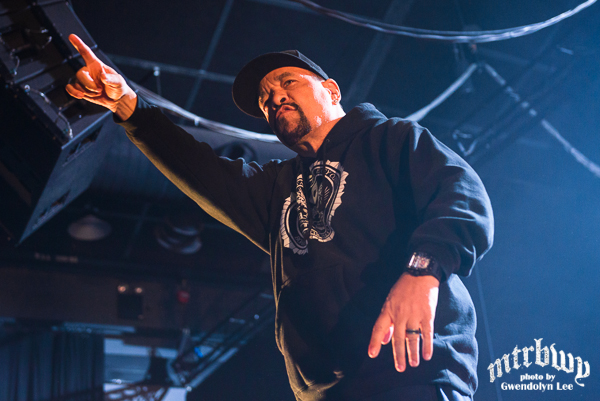 It's been twenty two years since Body Count were in Australia and tonight is something I know I'm looking forward to as are the many here! The crowds were a little sparse for Void of Vision and A.B. Original but both bands even with their completely differing styles did a great job warming up the Body Count hungry crowd and even to the point of running early (a first for any gig I've ever been to) the lights go down at 9:45…
Sirens ring as Body Count walk onto the stage to the opening of 'Civil War' with so much damn attitude that it just oozes MF'n coolness, and if they wanted to impress us from the start they're doing just that by opening with 'Raining Blood / Postmortem' and it is so heavy and truly on from the start. Wow, this band is tight. Ice-T motions for circle pits and if there's anything I've learned in my many years on this Earth it's that when Ice Mother Fuckin' T tells you to do anything, you do it. So a pit opened and, well, I just saw a wheelchair be handed over the front barrier from the crowd so that's a first and truly one of the most metal things I've ever seen. 'Bowels of the Devil ' is frantic and powerful and watching Ernie C shred on it makes it stand out, man that cat can play followed by 'Necessary Evil' wow. Remember when I said you listen to Ice-T? Well if he wants to introduce the band after three songs then he can and this in itself is metal as fuck, oh and he must now be referred to as Ice Mother Fuckin' T BITCH!
'Manslaughter' and its head banging goodness is so damn heavy, I'm glad I did some stretches earlier as I threw my back out earlier in the day but enough about me, but let's just say head banging was not as issue for this one. Then a guitar riff we all know so well kicks in from Ernie C and bam, 'There Goes The Neighborhood' and yes!! This is just what I wanted to hear live for the last thirty five years and hearing oh here is superb and hang on "Body Count MOTHERFUCKER!!!" had to join in! The song just keeps getting better as Ill Will takes on the kick ass drum solo mid song as Ice rocks along to it side stage. Back to the new album and the lead single 'No Lives Matter' prefaced by a vintage Ice-T intro the song is heavy and so damn good, also included a crowd clap along, because again when Ice-T tells you to clap you mother fuckin' do.
Back to old school BC and it's "on with the body count" for namely 'Body Count' and it's just so good. 'Donald Trump' made an appearance and got clothes lined by T before he throws his hood on for of course 'Black Hoodie' and this new stuff is just so heavy, and I have to give props to Juan of The Dead and Vincent Price as not only are they great to watch but tone wise for both of them they hold this together so damn well, fuck it sounds amazing in here. 'Drive By' is thrown in by request and they didn't miss a beat then we get the lyrically amazing 'Voodoo' yeah! "My eye, BITCH!!"
'KKK Bitch' got everyone singing along to this almost punk rocker, it's twenty five years old and they still play it with the ferocity it deserves, now it's time for Ernie C to show everyone what he can do with a kick ass guitar solo for 'C Note', and again, this guy can play, he also just looks like he's having so much fun up there, I mean fun in a I can and will fuck you up if you look at me the wrong way but he's still smiling doing it. 'The Ski Mask Way' sees Ice-T bust back on stage in you guessed it a ski mask and fuckin' hell this is brutal, and one of my favourites from 'Bloodlust'. 'Talk Shit, Get Shot' is a masterpiece and could be the best received of the night so far but as we raise our fingers for 'the Australian national anthem' we get 'Cop Killer' and it's just as loud and aggressive as it is on record, then as I turned to look behind me and I shit you not it looked like about 63% of NSW's police force were standing at the back of the room, it's OK, we're a nice crowd, nothing to see here. That ends the night… or does it?
Nope, it's time for the 'virtual encore' as explained by Ice-T which is outstanding, it involves them not actually leaving the stage but the lights going out as they have a breather and we chant "Body Count" and then they 'come back' (turn around) on stage to give us some Exploited with 'Disorder' that leads into 'Born Dead' which has fists pumped towards the stage and is as heavy as anything else has been tonight. 'This Is Why We Ride' sees the show out and I felt a weird choice to close it BUT as it went on it actually became the perfect song to end a show twenty five years in the making.
Body Count were most definitely in the house tonight and I'm actually surprised the house is still standing!  They may or may not be back so if they do come back, make sure you go and see them, but if they don't come back then tonight we got to see exactly what Body Count is about and what they can do, and more importantly how important this band is, was and will continue to be and it was MF'N brilliant!
Essential Information
Venue: The Big Top, Luna Park – Sydney
Date: June 3, 2017
Presented by: TEG Live
Website: http://www.bodycountband.com
Photo By: Gwendolyn Lee – Gwendolyn Lee Photography – Full gallery HERE
Set List
Raining Blood / Postmortem
Bowels of the Devil
Necessary Evil
Manslaughter
There Goes the Neighborhood
No Lives Matter
Body Count
Black Hoodie
Drive By
Voodoo
KKK Bitch
C Note
The Ski Mask Way
Talk Shit, Get Shot
Cop Killer
Disorder
Born Dead
This Is Why We Ride