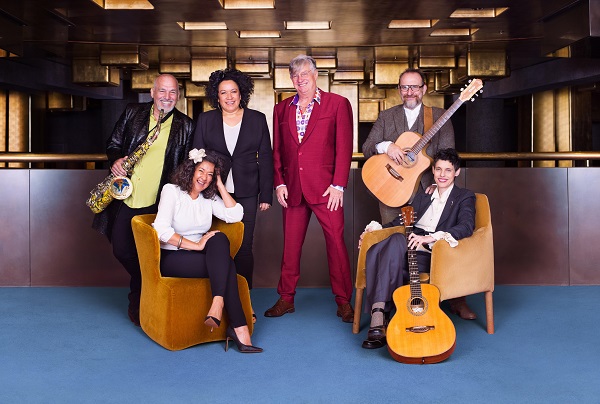 This is gonna be fun!! The Apia Good Times Tour is back for its fifth installment and tonight the line-up of The Black Sorrows with Vika and Linda Bull, Colin Hay, Deborah Conway and Mental As Anything are taking the stage to give us what we already know will be good times (it's in the title).
Deborah Conway kicks things off tonight with 'Everybody's Begging' and she sounds great, she has such a powerhouse of a voice and as she starts one of her hits from days of yore 'Alive and Brilliant' I get the feeling that there's going to be a lot of memories that'll come flooding back tonight of when music in Australia was just great. These songs from the 80's and 90's are what most here grew up with so the name of the tour being 'good times' it's so very apt. Another new one followed by some super old school Do Re Mi!! Unexpected and awesome and we all got to shout 'Man Overboard' which got the crowd joining in, it's so good to hear her sing it and still sound as good as it did back in 1985. Slowing it down with another new one 'Serpent's Tooth' and picking the pace back up on 'Here and Now' and with some amazing vocals and guitar work from Willy Zygier her set is done and we are off to a great start.
Before the last note was done the show seamlessly continued as The Black Sorrows with Joe Camilleri, Vika and Linda Bull took to the stage and opening their set with 'Raise That Lantern' then straight into 'The Crack Up' and as with Conway these vocals are just spot on. I'd actually forgotten about this one so it was great to hear it tonight, but I didn't forget this one! 'Harley and Rose' was huge when I was growing up and for me hearing it live for the first time is kinda cool and brings back some more memories. Linda Bull takes the lead vocal on 'Sacred Things' and wow those Bull sisters can sing! Joe's back and we get a little rockabilly with new single 'Raise Your Hands' but it's 'Never Let Me Go' that gets everyone on their feet and do you remember that time that the crowd at Linkin Park broke the floor here at The Enmore? Well it's seriously bouncing at the moment and I have to say I'm worried! Now Joe has the sax out and it's straight up rockin' in here now and I like it as they keep the hits coming with 'Chained to The Wheel' and Glenn A Baker is absolutely loving it! This one turns the volume way up and rocks out until the end and that was tops!!
After a short intermission Colin Hay walks onto the stage and starts talking and I actually think we're going to get a stand-up routine! Oh wait, he's picked up a guitar and he's doing this set solo starting with 'Tumbling Down' oh man I'm dying, he is hilarious, the crowd are in stitches with his stories but he balances the talk with these amazing songs right now being the Men At Work hit 'Overkill' and hearing a song played this way you get to truly listen and hear it if you know what I mean, bloody hell his voice is amazing, these guys have really looked after their instrument superbly I'm so impressed. Throwing in a new one called 'Secret Love' followed by 'Beautiful World' were both great but of course not as great as the one song that absolutely everyone in this place knows and sang back to the stage when prompted, 'Down Under' is simply outstanding when played this way and hearing it tonight is special.
It's time for Mental as Anything and they get people up on their feet straight away with 'Too Many Times' oh man BOOM we get 'Live It Up' straight away, for sure thought that would be the closer but I sit corrected. What I've always loved about the Mentals is that they've always been fun, it's never wavered and the songs just make you happy, even watching Greedy Smith pour and drink hot tea mid song is amazing. 'If You Leave Me' normally sung by Martin Plaza has Greedy take the lead on it and was awesome to hear. A newer one 'It Must Be Love' slipped in followed by 'Come Around' then the old school 'Romeo and Juliet' that had the group of women in front of me going nuts. This show and the crowd is just so entertaining, even watching an almost fight kick off down the front was entertaining, praise to security and to The Mentals for not even missing a beat! 'You're So Strong' continues the oldies but right now Greedy is doing Star jumps and 'The Nips Are Getting Bigger' and Linkin Park floor returns. That Mentals classic rounds out their set as it should but then everyone comes back on stage for a big jam on 'Rock and Roll Music' followed by the one I thought Deborah left out on purpose but she tricked us as 'It's Only The Beginning' finally gets played. They just keep coming!! Joe takes the lead with some super old Jo Jo Zep & The Falcons with 'Shape I'm in' it just keeps going talk about peaking and here's another I thought they left out but nope, Colin Hay gets to play 'Who Can It Be Now?' with the full band and this is just so great and Joe blaring the saxophone part is just too good.
This has to be the last one as 'Friday on My Mind' is played and the stage just looks like a whole lot of fun, this is what tours should be like and I'm already waiting for some more good times in 2018, as I'm sure is the sold out crowd that were here tonight having the time of their lives.  It was an absolute pleasure to be around these musicians and these classic tunes tonight, dare I say better than good times, tonight was great times!
Catch the remaining Apia Good Times shows at the following dates
Sat 10 Jun 
Anita's Theatre | Thirroul, NSW
ticketmaster.com.au | Ph: 136 100
 
Sun 11 Jun
Canberra Theatre Centre | Canberra, ACT
canberratheatrecentre.com.au | Ph: 02 6275 2700
 
Fri 16 Jun
Princess Theatre | Launceston, TAS
theatrenorth.com.au | Ph: 03 6323 3666
 
Sat 17 Jun
Wrest Point Entertainment Centre | Hobart, TAS
tixtas.com.au | Ph: 1300 795 257
Essential Information
Venue: The Enmore Theatre – Sydney
Date: June 9, 2017
Presented by: Frontier Touring
Website: http://www.apiagoodtimes.com.au