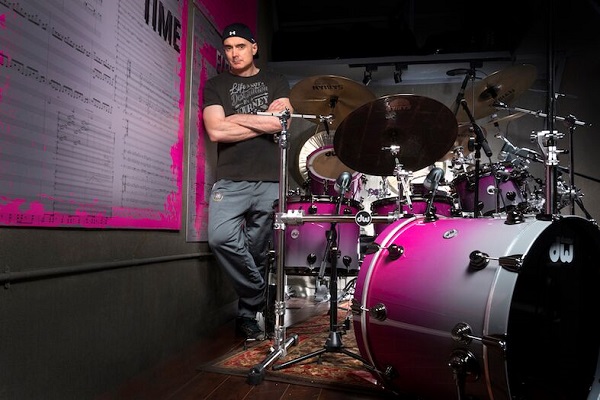 "…I'm always struggling with myself to try and define those new ideas, those fresh things that happen spontaneously in the spirit of inspiration which is what I'm into on the drums, it's not all about the written parts or the composed parts it's about what you can bring to it, what energy you can bring to it, your expressive purpose."
From Tour Release: Superstar drummers, Virgil Donati (Alan Holdsworth/Planet X) and Thomas Lang (Paul Gilbert/stOrk) will headline the "DW TV Show" tour. Sponsored by DW Drums, the 5-city tour of Australia, will also include an appearance at the Sydney Drum & Percussion Show.  The DW TV Show marks the first-ever time these two technical titans have performed on stage together.  Both Donati and Lang will perform using DW Collector's Series Drumsets which will be available for sale via the local retail sponsor after each tour stop.  Additional sponsors include: Audix, Hansenfutz, Meinl, Remo, Sabian, Urbann Boards, Vater, and Vic Firth.
Just after rehearsal in Oxnard we gave Virgil a call to talk about his return to Australia for some shows showcasing his drumming talents for DW, his new work, his old work particularly
You're headed back to Australia, can you tell us what we can expect at these DW TV Shows…
Absolute mayhem *laughs* a lot of drumming obviously. Well there's two drummers and DW decided to put us together Thomas Lang and I will endeavour to entertain an audience with our rhythmical explorations, and yeah we're putting together some interesting music that features the drums and you know they're nice compositions on their own standings, so I think it's going to be interesting. We'll do some purely drum duets, we'll be improvising a little, then a segment of the show will be us performing a little sections.
Are you going to try to out play each other at each show?
I don't think really we're going to enter it with that kind of sentiment in mind, it's not about out doing each other it's about trying to transcend ourselves I think that's the best you can do. Of course being next to each other there'll be some mutual inspiration going on as we're performing and that might drive us in various directions. It's not a game of football, it's not I've gotta hit him hard or tackle him and bring him to the ground, it's not that kind of competitiveness, it's more a creative artistic competitiveness, I mean I do that to myself every night I'm usually playing without another drummer so I'm always struggling with myself to try and define those new ideas, those fresh things that happen spontaneously in the spirit of inspiration which is what I'm into on the drums, it's not all about the written parts or the composed parts it's about what you can bring to it, what energy you can bring to it, your expressive purpose.
What are you currently involved in music wise?
Right now, the last few years I've been touring as a band leader I've released two records recently, 2013 I released a record called 'In This Life', a solo record and put a band together to tour that and I've done two world tours in the meantime and then late last year I released a new record called 'The Dawn of Time' which is something completely different, it's an orchestral record which I think is probably one of the first really serious work for drums in orchestra and I wrote and orchestrated the entire thing and that was a huge project, that took me a long time to write and to produce. With my band I was working with a legendary guitar player that some of your readers may know Allan Holdsworth and unfortunately he just passed away less than a month ago, wonderful human being and just iconic legendary guitar player, people that don't know him should check him out, so I was touring with him quite a bit the last few years. Now the latest thing is a new band I have and putting together it's called IceFish, it's a progressive rock band and we're right in the middle of producing our debut record, I'm very excited about that, we just ran a very successful crowd funding campaign through Pledge Music, now we're finishing the record and once that comes out we'll start making plans to tour. It's a very cool band, I'm very excited and the material we're writing the sound and the progressive direction I think is very, very fresh and it's gonna be a lot of fun to play this music live eventually. Check them out at https://www.facebook.com/icefishband/
Over the years how do you feel you've evolved as a drummer?
Oh, well I must say fairly consistently on a gradual curve, you know if truth be known a lot of musicians do get to a point where they plateau at a certain age or a certain time in their career and you tend to regurgitate the same things over and over, I felt through my never ending passion and drive and energy I'm just never content where I'm at and I just try and push and push and push and I feel like I'm still improving, and while I feel that I still feel there's a passion there and an energy and once that goes you start resting on your laurels and things start going bit by bit. So consistency is one of my biggest qualities.
Well over the years you have been given then moniker of best drummer in Australia so it must be great hearing that sort of stuff?
Yeah well you know those kind of polls or general opinions are really just that, I just carry on regardless. It's nice to be thought of in a positive light of course but I know where I am at and what I need to do and I know the reality of that and that's what drives me on.
I have to ask about your time in Southern Sons, some absolutely classic tunes came from that band, what do you remember about being in one of the biggest bands in Australia back then?
I love that band. Oh that was a great time early 90's wonderful musicians in the band, great writers and we had a little success there for a while unfortunately we couldn't sustain it for various reasons and once that fell apart that was my cue to uproot and move to The U.S. So it was just after that, 1996 when that was all coming to an end that I decided that it was time to move, but I certainly enjoyed my time with the band and I still stay in touch with most of the guys and they're all doing great things musically, so yeah it was a great time.
Any chance of a reunion show ever?
I don't think so, that has come up a few times over the last few years and I don't think that's ever going to happen to be honest with you.
Just personally, some songs like 'Lead Me To Water' and 'Can't Wait Any Longer' are some of my favourite tunes ever, so thank you for those…
Yeah I love that second record, the first one was kind of pop and that was our big hit record and then the second one was a little more sophisticated, a little more adult and I don't think it went over as well but I think it's got some classic grace, some great pop and rock songs on it and I think they still stand up but for some reason it just didn't take as well as the first record.
Then we had 'Zone'…
THEN we had 'Zone' which was really unfortunate. I think he kind of decided he wanted to go out as a solo artist and kind of sacrificed the band which was a shame, and BMG dropped the bundle because they went, well if that's what's going on they're not going to put any money into promoting that record and that all happened pretty much at the time that was coming out, so that was pretty much the nail in the coffin for the band.
Lastly let's look ahead to the future, finish this sentence for me, by the end of 2017 Virgil Donati wants to…
Have a hit record with IceFish. A hit debut record, let's make it happen.
TOUR DATES
Saturday, May 27: Sydney Drum & Percussion Show* – Rosehill Gardens Grand Pavilion, Sydney
Tickets: www.australianmusician.com.au/sydney-drum-percussion-show-2017/tickets
Tuesday, May 30: The Princess Theatre, Brisbane
Tickets: www.trybooking.com/276449
Thursday, June 1: Union House Theater, Melbourne University, Melbourne
Tickets: www.trybooking.com/276466
Saturday, June 3: Century Theatre, Immanuel College, Adelaide
Tickets: www.trybooking.com/276470
Tuesday, June 6: Red Door Auditorium, Perth
Tickets: www.trybooking.com/276472
Tickets for all shows except Sydney are:
$35 General Admission
$75 VIP TV Experience
The VIP TV Experience
Strictly limited to only 50 tickets – The VIP ticket comprises: *Premium Seating *EXCLUSIVE Sound Check Access *EXCLUSIVE 'On Stage' Drum Tech Rig Rundowns
*Pre-show Meet & Greet *Photo Opportunity *DW Swag Bag *EXCLUSIVE VIP TV Show Souvenir Laminate
Essential Information
From: Melbourne, Australia
Website: http://www.virgildonati.com and www.facebook.com/virgildonati