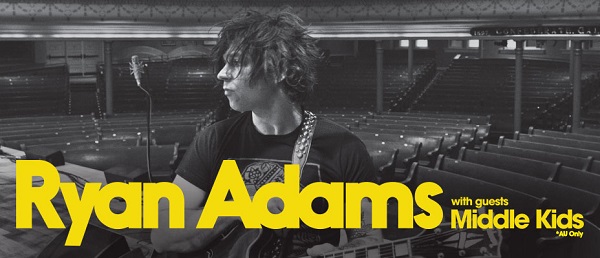 Ryan Adams is back in Australia only five months after a spectacular show in Sydney last year prior to the release of 'Prisoner' and now on a national tour he's back in Sydney in a much larger venue which I'm hoping doesn't detract from the show and the music at all but in saying that the sides are blocked off and the floor isn't nearly as full as I'd like to see it right now so I'm hoping it fills up some more. Although I'm already excited for the show as a selection of Warrant, Steelheart, Winger and more plays between sets I'm happy and now even more ready.
Lights go down as the organ leads us into not only the opener of tonight's show but Ryan's newest album 'Prisoner' with 'Do You Still Love Me?' and man it sounds good. The band are tight and didn't miss a note, it's a great opener and sets the scene.  'To Be Young (Is to Be Sad, Is to Be High)' speeds the tempo up a little and with a third guitar change in as many songs it's time for 'Gimme Something Good' and yeah, it is. Damn these songs are just so well written and hearing them performed live really is a treat. Drenched in blue lighting 'Stay With Me' shredded but 'Two' is by far my favourite so far, what a tune! I was hoping he'd play this one and here it is, if you really want to get a feel for the way Ryan writes a song then this is a perfect place to reference. Oh man this set is killing me right now, 'Doomsday' is awesome as is 'When the Stars Go Blue' with some stunning harmonies this slower track is nothing short of wow.
Strapping on the acoustic guitar and standing in front of a lit mic stand and giving us a solo rendition of the title track to his latest 'Prisoner' before the band joins him to play this one out and allow Ryan to show us what he can do on the guitar as he solos it until end. Addressing the crowd for the first time admittedly to shoot someone down which is great, he dedicates 'Anything I Say to You Now' To the 'stupid fuck' which was perfect, later to be found out said 'stupid fuck' was yelling "Summer of 69" out. Idiot. Why are you even there?  'Tightrope' allows Ryan to do this one solo again, in fact I'd love to see him do a whole set of his songs solo, they're written so well that hearing them stripped back and delivered solo would be outstanding, and knowing I missed just that at the Opera House some years back upsets me. Oh wow I didn't expect this one at all; 'New York New York' was my introduction to Ryan Adams back in 2001 and this is my first time hearing it live and it's as awesome as I'd hoped along with a harmonica interlude added it just got a whole lot better.
'Outbound Train' is another catchy ditty and 'Everybody Knows' and its bitchin' organ solo were as great as it gets. Then a cover of 'Wonderwall' which he has done in the past is also unexpected and his take on it is just superb with his voice so suited to this and all I can say is wow once again. The harmonica comes back and the crowd cheer as 'Come Pick me Up' begins, this one is such a perfect story and that's what Adams is good at, telling them. These songs are just a pleasure to be around. 'Magnolia Mountain' got a whole lot metal and doomy as the smoke machines turned on and blanketed the stage as well as the first few rows of the crowd, now he's still singing but no idea where he is… Ha ha. Oh there he is! The smoke has dissipated and 'Dirty Rain' slows things down again.
'Mockingbird' keeps the pace slow and turns into a big jam epic style song that kept going and going and going as I felt the crowd started to get a little lost here as it finally came to a head 49 minutes later, well, maybe 20. 'Cold Roses' is up next and again turned into an epic, whoa man, too much as I watch people start to leave shaking their heads which I can't quite comprehend. OK, tempo is turned way back up for 'Shakedown on 9th Street' as are the smoke machines once again, and with an almost inaudible 'sorry, thank you and goodbye' the house lights come up and as always with Ryan, Goodnight Springton there will be no encore.
Was it the best I've ever seen Ryan Adams? No. He looked and felt a bit off tonight being very reserved and not as up front as in the past, even addressing the crowd was practically non-existent. Maybe the venue wasn't right for him, maybe he was just tired, and sure some people may have walked away a little disappointed tonight for some reason and some even complaining of the 'short' set at 1hr 40 mins but there's no denying whatsoever the genius and talent that is Ryan Adams. I hope he comes back to see us and plays the theatres he shines in! He's just so damn good.
Essential Information
Venue: The Hordern Pavilion – Sydney
Date: May 27, 2017
Presented by: Frontier Touring
Website: http://www.paxamrecords.com
Set List:
Do You Still Love Me?
To Be Young (Is to Be Sad, Is to Be High)
Gimme Something Good
Stay With Me
Two
Doomsday
When the Stars Go Blue
Prisoner
Anything I Say to You Now
Tightrope
New York, New York
Outbound Train
Everybody Knows
Wonderwall
Come Pick Me Up
Magnolia Mountain
Dirty Rain
Mockingbird
Cold Roses
Shakedown on 9th Street