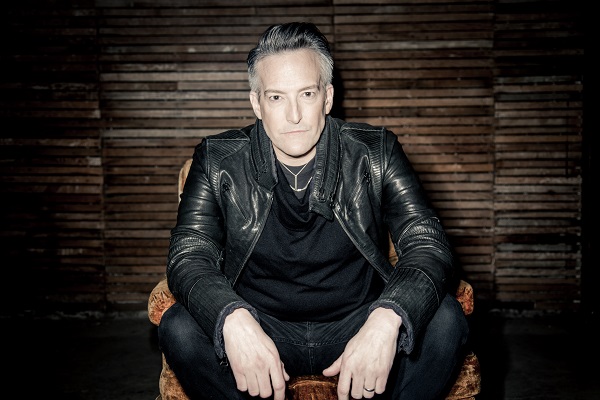 "Filter is a band that looks at the worst things in society and says why and what is that and let's talk about this strange phenomenon that is humanity. You know, a guy holds a press conference and blows his head off I want to understand that and I want to sing it from a perspective of his perspective."
From Release: Led by Richard Patrick, FILTER bring their larger than life live performance to Australia following their amazing performance at Soundwave 2014. Having recently released their 7th album 'Crazy Eyes', this will be your chance to listen to all your favourite tracks – 'Take A Picture', 'Hey Man, Nice Shot', 'Welcome To The Fold', 'Trip Like I Do' plus more!
At home in his studio we gave Richard Patrick a call to talk about Filter's return to Australia with Ministry, live shows, new music and of course about the loss of his friend Chris Cornell…
It's been just over a year since we last chatted, so let's catch up, how has the last year been for Filter?
It's great, playing concerts, making music, pissing off people, all the good things, all the wonderful things. My buddy died last night, I'm a little bummed about that.
Yeah I'm sorry for the loss of your friend, I'm super bummed about too that I still can't believe it happened.
I mean we've got let's see Layne's dead, Kurt's dead, Chris is dead, you got the guy from Mudhoney then you've got Eddie Vedder, that's about it the guy from The Melvins that's about it. It's wild. I don't know why he would do it he must have been furious at something. If we understood it we would've stopped him.
Yeah, but in some happier news you're finally coming back to see us in Australia! What can we expect from Filter live in 2017?
I am coming back to see you and I am very, very happy about it. I'm gonna cram seven records into hopefully an hour set and play with one of the greatest musical minds ever, Al Jourgensen is one of the reasons I got into music and made it, and you know whether it's the guitar riff to 'Hey Man, Nice Shot' or just my inspiration to be myself and say what I want to say politically Al Jourgensen has really shaped a lot of my life in music by being so Al Jourgensen, he's a massive influence to me so this is gonna be one of those concerts where I totally stand like as I'm playing then clean up real quick and stand and watch the master deliver the great good that he has to offer.
It's the perfect pairing with Ministry, how did this marvellous idea come about?
I mean as long as Al didn't spit the coffee out of his mouth when someone brought it up to him apparently it was a good enough of an idea that he allowed it to happen. So I was just like of course, someone brought it to me and I said if that's even possible I would love to. Then I ran into Andy Gould who is Rob Zombie's manager and Al Jourgensen's manager and Andy's like "what do you think of Ministry?" I said Ministry are the gods if not created industry music, I mean Nine Inch Nails, I remember Trent in 1987 at the Fantasy Nightclub staring at Al during his sound check of The Revolting Cocks and said "You see that guy right there? That's Al Jourgensen, he's my fucking idol" and Al was on stage with Chris Connelly arguing whether or not they should take acid or just drink to play for the concert and it was just unbelievable, it was insane. They didn't have any equipment *laughs* and they were like "we need a guitar for tonight" you know like they just showed up and played and it was unbelievable and that's Trent Reznor and I sitting there with the germ of Nine Inch Nails in our brain and he's sitting there pointing to Al Jourgensen saying that guy made 'Twitch' which is like the most aggressive synth record besides 'Skinny Puppy' which is just total avant garde, but there was a song writing approach to it and I'm sure Trent would admit that, and I've said it many times in interviews that that was kind of the guy. So for me it was a no brainer, as long as I'm allowed to hang out I'll scream as much as you need.
You were last here in 2014 as a part of Soundwave, what was it like reconnecting with Australian audiences after so long away?
It was really, really exhilarating and fun because it's so new again, we've been touring around The United States for ten years and going to Europe and stuff but we hadn't been back to Australia in literally ten years and they were like you're forgiven and here we are and they showed up and they were responsive and fun and great crowds, so I was like thank goodness. Then the idea to go on tour and just play clubs and smaller venues is just gonna be awesome because that's an environment we really love so I'm looking forward to Australia, and goodness knows when I'll be back so I'm really hoping everybody gets a chance to come out and see us.
With 'Crazy Eyes' out for a year now, how has the cycle been for the record?
I mean it's great, we play 'SunFest' and I'm doing 'Mother E' and 'Mother E' is about Dylann Roof showing up and fuckin' blowing up people at a church because they're black. Filter is a band that looks at the worst things in society and says why and what is that and let's talk about this strange phenomenon that is humanity. You know, a guy holds a press conference and blows his head off I want to understand that and I want to sing it from a perspective of his perspective. I'm here doing the same thing with 'Mother E' with these big huge festivals in The States and I say "I hope you're ready for this" we're a little bit more of a downer than people think, and 'Take A Picture' was one of the brightest shining moments of our career musically and it's a song about dying in a sea of alcohol and not being able to move and that's about as happy as that gets. People are kind of shocked to admit that Filter is serious, we're serious I try to make jokes of the twenty songs and stuff but it's some heavy duty shit.
Have recent events over there lit a fire under you in terms of writing new music?
Yeah, I mean 'Crazy Eyes' is about the wide eyed crazy Republican nut who fuckin', we have a few out here, we have a guy that has a fuckin' Trump flag on his car, and he drives like a nut and he's fuckin' crazy and I say you are Crazy Eyes, you are what the record is about. Now the department of justice and all that are catching up to Trump and his insanity and I'm posting like "I TOLD YA!" like I make T-shirts with blacked out Trump eyes, Donald Trump eyes blacked out with a swastika on his head because I'm just such a fan of the insanity of him that I'm being sarcastic. No, it's all social and it's all punk and I don't mean Blink-182 Southern California, I don't mean that I mean fuckin' talking Joe Strummer and Johnny Lydon punk and most of my music is really socially topical, but that's the way it has to be, I mean you know I leave Justin Bieber to talk about love sickness and all that kind of stuff you know. You know who's my big idol, the guy from Midnight Oil, that guy fuckin' says it like it is, yeah fuckin' Pete man, that guy's amazing he's a genius, that's the way it should be like bring it to the people.
So obviously things change over time, but what would you say is the one thing that's stayed the same over your time as an artist making music?
Probably that, just not being afraid to say what it is as long as I believe it musically I don't really feel and sometimes I cringe when I hear some of my older work like "Oh God, did I really want to say that?" but at least I aid it and I'm a man of my word and I meant what I said and I hope you get it, if you don't you don't and hopefully the audience knows that I'm not full of shit. The most important thing is authenticity at least they know that I might be misguided and I might be a little goofy and I might be a little high strung but at least I'm authentic and I'm being as real as I can.
Let's look ahead to the future, finish this sentence for me, by the end of 2017 Richard Patrick wants to…
Release a live DVD or a live movie. We have recorded it, we had about ten cameras, we used probably about four or five and the footage is just being cleaned up and looked at. We should've done it about ten years ago *laughs* because you want to remember the young version of the band but fuck it, it happens when it happens, right? My band mates are all in their thirties and they look great and I'm like oh shit, grey hair and old man right in the middle of all these kids screaming and yelling, what the hell is that? Does anyone really like getting old, getting older I just had my 49th birthday and I'm like damn, I just barely in my forties, I don't like it. I don't like getting old.
Thanks so much for your time again, Richard, we can't wait for the shows in September.
You got it, I can't wait to get back I love Australia this is gonna be one for the books.
And once again, I'm sorry for the loss of your mate.
Yeah it's taken me by surprise, you know he was my guy, I walked into rehab and I was like no one's gonna understand me, I'm a weirdo, I'm a singer for a band and no one really understands that until  you've been there and then I look over and there's this steely blue eyed guy looking at me like "hey I know you you're the Filter guy" and I'm like holy shit it's Chris Cornell and Chris was like hey, I found out it was a twelve step program and I'm like oh my God I hate this fuckin' God shit and all that and then he kind of looks at me and says "Hey, it's really the only deal in town, just kind of go along with it and try to be sober, you don't want to drink anymore do you?" and I'm like "well I don't want to fuckin' drink anymore" he said "well that's half the battle, just go along with it and see what happens" and that was fourteen years ago, and so you know, t's painful and weird that he hung himself because that's a sign of mental illness and you know it's wild, he's the lead singer in one of the greatest bands in history in my opinion. There's a few bands that make that in my opinion, Soundgarden was up there with Led Zeppelin, and Pink Floyd and The Rolling Stones and Nirvana and The Clash and The Deftones and they're one of those bands that defines a generation and for me it's sad as hell that he didn't see the quality in that but I get it, you're getting old and you don't want to deal and sadly I don't understand or condone his behaviour but mental illness is one of those things, it can win. His music lives on and so does his children and so does his wife, they'll live on.
MINISTRY + FILTER: 2017 Tour Dates
Monday 25th September – Perth – Astor Theatre
Tuesday 26th September – Adelaide – The Gov
Wednesday 27th September– Sydney – Metro Theatre *
Saturday 30th September – Melbourne – Forum Theatre *
Sunday 1st October – Brisbane – The Tivoli *
Tickets:
Pre-Sale Monday 22nd May 9am
On-Sale Tuesday 23rd May 11am
From: http://metropolistouring.com/ministry-filter
* Filter for East Coast dates only
Essential Information
From: Hollywood, CA, USA
Band Members: Richard Patrick
Website: http://www.officialfilter.com
Latest Release: Crazy Eyes (Out Now – Wind-Up Records / Caroline Australia)