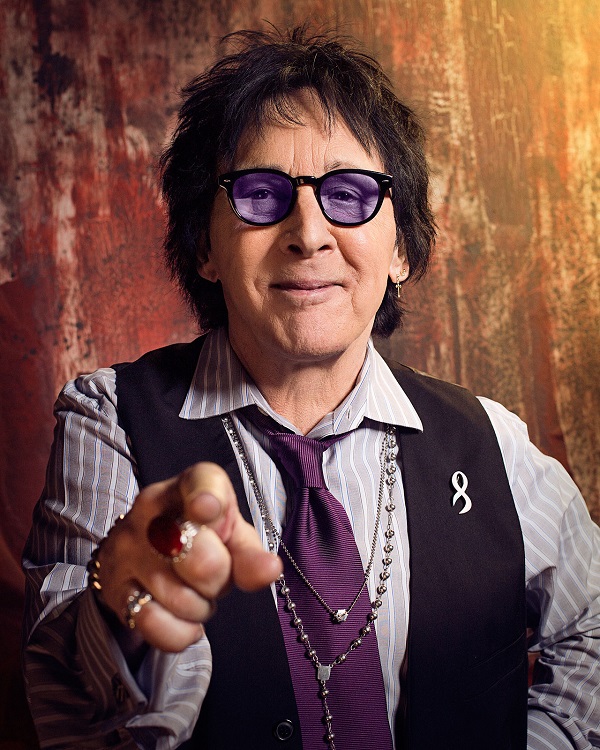 "…when I do these things where I go out and these people that I meet blow my mind *laughs* it's like they're so die hard over us that it's nice that you've got your die hard Paul's, and Gene's and Ace's and then I've got mine, and most bands don't even have that where they have so many fans that love each one of us individually and that's a cool thing man."
From Release: Rock 'n' Roll Hall of Fame Member, Legendary Founding member and Catman of KISS Peter Criss is coming for his One Last Time Dinner Performance Show at The Sofitel on Melbourne 12th May 2017 as well as signing & photo sessions with fans at The Australian KISS Konvention at Wick Studios 13th & 14th May. The One Last time show will include a Live intimate performance by Peter backed by his long-time friend and guitarist Mike McLaughlin and Australian Rock sensations Sisters Doll plus a few other surprises will make Peters band one to be reckoned with as well as the performance the ticket holders will receive a three course sit down meal with drinks a Limited-Edition Collectors bag with no less than five Never items specifically for this performance.
We gave the legendary Peter Criss a call to talk about his upcoming final show in Melbourne, his decision on stopping performing, the KISS army and fans, what's next and so much more…
Thanks for your time today, Peter. So why was Melbourne the choice for your return for this last show?
Melbourne's always been wonderful to us, the band, and we did the symphony there and it was so magical for me and it was like holy mackerel I was almost pooping my pants I was so nervous but it was alright, but it was a magical evening for us so I want to come back there and do my last show, it'll be just great I want to do it my way.
Of course we're here because you're heading over for one last time… what can fans expect at this special show?
Well I can't tell you that, that's like the surprise. It's been thirteen years and I'm back in boot camp again. I'm working with all these young guys and they think the old guy is over the hill well I've got some news for them, I'm kicking their asses. We've got Sisters Doll who is a great band you've got over there going to work with me, and my old guitarist Michael McLaughlin who's been with me for twenty five years but I've got these guys come in and they wait for the old guy and I just run them up the wall with the rehearsals we've been having, and I have not done it that way in a long time. I beat cancer now for ten years so that changed my life and I'm actually singing at a cancer ball next week, and it makes you look at life totally different and then I went out and did a book singing thing with my book and I really met the fans, man, like really one on one and their heartfelt stories and you never really see them when I'm up there on stage, you really step down and travel the world and you get to listen to people and they give you gifts and tell you stories of your music on how it saved them and this and that. I think over the years of everybody watching now it's my age to watch too, like Barry Gibb I'm a huge Bee Gees fan so I was going crazy on my couch, I had my drumsticks and I was playing on the couch it was so good. You know, it's true The Stones are up there, McCartney's up there and we're all in that terrible seven number but my heart is fifteen years old and I want to come and rock you guys one more time.
Aside from your special show, you're here for the KISS convention where you'll be doing a Q&A as well as meeting and greeting fans, how many body parts are you expecting to sign for tattoos?
I don't know, I think the fans are insane, they're all crazy. I don't know, somebody said ten or twenty hours of signing, I have no problem with that but I'm really looking forward to playing with the band and having a good time and meeting a lot of people that I haven't when I would come through there we've always just breezed in and breezed out, each time I've been there it's upset me and that's another big reason I want to make it really awesome.
Why have you decided to stop performing?
It's the last time with you guys and the last time in my hometown in New York in July, so we thought we'd do one a year and that's already a lot of buddies I know, like Paul Shaffer, and a lot of family and then a lot of New York fans, that's my home and it's kind of a play and performance like a supper thing I'm doing and then an after-hours "how you doing man, thanks for coming in". People ask me does it bother me playing in a club in a smaller venue, man I started out and I've been doing this for fifty years way before I started KISS with the guys, I did ten years of club work with seven or eight guys with horns and we did nothing but R&B music and then before that we were jazz, and then I played every club in the village and was around with Dylan and Hendrix and great music was around so I was really glad to have all that and do all that. So now it's turning the torch over to the other guys and let them go out and have a great ball with this stuff *laughs*.
The KISS army is absolutely huge in Australia, what do you think it is about KISS that Australia just loves so much?
For forty years I don't know, it amazes me that fanaticism they have and I mean that, the insanity and when I do these things where I go out and these people that I meet blow my mind *laughs* it's like they're so die hard over us that it's nice that you've got your die hard Paul's, and Gene's and Ace's and then I've got mine, and most bands don't even have that where they have so many fans that love each one of us individually and that's a cool thing man.
In the height of KISS mania, what's your best memory of when you were the biggest band in the world?
I guess it would be Madison Square Garden. When I was young, a teenager I remember I asked my mother if I could quit school in my last year of high school because I wanted to be a drummer, I wanted to be in a band and play music. I was offered a job to play opposite Gene Krupa who's my idol and the reason I play drums today and talk about dreams come true, for $125 a week which was huge money back in '61, I said "I won't let you down, Ma, I promise you someday I'll play Madison Square Garden" so she said "Alright". Then the night came and there we were up on Madison Square Garden stage and I look down and there were my mother and father absolutely bawling their eyes out and I was crying at the same time and playing. That was it, man, that was my dream, that's what I wanted to do, what I set out to do and everything after that was just roses.
After so many years in the business what's the one thing you've enjoyed the most?
The fans, always the fans, the loyalty and the thrill you get when you come out and all the personal love they give, the personal messages like they say when their mother died they lived on that song for their grieving, it's just undeniable that they're a whole different kind of people and that's been the best over the years they've given me a great life over the years and I can't complain.
Well I'm so glad I got to see you guys for the first time back in 1996 on the reunion tour, so I'm glad I got to see you play a couple of times…
Yeah me too, but again like you it's kind like any band I go see say Journey and it's not Steve then it's not Journey, if it's The Who and it ain't Keith Moon then it ain't The Who. For me that's all and I got to see these guys and I won't settle for second best or whatever, I've seen Hendrix, I've seen the real life Zeppelin I saw John Bonham in person, so when all these cover bands… I'm not really impressed; it's the real deal I want. So you're gonna get the real deal, part of the real deal anyway *laughs*.
After your final show this July in New York, what's next for Peter Criss?
I've got projects that I really put aside and I want to do them and now I'm seventy one and I don't know when everybody else says they'll pull the plug but I do know a lot of guys who are not well and get to their part where they're going to. I've have some books I've been working on, I've got a child's book and I really want to finish that, drawings and all I'm going to back to art school and I'm going to go back to painting, and after that a comedy screen play *laughs* believe it or not, and I've been sitting on an amazing album for eight years or longer that I didn't finish when I got my cancer and I recently listened to it and it's nothing like you usually get from me, it's really kick ass shit. I brought it with me to California a few weeks ago and I played it to Johnny 5 of Rob Zombie's band and he just went "This shit is gotta be the best stuff I've heard in eons" and it kind of inspired me and I'm gonna finish this up after all this is over. I've got some things to do.
Good, keep going for as long as you can!
I ain't goin' nowhere until it's time to get in the box and I'm not ready for that either *laughs* so I'm still rockin' and rollin'.
Lastly let's predict the future. Finish this sentence for me. By the end of 2017 Peter Criss wants to…
Give, to really give back the great stuff that's been given to me through my life. Like when you get voted by your fans into the Rock and Roll hall of fame, you know man, I got a People's Choice Award for writing the biggest hit the band had, I'm so overwhelmed I just want to give back as much as what has been given to me.
TOUR DATES:
Peter Criss "One Last Time"
Date: Friday 12th May 2017
Venue: The Sofitel On Melbourne, 25 Collins St, Melbourne
Tickets: Available for purchase through Ticketbud.com
KISS Konvention
Date: Saturday 13th May & Sunday 14th May 2017
Venue: Wick Studios – Leslie street Brunswick
Tickets: Available for purchase through Ticketbud.com
Video HERE
Essential Information
From: New York, USA
Website:  http://www.petercriss.net