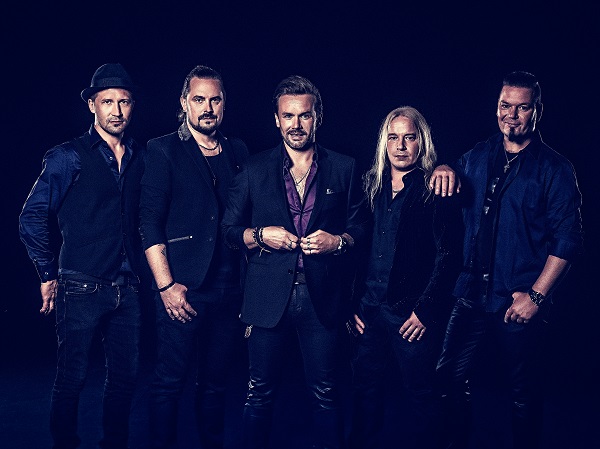 "Brother Firetribe it's all about positive vibes, it's melodic rock music to the max, I mean what we're always after is to put out a song that makes you do push ups *laughs*, makes you want to go running, I don't know. It's all about the hooks, the big sound and good vibes and if you put on a Brother Firetribe album I'd imagine the sun might come out very soon."
From Release: Brother Firetribe – the five-strong outfit fuelled by class compositions and top-of-the-line musicianship have recently released their fourth full-length album,'Sunbound'. Since first coming together for their 'False Metal' debut back in 2006, Brother Firetribe have flown the flag for a brand of music ('ultra-melodic West Coast AOR') that once strode the US radio airwaves like a colossus, filling up arenas and providing the silky soundtrack to pool-side summers and wind-in-the-hair coastal highway drives; music pioneered by some of rock music's most legendary names…  However, Brother are not trying to hitch a DeLorean ride into the past; rather, their collective aim is to both celebrate and reinvigorate a musical style that is all about big hooks, strong melodies, soaring vocals and searing guitars, not to mention the desire to entertain on a grand an' glorious scale.
At home chilling in Finland and enjoying the sun we gave Pekka from Brother Firetribe a call to talk about the band, their new album 'Sunbound', touring, Australia, and how much of an influence the band is on this site. They truly are one of the Best Things You've Never Heard, but trust us, you need to!
Now here at MTRBWY we're well aware of Brother Firetribe, but for those checking this out that may not have heard of you before, how would you personally best describe the band and its music?
Oh man, Brother Firetribe it's all about positive vibes, it's melodic rock music to the max, I mean what we're always after is to put out a song that makes you do push ups *laughs*, makes you want to go running, I don't know. It's all about the hooks, the big sound and good vibes and if you put on a Brother Firetribe album I'd imagine the sun might come out very soon.
You've just released 'Sunbound', in the three years since 'Diamond In The Firepit' was there anything that helped inspire what became these songs?
Nothing in particular, it's just what happened with this album I mean first of all the gap between 'Heart Full of Fire' and 'Diamond In The Firepit' was six years and that was just ridiculous, that was just stupid. So we made a promise to ourselves and to other people who were interested that the next album was not going to take that long so we started throwing around ideas as soon as we wrapped up the tour for the 'Diamond' album and so all in all we started from a clean table as usual and started writing songs, and to get to this point where we are right now here talking to you it took us two years to finish the album from start to finish. 'Sunbound' I mean the name comes from the fact that everything just kind of clicked, I don't know why but ever since the first song we wrote everything just went really smoothly in terms of what kind of material we came up with, and we had this strong sense during the whole process that we were kind of marching towards the light, so 'Sunbound' is from that really, really good vibe that we had during the making of this album.
Four albums in was there anything you did differently with 'Sunbound' compared to your previous releases?
No, not really I mean like it always goes, what comes out of this band is the kind of music that you hear on the album, we don't think too much in general *laughs* and that kind of suits us, we don't analyse things, we don't think about which direction we should take this is just 100% the stuff that comes out naturally and it was the same this time. In terms of how the album sounds it's largely because we had to find a new mixer, I mean we had those two guys who had done our previous albums and this time they had to withdraw from the project because of their own time tables so we had to find a new guy to take care of it and thank god Mikko Karmila our old friend stepped in and did a remarkable job. So that's the only difference in terms of how we made the album.
For a bit of fun, thinking about your track 'Help is on the way'. If you needed a character to come and help you from any movie in history who would it be?
*laughs* Well I'd put my trust on Doc from the Back To The Future movies, absolutely I mean come on, he always has the solution. *laughs*
There is just something about the AOR scene in Europe that just works yet it's not really being done elsewhere in the world besides a few bands such as White Widdow doing it out of Australia. What do you think it is about your side of the world that just make this kind of killer catchy music that the rest of the world can't seem to replicate?
Well that's a great compliment, thank you very much, I have no idea *laughs* I don't know maybe just some of us up here have to balance the shitty weather by making sunny music I don't know *laughs*. I can't speak for anybody else but for this band it's just a blend of the band chemistry, we're having too much fun together and of course a big part of it is the fact that I grew up listening to this certain brand of music all those big AOR names from the 70's and 80's obviously plus a shitload more obscure bands from that genre, so I don't know but it's a good question there are a lot of good melodic rock bands up here.
I have to ask, do you think there would ever be a chance we'll see you down here in Australia?
I have no idea and talking to you right no to Australia is just beyond me, I mean what the hell? It's pretty obvious that I'd love to, I've never been to Australia and to get to play there with this band would be just awesome and I know you'd be there so we'd have an audience *laughs*.
In terms of touring, what do you have planned for the remainder of 2017?
It's all about Brother Firetribe, this is really rare for this band to be able to go out as much as it looks like right now, I mean right now were touring Finland and we're doing the summer festivals in Central Europe during the summer and then a large European tour starting in October, and then November and December and maybe even January 2018 we might do something in The UK but that's still a bit uncertain.
It's sometimes easy to say what's changed within a band's time together but what's the one thing you'd say has stayed the same in your fifteen years together?
It's the passion for the music and this thing just sort of got out of hand, if I go back to two thousand and something, the early two thousands it was born out of just an excuse to get out of the house and sit down with the guys and have a few beers and laughs and music was sort of a side product in a way. Then all of a sudden things got out of hand and we had a band going on, and we've always fought with the timetables and schedules because our guitarist plays in Nightwish and that's always been the limiting factor in how much we can operate and so on, but it's always been like that so it's always been OK, everybody's learned to operate around that fact so every time we get a chance to do something under the name Brother Firetribe it's always the biggest party ever, so we're blessed to have this thing let's put it that way.
Lastly let's look ahead to the future, finish this sentence for me. By the end of 2017, Brother Firetribe wants to…
To play to as many people as possible and in as many places as possible.
And Australia…
Absolutely Australia, yeah!
Lastly on a personal note, 'Heart Full of Fire' is one of my favourite albums full stop. Songs like 'Wildest Dreams', 'Runaways' and 'I Am Rock' truly were catalysts for starting this website. So I just wanted to say thank you. 
Holy shit I'm getting goose bumps, thank you so much. That's cool, really cool. I owe you guys, thanks for spreading the word.
Essential Information
From: Helsinki, Finland
Band members: Pekka Ansio Heino – Vocals, Tomppa Nikulainen – Keyboards, Jason Flinck – Bass, Hannes Pirila – Drums, Emppu Vuorinen – Guitars
Website:  http://www.brotherfiretribe.com
Latest release: Sunbound (Out Now – Spinefarm)