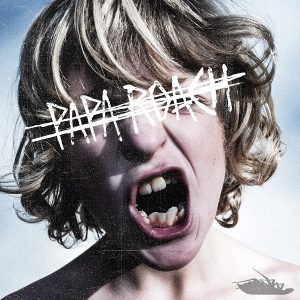 Papa Roach are back and after their last album 'F.E.A.R' which we loved we're ready to hear what the guys have come up with over the last couple of years, the result being 'Crooked Teeth' and I feel like they're crooked from that kick they gave them back in 2010, but that's just speculation.
Opening the album with 'Break The Fall' and those trademark Papa Roach verses that build the song only to have the damn thing explode in your face, like you know when you get those party poppers and they said do not aim at face? Yeah well this song is one of those and you didn't read the instructions and now you've covered in one hell of a tune. If this is setting the scene for the album then let's go. The title track gets a run early on and this one is instantly intense with a catchy chorus and some great arrangements and production here this song is set to become a live favourite, man that was a killer tune. 'My Medication' reminds me to check I still have repeats left on my prescriptions even though it's not about that but you can see how that could happen, the song itself starts slow and tricks you as Jerry's guitars and that bitchin' tone of his kick in, but Jacoby balances the rap rock verses with the melodic chorus in only the way that Papa Roach can.
'Born For Greatness' let's see where this one goes, ooh that's a bit different and unexpected from these guys, ahh there it is, OK guitars kick in and the big driving rhythm under this one keeps it moving. Wow this one is oddly good as is 'American Dream' which I love from the first second when dual guitars start it off, this one is just a straight up rocker that has you nodding along to it and the pre chorus build is great as it jumps into a bucket of hooks with the chorus. So, ask me what I love about 'Periscope'… oh yeah I think I heard you, thanks for asking, well it's simple THIS IS PRACTICALLY A BALLAD and fuck yeah ballads! This one is probably my favourite on the album and it just feels different from anything that the band has done before, and this one being a duet that features Skylar Grey is such a treat to hear and musically I love how this one is produced and the feel of it is outstanding.
So as much as I loved 'Periscope' I hate to say it but I love 'Help' just a little bit more. This is THE song on the album for me in terms of hooks, vibe and overall Papa Roachiness if you get what I mean. This one lyrically is actually really damn good and I suggest you listen to it properly to see where they're coming from here as they've got so much they need to say. Hold the phone, what's happened here in the middle 8, an unexpected turn of awesomeness as it breaks down before kicking in to finish up. Papa Roach can write a killer tune and this is one that will become a favourite of many fans I believe, well it got me! Then 'Sunshine Trailer Park' moves back to the rap style choruses before Jacoby sings his way through this slower rocker before Machine Gun Kelly pops into the trailer park to visit and throw in a verse for good measure, I hope he brought cake or a packet of chips or something it's just courtesy.
'Traumatic' grabs the other party popper out of the bag and this time it's pointed at your mate's face, again not recommended and KABLAMO from the first second! Although what I dig about this one is that it completely flips musically and tempo but holy shit what a brilliantly structured song! This one is actually one of my favourites and I really hope this gets played live as the place will erupt during that chorus and at under three minutes it was short and actually, kinda traumatic! Then 'None of The Above' starts almost NIN style before it does what you'd expect and turn into a bitchin chorus and driving rhythm, man this band knows how to work their craft. It's quite clever and also as many above a little different for the guys and I'm completely OK with that. That's where it ends… or does it?
BONUS TRACKS! So let's throw these in for good measure too! Starting with 'Ricochet' which is a real bonus as this one should've been on the album, well it is, but a bonus, a big rocker with a catchy chorus and excellent panned right guitar solo. Bonus track number two is 'Nothing' well it's not nothing it's a song called 'Nothing' and this one in terms of guitar tone straight off is really different to anything I've heard Papa Roach do before and it's a great message actually, if you can check this one out, do. Closing out the bonus tracks with 'Bleeding Through' another different tone for Jerry and feel overall, but it's almost another big ballad and that makes me happy to close off what has been a damn enjoyable album!
Papa Roach have once again delivered a solid album, and for me they keep going from strength to strength in terms of writing, arrangements and just overall passion put into these songs. They're one of the best and most intense live bands I've seen and I can't wait to hear how the songs from 'Crooked Teeth' transcribe to the stage as I'm pretty sure all the party poppers will be going off in people's faces.
Essential Information
From: Vacaville, CA, USA
Release date: 19 May 2017
Record label: Eleven Seven / Sony Music Australia
Produced By: Nicholas "RAS" Furlong and Colin Brittain
Website: http://www.paparoach.com
Track Listing:
Break the Fall
Crooked Teeth
My Medication
Born for Greatness
American Dream
Periscope
Help
Sunrise Trailer Park
Traumatic
None of the Above
Ricochet (BONUS)
Nothing (BONUS)
Bleeding Through (BONUS)