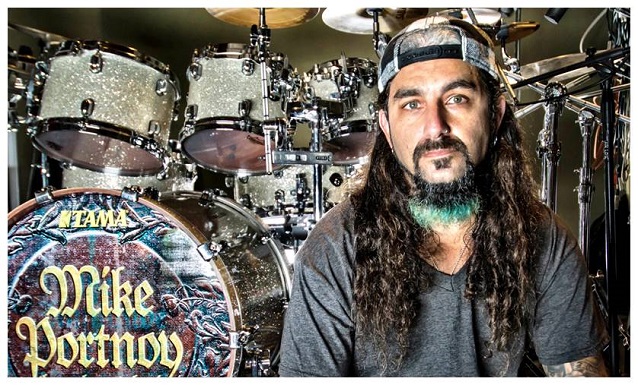 "Not only is it closure for me as an artist wanting to do it, but I think there's some closure for the fans as well because there was a fear that once I left Dream Theater this would never actually happen, so there's a sense of unfinished business in finally getting to do it."
From Release: MIKE PORTNOY is a man that really doesn't need any introduction. Known for his technical skill as a drummer, Portnoy has won 30 awards from the Modern Drummer magazine, and is the second youngest person to be inducted into the Modern Drummer's Hall of Fame! Primarily known as the co-founder of Dream Theater, he has also been involved in several other projects such as Liquid Tension Experiment, Avenged Sevenfold, Transatlantic, Adrenaline Mob plus many, many more!
We gave Mike Portnoy a call while at home and in between legs with the Neal Morse band Mike was cool enough to talk to us about Shattered Fortress and his Australian tour that has just been announced, the 12 step suite, new music, old music, passion, sleep, & much more…
It's been about two and a half years since we last spoke, so let's catch up! How have the last two and a half years been for you?
Oh God, I can't even keep track, the last two and half years I've toured with Twisted Sister, The Winery Dogs, Metal Allegiance, The Neal Morse band, oh god it's just been crazy, it's literally been an onslaught of different albums and bands and tours and all of which have been awesome.
Of course we're here because you're bringing Shattered Fortress to Australia! Can you tell us a little about how it came together? 
Well long story short I just celebrated my fiftieth birthday with a two part concert aboard the 'Cruise to The Edge' and at these concerts I celebrated my whole career and I did a show with Flying Colors, and a show with Transatlantic, and a set with Liquid Tension Experiment which has Tony Levin on bass and then of course I needed to represent Dream Theater in celebration of my whole career in retrospect, so for part of the Dream Theater set I assembled the band, mainly consisting of the band Haken as my backing band and we finally did the 12 Step Suite which is a series of songs I wrote when I was with Dream Theater but never had a chance to perform in their entirety live. So that was part of my fiftieth birthday celebration and once word got out about that I started getting offers from all over the world, different festivals and different promoters wanting to bring this event to their market, and lo and behold I got an offer to come down to Australia with it which is a much welcomed surprise, I've been waiting to get back down to Australia it's been about eight years for me, so got the offer to come down and do a string of these special exclusive shows this coming November. So I'm excited to finally come back.
What is it about the '12 Step Suite' that you wanted to get out there and finally play for people?
Honestly I had no intention of ever revisiting my Dream Theater catalogue outside of Dream Theater, but this fiftieth birthday celebration came about and inevitably I had to represent Dream Theater at that show and this was kind of unfinished business for me playing this group of songs because I never got to do it with Dream Theater. So to me the attraction and the appeal of this group of songs is just really a matter of trying to get some closure with something I hadn't been able to do with Dream Theater. Not only is it closure for me as an artist wanting to do it, but I think there's some closure for the fans as well because there was a fear that once I left Dream Theater this would never actually happen, so there's a sense of unfinished business in finally getting to do it.
So what else other than the five song '12 Step Suite' can we expect in terms of a set at these shows?
Well those five songs equal about an hour's worth of music and then the rest of the set will be made up of other songs from the Dream Theater catalogue that were kind of my babies, I wrote a few dozen worth of songs while in the band, so there's a big chunk of the catalogue which is very personal to me. So there's plenty of music to work with and I won't give away what the set list will be but it'll be made up of all the Dream Theater songs I penned.
When putting Shattered Fortress together what is it about these players that work for what you're doing?
Well, I've been a fan of Haken for many years now and to me they are the best new prog metal band of this next generation and a few years ago I went up on stage with them and performed 'The Mirror' by Dream Theater  and at that moment I pretty much knew if I was ever going to do this '12 Step Suite' that I had found my backing band for it because each one of them individually is so perfect on their respective instruments and they are fans of what I used to do in Dream Theater as well so I know that they'll be performing this with a level of accuracy and passion that the music will require, so I knew they were the perfect backing band for me.
So is this something that could evolve into new music or is it set up solely for this cycle?
No this is absolutely is a one shot deal, I have no intention of doing anything further with this beyond these shows. Obviously once it's done Haken will go back to being Haken and I will go back to my million bands, so this is it, this is the only time I intend on revisiting this material and the only time I plan on doing it with this particular band. I will say though that it has sparked a re interest for me in the progressive metal genre which I have been straying away from doing anything similar to Dream Theater since leaving the band, but I think doing this has kind of sparked and reignited the flame for this particular style of music. So that being said, I have formed a new band with Derek Sherinian my former Dream Theater band mate, and we've put together a new all-star band that will be premiering in 2018 and we'll kind of follow the path of what I'm revisiting here with the Shattered Fortress.
So, do you ever sleep?
*laughs* believe it or not I sleep a lot, I'm a workaholic when I'm awake but I'm a sleepaholic when I'm not. *laughs*
So in this being a limited run, other than Australia where else are you taking Shattered Fortress?
We have a run in Europe in July and then there will be two exclusive shows in North America in September as well a one off in Mexico, and we're looking right now at the possibility of a handful of South American shows as well. It's a matter of just trying to squeeze it in my schedule as well as Haken's schedule; they're currently out supporting their latest album as well. Honestly I never intended on doing this much, this is way more than I ever anticipated but it just seems there's been a demand for it once the word got out so I guess I'll strike while the iron is hot because once the clock strikes 2018, no more with this.
Being to Australia before, do you have a favourite memory of a past trip here?
Probably the best memory was the first time I was there when I did a drum clinic tour back in probably around '96 or '97 and always the first time in a new place is always the most exciting and that's when you do the site seeing and get to see the country more than usual just because it's all so new and fresh, so yeah, that was probably the best memory. Then I came back with the G3 tour around 2006 and then back again with Dream Theater in 2008/20009 so yeah I'm looking forward to coming back.
Throughout your career obviously many things have changed but what's the one thing you'd say has stayed the same in your time as a musician?
Without a doubt, it's me, I am still the thirteen year old kid sitting in my basement listening to KISS and The Ramones and Led Zeppelin, that's still me at age fifty regardless of how many awards or how many drum magazines I've been on the cover of, nothing has changed I'm still the obsessive fan and collector that I've always been. I've been in this business now over thirty years and seen it all and done it all but I don't think I've changed, I'm still the same music fan kid that I always was.
It also sounds like you've still got the passion for it which is the most important thing…
Well that's why I do everything I do, I'm probably the busiest working drummer you'll meet maybe tied with Dave Grohl *laughs* I think the two of us are probably tied for hardest working drummers. I do it only for the music it's not a money thing, it's not a career thing that I'm constantly trying to do new things for my career or for my biography or reputation, it's all out of the love for music and that's why I play in as many bands as I do it's because I'm a big fan of music and the fact that I can play in bands with everybody from Billy Sheehan to Dee Snider  to Paul Gilbert to Steve Morse and Richie Kotzen I play with all these guys because I'm a music fan and I want to have to opportunity to make music with these people.
Well Richie Kotzen is heading here soon, so maybe one day, grab Billy and all come back with The Winery Dogs!
Yeah I mean we desperately wanted to come to Australia the last two tours we did we were just patiently waiting for an invitation from a promoter, so it's kinda weird now he's finally going to be coming down on his own and I'm going to be coming down with the Shattered Fortress, we would've loved to have done it with The Winery Dogs, so hopefully when we finally reconvene and do another album we can get the invitation next time around.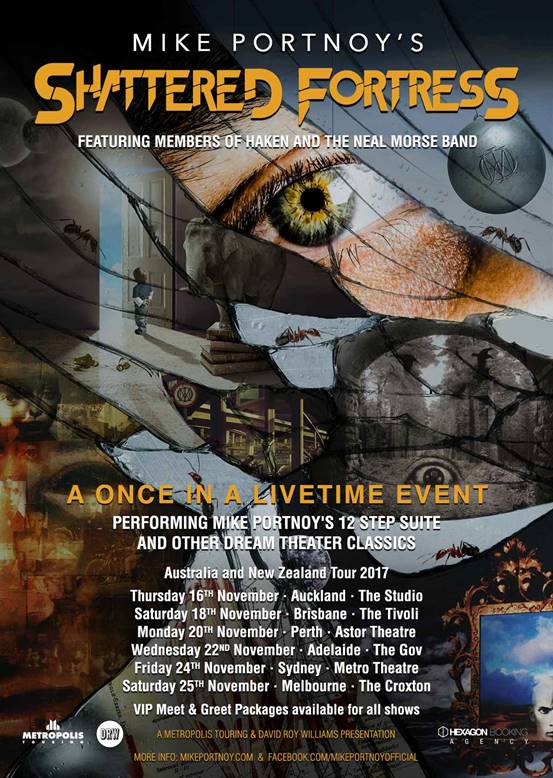 So you have done a lot over your career but is there still something you want to do that you haven't yet had the chance to do?
You know, there's small things, I would say all of my big career dreams and goals have honestly been achieved at this point but there's lots of small little things like I haven't played The Royal Albert Hall in London I'm still waiting to play there, I haven't played the Hollywood Bowl in L.A. so there's like little venues I still want to play. Collaborations I still want to do, I'd still like to do a collaboration with Mikael Akerfeldt from Opeth, it's a dream of playing with some of my heroes like Roger Waters or Pete Townsend or Paul McCartney, I've met them all so little things like that have already happened but the dream of maybe playing with them is still a goal to try to achieve.
Lastly let's look ahead to the future, finish this sentence for me, by the end of 2017 Mike Portnoy wants to…
Still be alive and have finally seen the new Twin Peaks. I'm counting the days *laughs* literally!
MIKE PORTNOY'S SHATTERED FORTRESS TOUR DATES
Thursday 16th November – Auckland – The Studio
Saturday 18th November – Brisbane – The Tivoli
Monday 20th November – Perth – Astor Theatre
Wednesday 22nd November – Adelaide – The Gov
Friday 24th November – Sydney – Metro Theatre
Saturday 25th November – Melbourne – The Croxton
Tickets:
Pre-Sale Tuesday 9th May 9am (local)
On-Sale Thursday 11th May 9am (local)
Via: http://metropolistouring.com/mikeportnoy
Essential Information
From: New York, USA
Website:  http://www.mikeportnoy.com