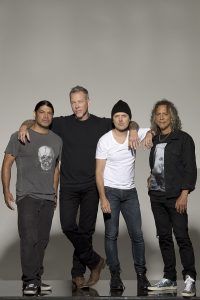 METALLICA 'NOW THAT WE'RE LIVE' REHEARSAL SPECIAL
EVENT STREAMED LIVE FROM BALTIMORE EXCLUSIVELY ON FACEBOOK LIVE FROM 11:00 AM AEST TODAY – MAY 10th
Metallica's "Now That We're Live," a live rehearsal special from M&T Bank Stadium in Baltimore, will stream exclusively on Facebook Live TODAY FROM 11.00AM AEST, the eve of their inaugural show for the North American leg of the WorldWired Tour 2017. The Rock and Roll Hall of Fame inductees and multiple-Grammy® Award winning band will warm up the stadium stage with a full-scale rehearsal performance.
The 'Now That We're Live' rehearsal special will feature Metallica performing four songs in their entirety (including their current single, "Now That We're Dead"). The presentation will offer fans an early glimpse of the groundbreaking production elements of the WorldWired tour and will be available for on-demand viewing following the live stream via Metallica.com and the band's Facebook page.
Said Metallica's Lars Ulrich, "We are psyched to share some of our rehearsals and final pre-production run-through with our friends around the world, and we hope you'll come hang with us as we fire up the engines for the North American Summer run."
Viewers will also be able to donate on Facebook Live to Metallica's All Within My Hands Foundation, which supports a cross-section of national, local and Bay Area charities that the individual band members support, as well as music education programs and local food banks.
Metallica's most recent album Hardwired…To Self Destruct was released on November 18, 2016 on Metallica's own Blackened Recordings record label and debuted at No. 1 around the world, selling over 800,000 copies worldwide in its first week. It has been certified Platinum in Australia.  The album was produced by Greg Fidelman with James Hetfield and Lars Ulrich, and is available in various configurations at www.metallica.com.
ABOUT METALLICA
Metallica formed in 1981 by drummer Lars Ulrich and guitarist and vocalist James Hetfield and has become one of the most influential and commercially successful rock bands in history, having sold 110 million albums worldwide while playing to millions of fans on literally all seven continents. They have scored several multi-platinum albums, including 1991's Metallica (commonly referred to as The Black Album), with sales of nearly 17 million copies in the United States alone, making it the best-selling album in the history of Soundscan. Metallica has also garnered numerous awards and accolades, including nine Grammy Awards, two American Music Awards, and multiple MTV Video Music Awards, and were inducted into the Rock and Roll Hall of Fame and Museum in 2009.  In December 2013, Metallica made history when they performed a rare concert in Antarctica, becoming the first act to ever play all seven continents all within a year, and earning themselves a spot in the Guinness Book of World Records.