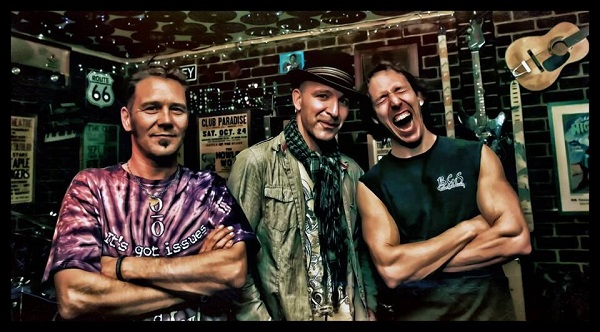 "So we don't play it note for note the way the guys did back in the day or sort of try to mimic it or anything like that, we just really get inside of it and make it our own at the same time respecting it as part of the tradition of popular music I guess."
From Release: The Music Of Cream lives again through this special tour featuring the bloodline of those incredible musicians.  Celebrating the 50th anniversary of Cream is Malcolm BRUCE (son of Jack), Kofi BAKER (son of Ginger), Will Johns (nephew of Eric Clapton and son of Zeppelin/ Stones engineer Andy) Robben Ford and special guest "The Voice of Rock", and stunning bassist Glenn Hughes (Deep Purple). Ginger Baker. Jack Bruce. Eric Clapton. Cream was a chemical explosion like no other, the blueprint for every supergroup to follow and the heavy blues precursor to Hendrix, Zeppelin and so much more.
At home in London we gave Malcolm Bruce a call to talk about The Music of Cream, his solo music, growing up with a famous Dad, and much more…
I know you've probably been asked this a million times before but how did The Music of Cream come together?
This particular project, wow, well I've worked with Kofi Baker and Will Johns over the years so we played this music a little bit before and done a little bit of touring in The U.S. and The U.K. so when we were approached by Liberty Stage the guys in New Zealand to put this tour together with them it was a really easy thing for us to do, we were excited about it and a really nice level to do things on, nice promotion and it all just made sense to do it. So it's been on the boil off and on amongst other projects you know I write my own music and I've just got an album that's just come out, and Will Johns the same thing and Kofi does his own thing. So we've played the music of Cream over the years alongside our individual projects so it's an easy thing for us to do, we've been around it our whole lives, we love it so it's only natural.
What's it like revisiting these songs that are a huge part of musical history?
Wow, it's wonderful really, it's great music and I think one of the things about it is it has so much of an improvisational quality to it, it's a lot of fun to play, it's always a journey, it's inspiration and a journey of discovery in that sense. So we don't play it note for note the way the guys did back in the day or sort of try to mimic it or anything like that, we just really get inside of it and make it our own at the same time respecting it as part of the tradition of popular music I guess.
So how will these shows shape up?
It's all the songs that if people know the music of Cream we'll play all the songs you love 'Sunshine of Your Love', 'White Room', 'I Feel Free', we're playing some of the blues rock that they covered as well, 'Sitting on Top of The World', 'Born Under a Bad Sign', that sort of thing so we're covering all bases really, we're not focusing on one particular record or anything we're really just working on creating a nice overarching look at the whole of their accomplishments really.
Sort of like a Greatest Hits tour we never got?
*laughs* There you go. That's because they were beating each other up *laughs*, it's exciting obviously having Glenn and Robben come along just ups the ante, they're both wonderful musicians and both of them love that music as well. Glenn actually worked with my father a little bit, but again they're influenced by that and slightly younger than my Dad, Ginger and Eric ten or fifteen years, so they were young kids or teenagers when Cream were out and they were inspired to become musicians themselves I would imagine. So that's very much a part of their roots as well, so it's really exciting actually. We're very excited apart from the long flight *laughs* but it will be worth it.
What's your favourite memory of growing up with a musical father and all these musicians around you?
Wow that's a difficult one, I mean I have a lot of different memories of different kinds of musicians coming to our house or being on the road with my Dad, actually very sadly Allan Holdsworth passed away a few weeks and I do have fond memories of him cycling up to our house in England and rehearsing with my Dad and I don't know how well aware people are of Allan Holdsworth in the main stream but he's one of the great jazz guitarists really, and so that's a fond memory. Wow, I don't know it's a hard question to answer because it was just my normal life, I suppose people like Larry Coryell coming to our house or going to concerts with Eric or whatever it was just kind of normal. I wasn't born when Cream were together but I was around subsequent to that with all the different things that my father did and Cream was always very much a part of his history and he would always play that music as well, so it was something that I was always around so it was normal for me, not sure if there's any particular memory *laughs* or specific but it just kind of my life you know.
In terms of music is there ever a chance we'd see new music from this collaboration?
Original music?
Yeah…
Yeah, I mean we've talked about that as a band but as I said I've just released a band through Pledge Music called 'Salvation' which is an album of completely original material with my own band, so I'm going to be actually touring that project independently from this music and we're kind of looking at The Music of Cream as a two to three year window of opportunity to help raise our profiles as musicians because sometimes it's a bit tricky when your parents are so successful and you're also in the same industry and people kind of overshadow, they overlook  the fact that you might also be a writer or whatever. So in a way we're kind of embracing this and the music is amazing and it's not like we're competing, we could never compete with their achievements but I think it's a really nice tool for us while we're kind of tipping the hat and showing our appreciation for our background it's a way for us to get out there and for people to know that we exist and so for now we'll be releasing our own music. As I said I've just done a record and we have talked, me, Kofi and Will have talked about doing a record this year and we have joked around with this idea of calling it 'Half and Half' *laughs* and basically doing half the record as choosing five or six really nice Cream songs and doing really nice versions of those and then just doing the same again as original music but in that kind of style, kind of writing something in the blues rock idiom as it were.
I'd also accept 'Cream of The Crop'
Ooh that's a good one, there's a lot of them and they kind of descend from there into quite rude ones which I won't mention *laughs* yeah lots of various different ones.
You of course are an artist in your own right and have recently released your debut album 'Salvation', tell us a bit about what people can hear from you as a solo artist?
Wow well as I say I feel blessed in the situation that I'm in and I love my Dad and I'm in awe of his achievements as I said but I find it difficult, I find it a challenge to get out there and do stuff. Now that my Dad passed away a couple of years ago it's almost like I'm finally able to start finding my way as an artist and step out of that shadow, so I'm doing a lot I'm really pushing forward it's not blues rock at all, it's really just kind of my first exploration of my own original song writing, it's got bluesy elements, rock elements, singer song writer elements, classical, jazz, all of those things, but really for better or worse it sounds like me, so I really see myself as I suppose somebody that writes music and has a particular sound and intention to it, so each thing that I do is original and each thing that comes out seems to have its own entity but still has the flavour of Malcolm as it were. I get to do a jazz record later this year with some really great musicians and I'm writing opera, I'm writing two operas actually, I thought why stop at one when you can write two *laughs*. So I'm just really pushing forward, it's a challenge like any industry you have to get funding, you have to find the time  to invest into it and develop things and finding the right collaborators and all that kind of stuff and I'm feeling really positive about things right now and I'm looking forward to as I say I'll be out touring this record I'm hoping to make the next song based record for my band this year hopefully sometime in the summer. So it's just about building things up and it's the game of doing PR, getting out there, getting people aware, shooting videos, knocking on doors you know all that good stuff, talking to lovely people like you so hopefully you'll write something nice about me.
You used the pledge music platform, what was that experience like?
It was great, I think I learnt a lot from doing it, the thing is really it's become a part of the mainstream industry as well I think it's most successful, somebody like me that's not got a two million fan base or even six hundred thousand or whatever, if it's got a few thousand people that are following me as it were then I can raise a budget to make a record and that's great, then the other way it can work is if you are an established act with a major following you could probably kill financial using pledge with that kind of format it's a nicely structured thing where you can offer all sorts of things on pre order, all different sorts of merch and meet and greets you can be in the next video, producer credits, so it's a lot of scope and it's a really healthy model for the industry in terms of interacting with people  and I think the industry has changed so much and continues to change and we as artists have to kind of go with that and I think before it was very much us and them, I'm the great artist in my ivory tower creating my art and nobody can touch me and they can take it or leave it, now it's a little bit different.
THE MUSIC OF CREAM TOUR DATES
Tuesday, May 23: Hamer Hall, Melbourne – Ticketmaster
Thursday, May 25: State Theatre, Sydney – Ticketmaster
Friday, May 26: Concert Hall, Perth – Perth Concert Hall & Ticketmaster
Monday, May 29: QPAC Concert Hall, Brisbane – QPAC 
TICKETS ON SALE NOW
www.musicofcream.com
Essential Information
From: UK
Band members: Malcolm Bruce, Kofi Baker, Will Johns, Robben Ford, Glenn Hughes
Website:  http://www.musicofcream.com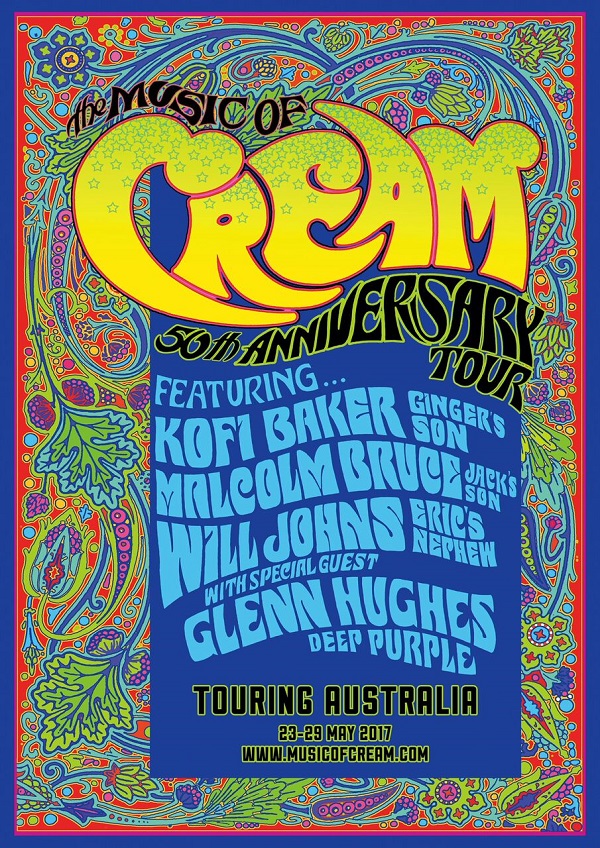 ABOUT THE PLAYERS
Malcolm Bruce
The son of Cream singer-bassist Jack Bruce, Malcolm grew up in the thick of rock royalty and, via the Guildhall School of Music, began performing professionally at 16. As pianist, bassist, guitarist or engineer he has shared studios with Little Richard, Elton John, Eric Clapton and Dr John, and recorded and performed often with his father in the UK, US and Europe. Recent tours have included 60 dates with Joe Satriani and revisiting the music of Cream with Kofi Baker and Will Johns. Malcolm will launch his debut solo album, Salvation, as opening act on the Music Of Cream NZ tour.
Kofi Baker
Kofi's first performance was with his father, jazz-rock legend Ginger Baker, on live TV at the age of six. He's since played drums behind Tom Jones, Jack Bruce, Steve Marriott, and as half of a polyrhythmic powerhouse with his father across Europe in the 1980s. More recently, Kofi has played the Extreme Guitar Tour with Uli Jon Roth, Vinny Appice and Vinnie Moore, and joined with Malcolm Bruce to rekindle the spirit of Cream to critical acclaim on stage in US and UK. His own albums include Lost City and Abstract Logic, with Jonas Hellborg and Shawn Lane.
Will Johns
Encouragement from his uncle Eric Clapton was an auspicious start for teenaged singer-guitarist Will Johns. The son of legendary recording engineer Andy Johns (the Rolling Stones, Led Zeppelin), he has since performed with Joe Strummer, Ronnie Wood, Jack Bruce and Bill Wyman, and most recently the music of Cream with Malcolm Bruce and Kofi Baker. By several curious twists of the family tree, Will also counts George Harrison, Mick Fleetwood and the great rock producer Glyn Johns as uncles. The Will Johns Band has released three albums — Count On Me, Hooks and Lines and Something Old, Something New — since 2009.
Robben Ford
is also joining the line-up – Robben is a virtuoso blues guitarist, one of the worlds best. Joe Bonamassa's all time favourite.  Robben was last in Australia for Byron Bay Bluesfest in 2014.
Glenn Hughes
The distinction of historic stints with seminal hard rock acts Deep Purple AND Black Sabbath only begins to describe Glenn Hughes' six decades in the blues-rock maelstrom. With a voice that is legendary and a bass guitarist of rare invention, the UK rock legend has recorded with artists as diverse as Gary Moore and the KLF, and held his corner of virtuosic supergroup Black Country Communion with Joe Bonamassa and Jason Bonham since 2009. Glenn was hugely inspired the music of CREAM and Jack Bruce, with whom he collaborated on a number of occasions Last year saw the release of his 14th solo album, "Resonate". His autobiography, "Scenes From the Life of a Rock'n'Roll Star", contains a foreword by Metallica's Lars Ulrich. Say no more.