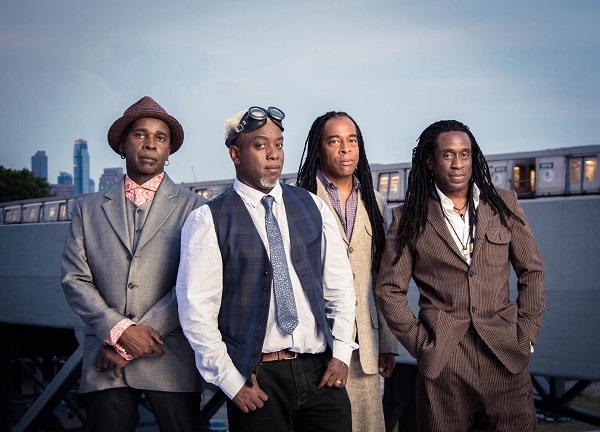 After their return to Australia in 2014, Living Colour showed Australian audiences how it was done. These ridiculous musicians are now back on a headline run and tonight in Sydney a sold out crowd are in for a treat.
Massive are up there killing it at the moment opening the night and I'll tell you what, this is great! Man that's a massive voice, pun intended! 'One by One' is a stand out and that got the crowd going a few songs in. Catchy riffs and just great rock and roll is what Massive are all about. That was truly an impressive set from a support and I tell you what, the world needs to hear more from Massive as this is just no bullshit straight up rock and fuckin roll.
A sold out Metro is always great to see and minutes away from Living Colour taking the stage there's a buzz around the place and we're ready and here we go!
Vernon Reid kicks in with some blues before the band joins him and opens with 'Preachin' Blues' a big slow bluesy jam to get things going. Instantly Vernon gets to shine and show everyone just how damn good he is. 'Wall' Turns it up a little and lets Corey Glover show us his amazing vocal and man this guy can sing. It's actually insane how good he is. 'Middle Man' funks it up which is what this band is good at to say the least. This early on watching each member of this band is a treat; they all are seriously such good players!! 'Desperate People' gets a rousing reception from the crowd and what feels like a Stevie Wonder song on crack absolutely kicks ass. By far the best so far, but as the band seem well warmed up now when 'Pride' kicks into full gear it's just on. Then a song they don't play often and an explanation that it may not be up to the standard we're used to, but 'Mind Your Own Business' was perfectly fine, in fact, not a note missed and if this is what they call possibly not their best then they're way too harsh on themselves but a round of handshakes after means they nailed it and they know it.
'Behind The Sun' has been a favourite of mine from the Living Colour catalogue purely for the guitar throughout which makes this one and again for one they haven't played in a while they nailed it. It's time for some new music and their cover of 'Who Shot Ya?' is off the charts and hearing it live tonight is so good, it's heavy, tight, important. 'Who's That' is a brand new one that we can expect from their forthcoming album 'Shade' this September and it's a ripper followed by 'Nothingness' which as a slower groover slides perfectly in to the set.
Yes! 'Love Rears Its Ugly Head' is as good as you'd expect and finally got the crowd singing! Always loved this one live as it's just so heavy and played so well. Bass solo time from Doug Wimbish and wow that man can play, the use of loops and just such a beautiful piece of music was mind blowing. That was truly impressive, oh and to the group of guys that are talking very loudly behind us all the way through the show I hope you're enjoying it… Idiots. Have some fucking respect.
Special note to the banter between Vernon and Corey that is not only outstanding but also hilarious!! 'Elvis is Dead' is a stand out for sure and with a little bit of 'Hound Dog' thrown in for good measure they round out the song with musical precision and without blinking they hit 'Type' and wow, this is what it's all about. This is also one of those songs many have been waiting for and they are not disappointed. Drum solo time! Will Calhoun showing us what he can do, and do well. Although it got a bit long and started to lose the crowd towards the middle until the light sticks came out and that was great and like watching Star Wars in the dark!
After the obligatory "Fuck Donald Trump" they launch into arguably the biggest song of the night. It's 'Cult of Personality' and that riff A) makes me want Nutri Grain and 2) kicks so much ass. This song was so different when it came out and still stands out above everything else. Vernon shines on this one! They take a bow and leave the stage only to come back for hopefully a couple more. 'Time's Up' is first and so good. Mixing it up with 'What's Your Favorite Color?' and 'Sex Machine' was great!
A cover of 'Should I Stay or Should I Go' was perfect when given the Living Colour treatment and with one more, they hit us with 'Glamour Boys' and with that it's goodnight from the stage, but the band heads to merch booth to sign and take pictures which is the sign of band that truly love what they do, love their fans and after a straight up rockin' two hour performance for them to come out and say hi just gives off so much respect.
If you haven't seen Living Colour before, I highly recommend you take the time to do so next time they hit town as this group of four deliver musical perfection and precision every damn time! It's no longer a case of "Oh no, please not that again" it should now and always be "Oh yes, much more of that again."
Essential Information
Venue: The Metro Theatre – Sydney
Date: May 13, 2017
Presented by: Zaccaria Concerts
Support: Massive – www.massiveoz.com
Website: http://www.livingcolour.com
Set List:
Preachin' Blues
Wall
Middle Man
Desperate People
Pride
Mind Your Own Business
Behind The Sun
Who Shot Ya?
Who's That
Elvis Is Dead
Type
Cult of Personality
Time's Up / What's Your Favorite Color?
Should I Stay Or Should I Go
Glamour Boys